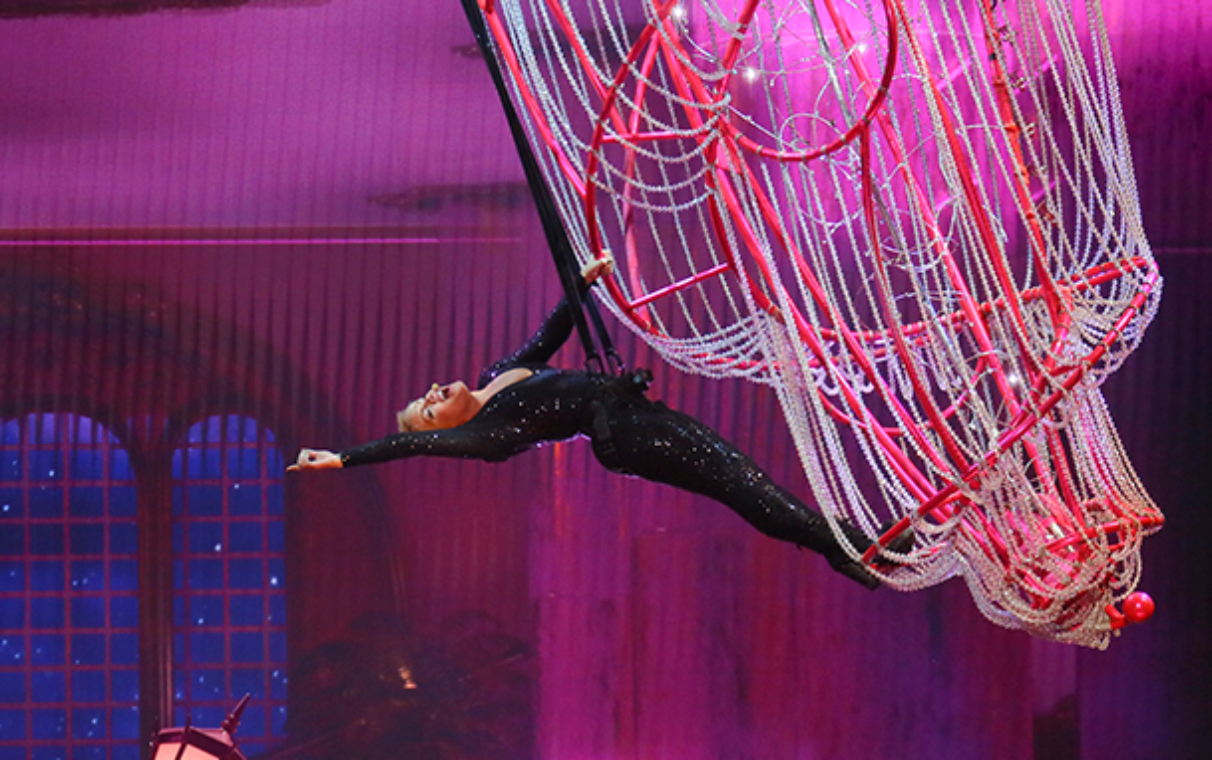 After eleven years, Pink returns to NZ with her Beautiful Trauma tour and proves that the decade away, has only sharpened her live performing skills.
When Pink performed in at the (then) Vector Arena on 10 June 2007 as part of her I'm Not Dead tour we were treated to a hit-loaded setlist and ballsy performance. She floated above the stage on silks and dramatically tumbled down to just inches about the stage for big finales. Gwen Stafani had just performed at the same venue merely days before, and Pink outshone her on every level.
Last night, a different Pink took to the stage for the first of six-night residency at the Spark Arena. Over one hundred thousand kiwis will see her Beautiful Trauma tour, and will witness a more-developed live performer who has crafted her career beyond that of a typical pop star and into the realm of a touring juggernaut; a space usually reserved for rock royalty like The Rolling Stones, U2, Elton John and Madonna.
This tour will see Pink play 128 shows worldwide. If that number feels intimidating, wait till you see what she puts her body through in just one show! For her opening number alone (Get the Party Started) she swings harnessed from a giant chandelier, and if you think this will be wow moment, just wait!
Her neon-lit heart-shaped stage proves to be a Tardis of innovation. Trapdoors see dancers pop up and disappear without a trace during her performance of 'Who Knew', while 'Just Like Fire' is enhanced by flamethrowers than produce fireballs so big the whole arena instantly becomes warmer. The 'heart' houses two mosh pits of VIP fans, they were treated high fives as Pink rode-down a conveyor belt runway for 'Just Like a Pill'.
A wrought iron bed descends from the ceiling and raises back into the air with Pink atop it for a dreamy performance of 'Just Give Me A Reason', that is so Cirque Du Soleil! This led the way into belting performances of 'I'm Not Dead', What About Us and Fuckin Perfect – a change of pace perfectly placed at the concert's mid-way point; showcasing soulful, confident and unblemished vocals.
After 'Raise Your Glass' and 'Blow Me (One Last Kiss)' got the whole arena on their feet, Pink leaves the stage to return for her encore – but this is no typical costume change. She is fitted into a ring-shaped harness attached to at least eight wires coming from all corners of the arena. Her fuck-the-world anthem 'So What' blares and she flies around the entire vector arena in a stunt so inconceivable, the entire media-row (packed with reviewers) literally lose their shit!
With her audience now apoplectic, she returns to the stage for a simple stripped down performance of 'Glitter in the Air'; a striking contrast that proves she can do it all.
Like Gwen Stefani years ago, Katy Perry graced the Spark Arena stage just a week before Pink, with a fun production-heavy show where she proved to be a charming and engaging performer, but failed to hold a candle to Pink.
A sophisticated, well-paced show that truly catered for its audience's desires and still managed to surprise and delight. The Beautiful Trauma tour begs just one question: is there another live performer working today who is a good as Pink?
We can't think of one!
Photo | Garry Brandon.