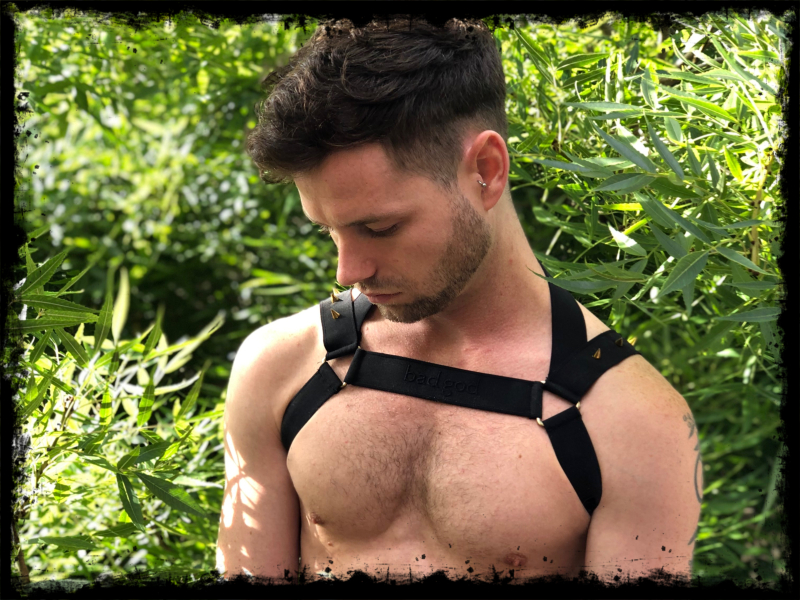 Belinda Nash meets the baddest God of all, designer Jarrad Godman.
Fashion designer Jarrad Godman launched his newest label Bad God at the end of last year and it's already gaining significant interest worldwide.
Bad God sits adjacent to Godman's eponymous label, Jarrad Godman, for which he has infamously also played to his surname with his "Good God Man" tanks and dresses.
The label comprises a range of harnesses and armbands in 14 unique designs named after gods of mythology, Hades, Eros, Titan, Pluto and more. They are worn as separates or clip to pants or jeans, and range in price from USD $32 to USD $95.

The label emerged when passionate partier Godman sought well-made harnesses that used quality fabrication and manufacture to discover he was searching for the proverbial fashion unicorn: they didn't exist.
"Everything was poorly made," he laments. "So I gave up looking and made harnesses for myself to wear to parties. People started asking for commissions more and more regularly, so I finally launched Bad God commercially just before NYE 2019."
Bad God harnesses are designed to be the ultimate party statement, delivering comfort while being made to last and looking 'hot'…
"Comfort, quality, and durability were our goals when we set out to produce Bad God commercially," says Godman. "We created a custom elastic, which is extremely tough and durable on the outside but super soft against the skin so that it doesn't cause irritations.
"We've had friends road test the harnesses, and they've definitely been pushed to the limits but so far they haven't met their match. Bad God is designed to last longer and look better than other elastic harnesses on the market."
The 28-year-old Parnell resident, engaged to partner Jack, adds that the response to Bad God has been overwhelmingly positive, in both New Zealand and offshore.
"We're already getting orders coming in from overseas, but we are only a few weeks old so it's hard to tell who our biggest market is going to be."
Godman currently designs and manufactures all the pieces himself but says with business and interest picking up pace rapidly, it's something he'll have to "pass on at some point".
"But I am enjoying making them myself for as long as I can keep up with demand," he adds.
Producing leather harnesses is something the Bad God team is investigating following interest from a growing global customer database.
"It's something we are keen on exploring. At the moment we are just trying to educate ourselves on how this can be done ethically as well as making connections with skilled leather workers."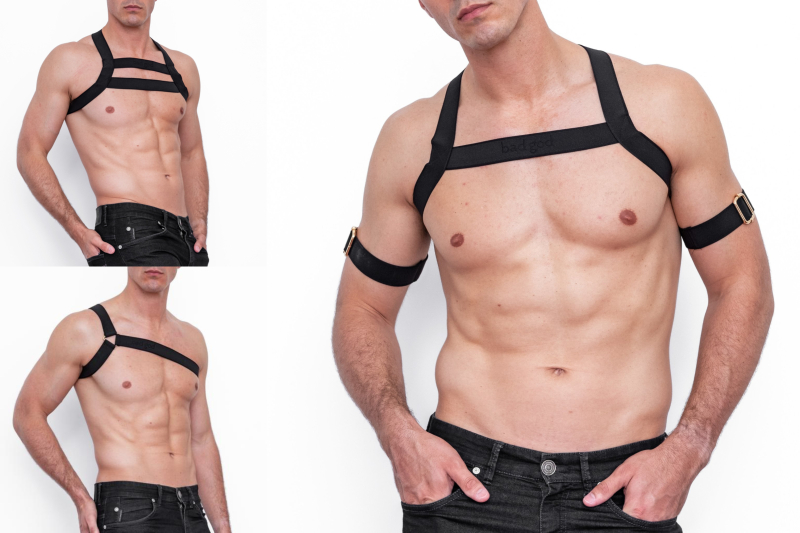 Godman says while the first Bad God marketing campaign features a male model, the products can be worn by "absolutely everyone," adding that its customer base is extremely varied and the label has "upcoming projects in the works to help reflect that."
Godman is excited for this year's Pride Festival and has been working on costumes for Zak Enayat's performance There She Is directed by Tom Sainsbury, showing at Q Theatre.
"I am super excited to see that at the festival. I'm also looking forward to The Big Gay Out, Night of the Queer, and I am incredibly pumped for Propaganda.
"Oh… and I would love to see some Bad God floating around Pride this year. It's always exciting to see who picks it up and seeing how customers style it to their party looks!"
As for the rest of 2019, Godman says it's "definitely the year of business", but he has promised himself and his fiancé "to throw in a few small trips to shake off the stress" with Te Aviv Pride on the wish list.
Find Bad Good online and Instagram at badgod.co