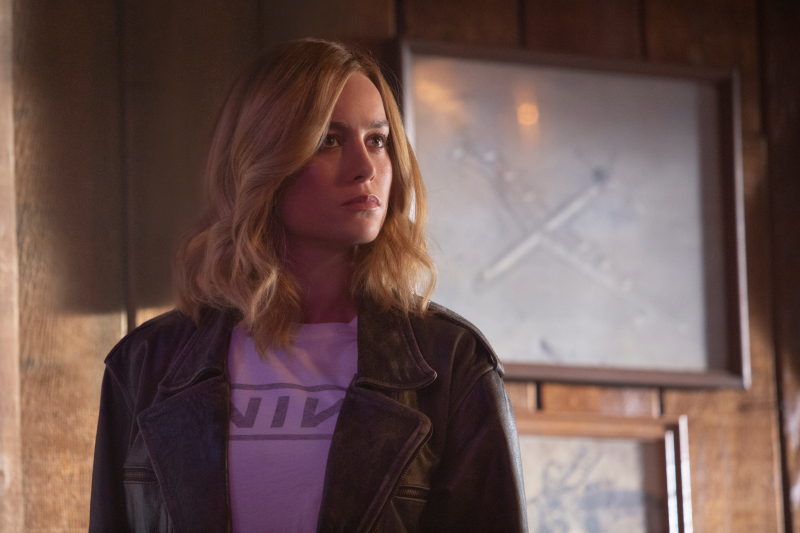 Oscar-winning actor Brie Larson is the first female actor to ever headline a Marvel feature film, following eleven years of blockbusters. Express discovers why this Hollywood changemaker was the right choice to play Captain Marvel.
"This is disgusting. This is unacceptable. I #StandWithGavin and every Trans person who deserves nothing less than protection and equality," tweeted Brie Larson when President Donald Trump announced he was rolling back rights for transgender students in the US.
It is stances like this have given Larson a reputation for being outspoken. In Hollywood that could be off-putting for nervous casting agents, but after she won every major Best Actress award (including an Oscar, Golden Globe and Bafta) for her performance in Room, Larson was in demand.
If Spiderman has taught us anything it's that 'with great power, comes great responsibility', and Bree used her new star power to start changing the industry surrounding her. She added an 'inclusion rider' into her contracts to ensure a mix of races and genders are present in her movies' casts and crews.
For Captain Marvel (the first mainstream blockbuster Larson has put her name to) she plays Carol Danvers, a half-human, half-alien, who will become one of the Universe's most powerful heroes. She co-stars with a bunch of respected acting talents including Samuel L Jackson (who Brie cast in her directorial debut Unicorn Store), Annette Benning and Jude Law.
"You feel the sense of gravitas that comes with being on a set like this because there's an understanding that if this was just about spectacle and CGI you don't need to hire me. You could hire anybody to do that," Larson tells us, commenting on the quality of actors Marvel has used to bring their characters to life, beginning with the casting of Robert Downey Jr in Iron Man in 2008.
She describes her half-alien character as very relatable. "There's this other part of her that's human and that is the loving part of her, but it's also the part that makes her kind of sassy and a little brash at times." She says describing a trait we can all associate with!
"It makes her really emotional. It makes her aggressive and competitive. It's all of the good and all of the bad in that human side. It's the flaw and it's [also] the best thing about her."
Captain Marvel is co-directed by Anna Boden and Ryan Fleck, making it the first film in the Marvel franchise to have a female in the director's chair.
Set in the '90s it serves as an origin story not only for Larson's Captain Marvel, but the whole Avenger's saga, which was left reeling after Thanos wiped out half of the world's population at the end of Infinity War.
Infinity War's final post-credits scene suggested Captain Marvel will be an integral character in the Avenger's next chapter, End Game, which is released in April.
"Once you know what Captain Marvel starts and what it inspires within the film, it changes the entire perspective of the rest of the catalogue in this very profound way. It's powerful stuff." Says Brie, adding that her character's arc feels like life imitating art.
"It seems like all of this was leading up to something in the same way that I feel like my entire lifetime of experience being a woman, along with all these other bizarre aspects of me, are all coming through to come together to play this character right now at this period of time. And it couldn't have happened at any other time other than now."
Captain Marvel is in NZ cinemas Now!