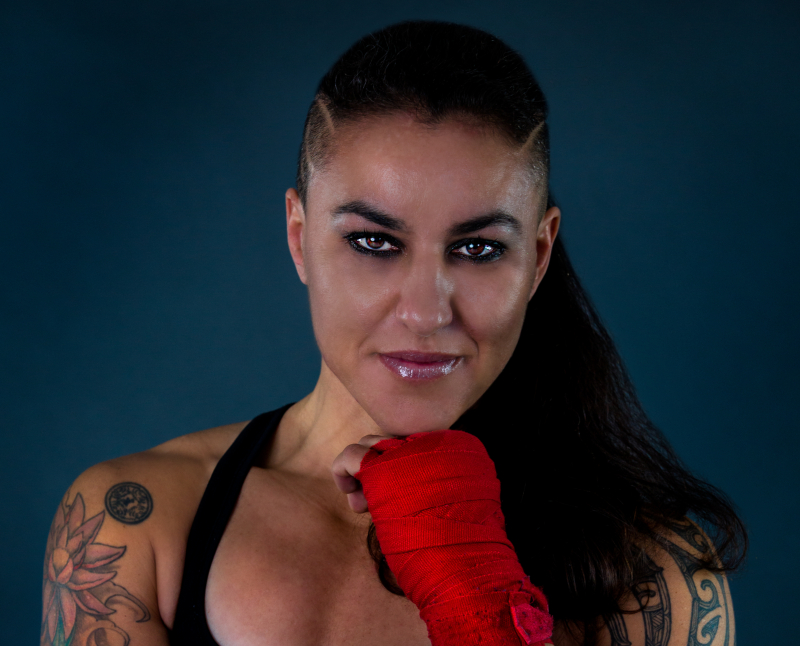 Geovana will be earning just one-three-hundredth of Joseph Parker's paycheque when he fought for the male equivalent belt.
Brazilian-born Geovana moved to New Zealand nearly a decade ago, to learn English and experience another culture. With a background in special and physical education, she fell in love with the outdoors lifestyle and last year became a citizen.
Three years ago, she met the love of her life: Boxing.
After one amateur and two corporate bouts, she turned pro and quickly captured both the NZ National Boxing Federation and NZ Professional Boxing Commission titles, making Geovana the first openly gay boxer to win a title in NZ.
On Saturday 30 March at Auckland's SkyCity Convention Centre she will fight for her first world title – the WBO Light Heavyweight belt – the female equivalent to the title Joseph Parker won in December 2016.
She has faced her more experienced opponent Lani Daniels before in March 2018, where Peres won via split decision (the closest victorious result possible). This rematch will be the second time a women's bout has headlined a professional boxing event in NZ.
While Geovana and Lani have the opportunity win the equivalent title to Joseph, they won't be receiving the equivalent paycheque. The pay disparity is enormous in fact. It is estimated that if Geovana wins the belt (as Joseph did) she will earn just one-three-hundredth of purse Parker received from the fight.
Promoter Bruce Glozier is disappointed Geovana and Lani will not be taking home greater earnings. He says it comes down to a lack of sponsorship interest and an as yet unsecured TV deal for the fight.
New Zealand is blessed with a wealth of female pro-boxing talent. In 2017 Aotearoa had more ranked women's heavyweights than any other country in the world.
It was this time last year that New Zealand Rugby and the players' association committed to a historic deal funding contracts for 30 of the country's best female 15 a-side rugby players, to help make careers in professional rugby more realistic for players and increase exposure and popularity for women's rugby.
Geovana wishes the same opportunity was open to women's boxers. "If I could get sponsored it would mean I could quit my day and focus on training.
"I don't do it for the money," Geovana tells express passionately. "I do it to encourage people to chase their dreams!"
For tickets on Geovana's exclusive ringside VIP table or to show your support; contact Geovana through www.facebook.com/GeovanaPeresboxer/