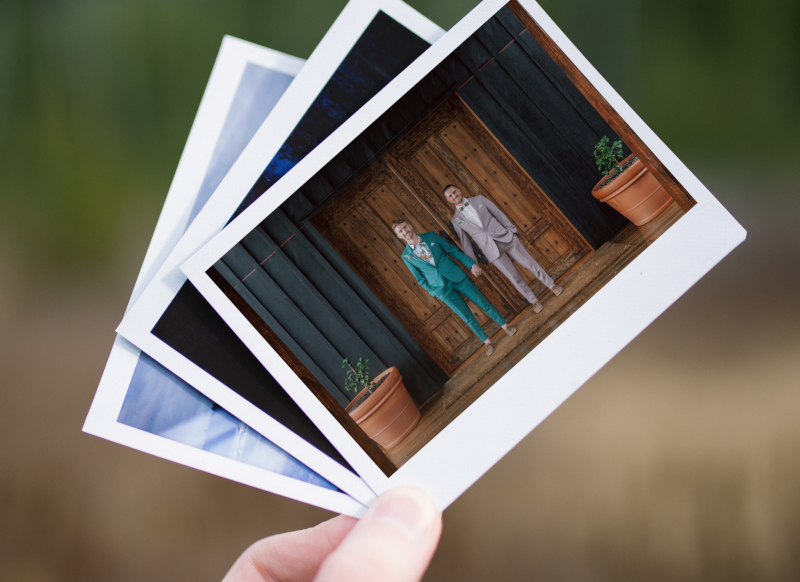 Nikki Si'ulepa & Rachel Aneta Wills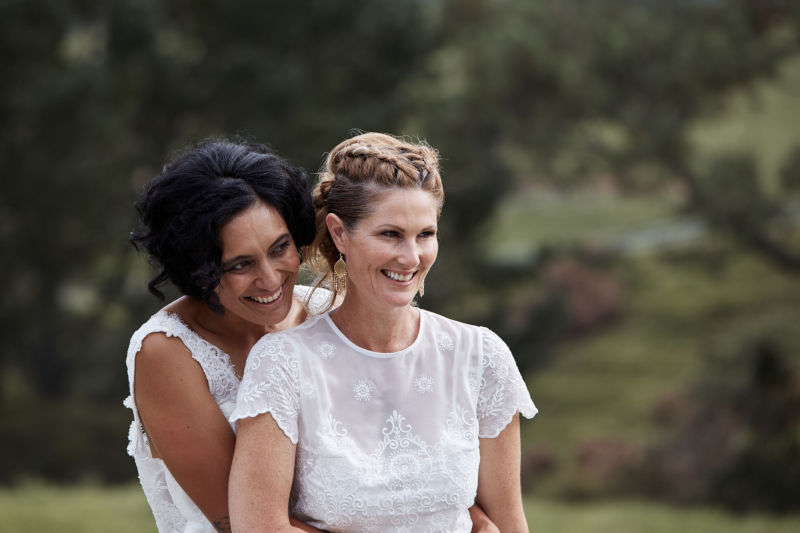 Nikki proposed to both Rachel and her children in a strategically organised event that took four months of planning. Film-maker Nikki set up a 'multi-camera shoot' with hidden cameras camouflaged with foliage, a radio mic on her, a radio mic in a watering can and a main camera operator tucked away in the bushes getting eaten alive by mosquitoes; all to document the proposal.
Nikki then presented Cooper and Jett with their replica rings and asked them if she could be their 'Samoan Mum' for always. Like Rachel, they also said, 'Yes'.
Same But Different: A True NZ Love Story, is the first feature film Nikki and Rachel have made together, and its based on their relationship. "It demonstrates that love is love," they tell us. "Regardless of sex, colour, background, when we fall in love we all fall the same… that's a story that we don't usually see in mainstream cinemas."
Same But Different: A True NZ Love Story is in cinemas from Saturday 23 May.
---
Damian Whitney-Jones & Mike Whitney-Jones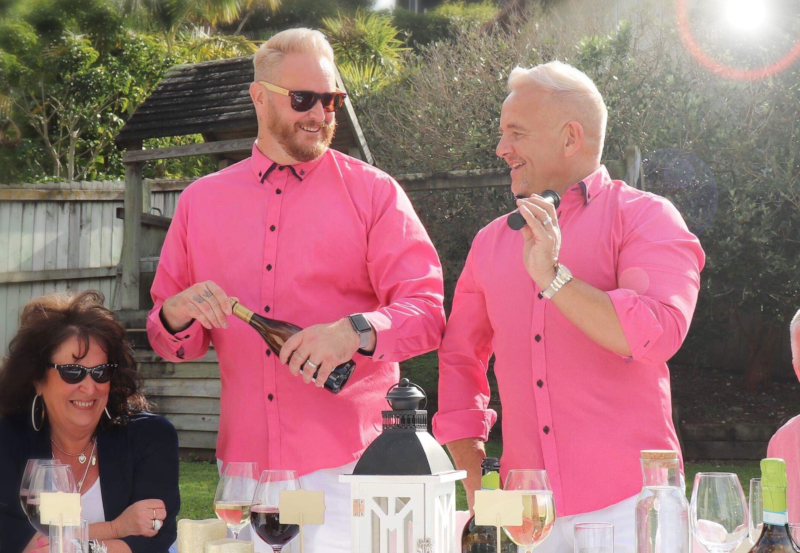 Damian and Mike have been significant others for a decade, give or take "a few pit stops along the way," they say with cheeky grins!
With 'security' and 'unity' being important values for both men, Damian, wrote his proposal on a small piece of paper and slid it inside a fortune cookie.
These two peas-in-a-pod, knew instantly that they wanted to spend the majority of their wedding budget on their rings (Shimansky eight heart diamonds set in platinum), so decided to save on venue hire by having the wedding at their Browns Bay home. They describe the day as, "a plethora of love, laughter and togetherness."
Follow Damian on Instagram @whose_ya_daddy
Follow Mike on Twitter @MikeWhitneyUK
---
Maritoni Cruz & Michelle Ybañez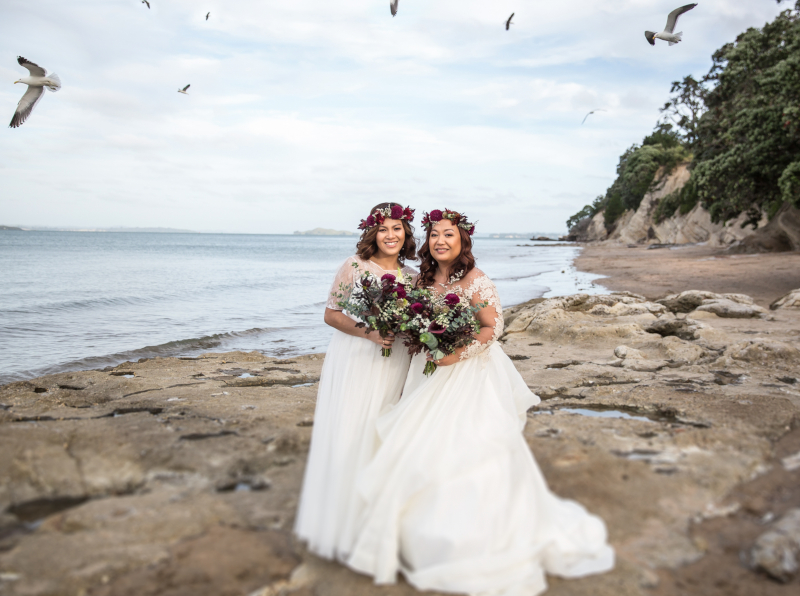 Michelle and Maritoni married late last year after Michelle had softly popped the question when lounging in bed together.
They tell express the highlights of their big day included: "seeing each other in our wedding dresses, stating our vows and receiving well-wishes from passing strangers for a union that would not even be recognized in [our birth place] the Philippines."
The girls say the most stressful part of planning their wedding was finalising the guest list. "Filipino weddings typically include the most distant of relatives. We wanted a small, intimate affair," they explain.
Their top wedding planning recommendation is to, "start by listing three things: your budget, your essentials and your optional wants. That should be your main reference for decisions big and small."
Wedding Planning by Skinny Love Weddings
---
Cole Jenkins & Brendan Talbot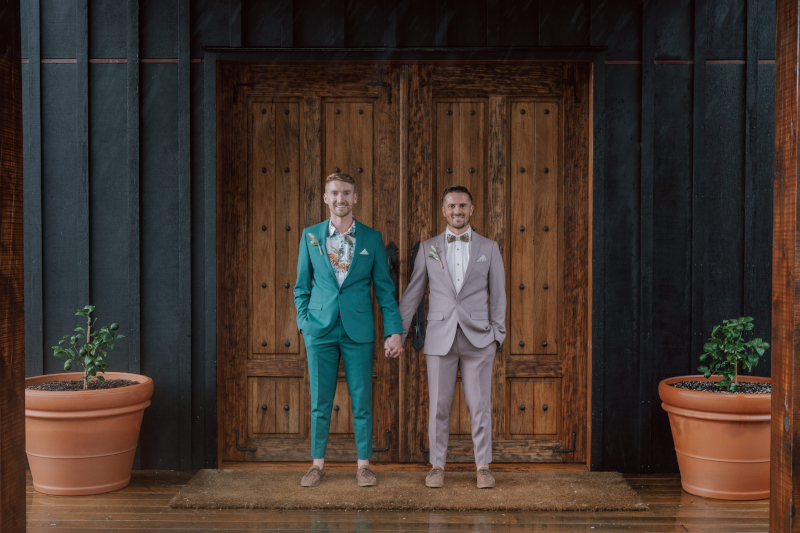 Cole's proposal was unique, to say the least. He wrote a twenty-minute musical show and performed it at a cabaret event Brendan was producing. The musical told the story of their relationship, which concluded with Cole dropping to one knee.
Cole had invited an audience of close friends and family, and a recording of it now has over 20k views on YouTube.
In their vows the boys explained why marriage was important to them, with Brendan sating; "I have found the love of my life and I want to honour that to the highest level," and Cole points out, "we are so fortunate that we live in a time where it is legal for us to get married and we respect the many, many, many queer people that have fought for days like these to be a reality."
Follow Brendan & Cole on Instagram @therealgaysofsouthauckland