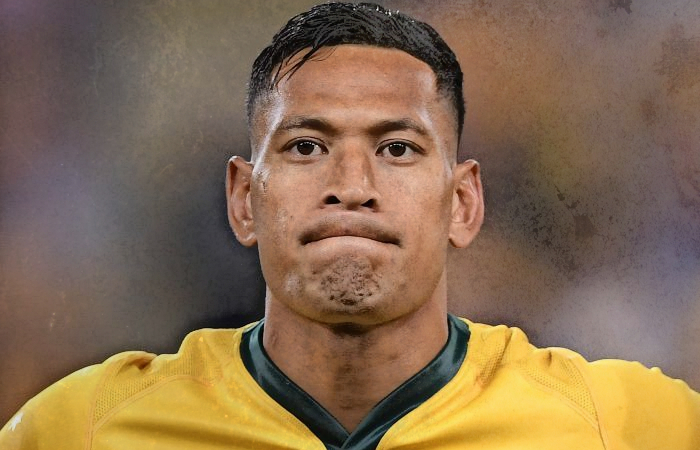 Disgruntled former Wallabies star, Israel Folau has commented on the shutdown of his GoFundMe page, saying he's "disappointed" by the decision, and ironically says he has been discriminated against.
Folau's GoFundMe page was set up last week to raise money for his legal battle against Rugby Australia, who terminated his $4 million dollar contract for his refusal to remove and apologise for the anti-LGBTI posts he made on social media.
However, after widespread condemnation and a public campaign against his page, GoFundMe confirmed that the page had been officially shut down.
Speaking in a statement about the shutdown, GoFundMe confirmed that Folau's page did in fact violated its terms of service.
"After a routine period of evaluation, we have concluded that this campaign violates our terms of service. As a company, we are absolutely committed to the fight for equality for LGBTIQ+ people and fostering an environment of inclusivity."
GoFundMe added, "While we welcome GoFundMes engaging in diverse civil debate, we do not tolerate the promotion of discrimination or exclusion."
Following the shutdown, Folau's camp has since come out and rejected GoFundMe's decision, claiming the campaign which was raising money alongside children with cancer, had not breached any terms of service.
"The decision of GoFundMe to cancel Israel's fundraising campaign to support his Legal Action Fund is very disappointing," Folau's spokesperson Claimed.
"The fundraising campaign was in line with GoFundMe's Terms and Conditions as well as all relevant rules and regulations. Unfortunately, GoFundMe has buckled to demands against the freedom of Australians to donate to his cause."
Ironically Folau's spokesperson added that Folau has been a victim of discrimination saying that "there appears to be a continuing campaign of discrimination against Israel and his supporters."
"Israel Folau is very grateful to the 10,000-plus supporters who believed in good faith that their donations would contribute to his case against Rugby Australia."