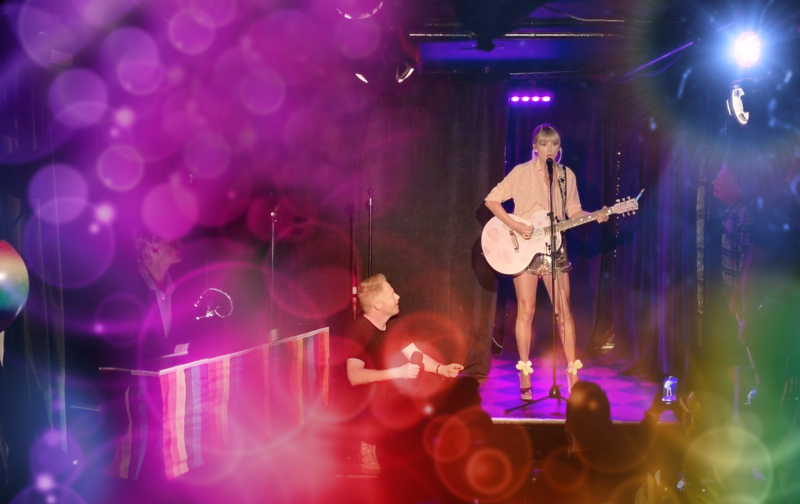 Just days after dropping her new LGBTI supportive single titled: You Need to Calm Down, Taylor Swift has celebrated Pride month with a surprise performance at the historic Stonewall Inn.
According to Variety Swift (who was greeted by the evening's headliner, Modern Family star Jesse Tyler Ferguson) performed two songs by Sara Bareilles including a version of Brave that reportedly had "virtually all of the 100-odd lucky people inside singing along," before playing her hit song Shake It Off.
"I heard Shake It Off is Jesse's favourite song to do at karaoke … which is an incredible rumour, I really want to believe it's true," Swift said.
"So if there's anything you (Ferguson) feel like you want to jump in on, a part that you're really good at, just sing, dance and be yourself — this is a really safe space!" Swift concluded prior to playing the song.
Swift's new single which will likely become the latest gay anthem, has received praise for helping increase donations to LGBTI advocacy group GLAAD, after featuring the organisation's name in the music video.
This is not the first time Swift has shown her willingness to fight for the LGBTI community as an ally, notably donating $113,000 to the Tennessee Equality Project to fight several anti-LGBTI bills that have been introduced in the state, and in the October 2018 when Swift voiced her opposition to anti-LGBTI Tennessee Republican Representative Marsha Blackburn.
You Can Watch the video of Taylor Swift performing Shake It Off on express below: