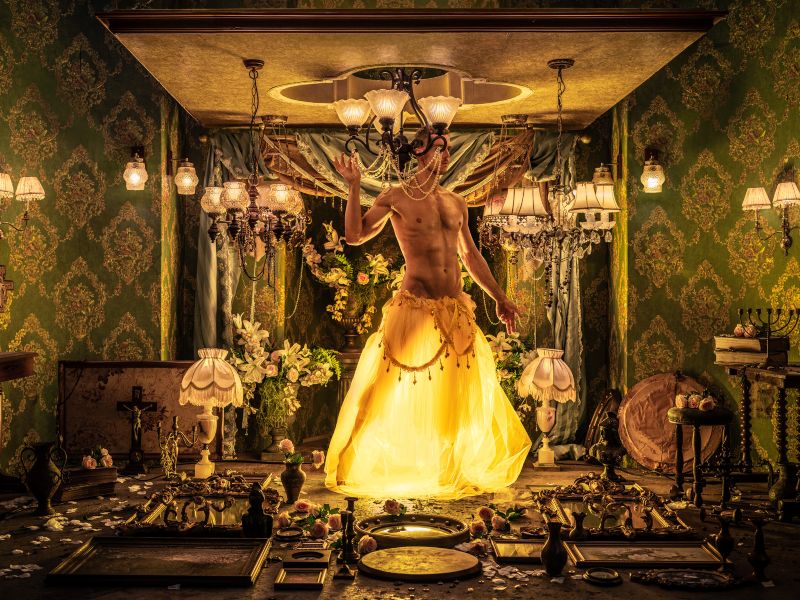 This month, Artist Gui Taccetti returns with Inferno, a subversive photography exhibition set to heat up Auckland's Winter.
Born in São Paulo, Brazil, artist Gui Taccetti moved to New Zealand a decade ago and last year was awarded a Postgraduate Diploma in Fine Arts from Elam.
His practise centres on photography with themes of religion, sexuality and fetish depicted on elaborate sets that Taccetti builds from scratch.
His 2017 exhibition Seraphim posed hunky male models in scenes reminiscent of Catholic traditions while urinating on each other. This month his follow-up Inferno will see his buff local muses recreate religious rituals with a BDSM twist.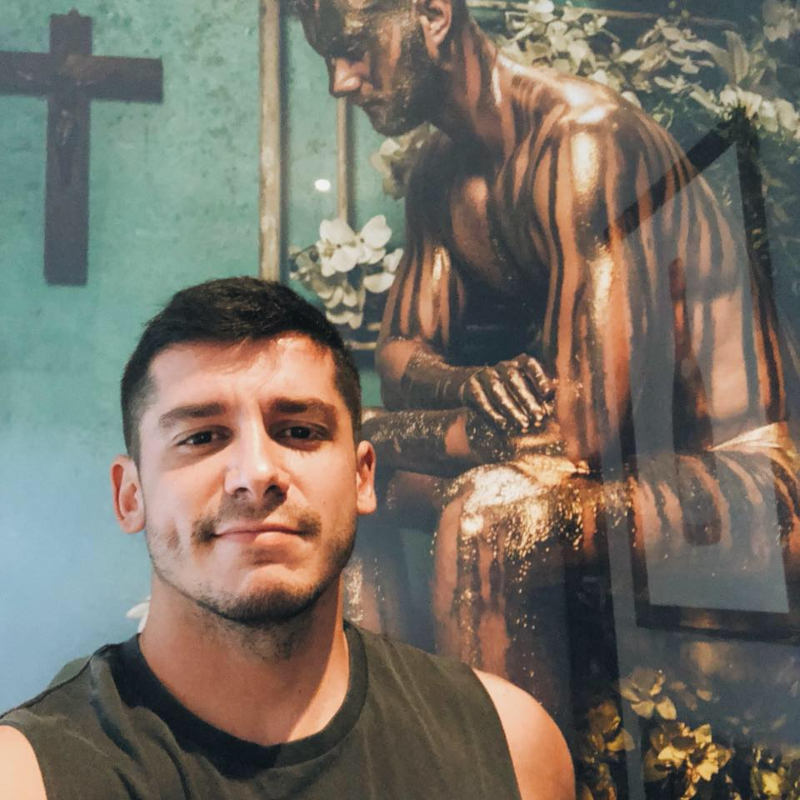 Tell us about the inspiration behind Inferno?
My work is biographical, exploring the difficulty I experienced in coming to terms with being gay as a young man in Brazil where Catholicism remains a powerful force. Inferno represents my journey through long-lasting anxiety which was triggered primarily by a heteronormative religious indoctrination.
You create a new set for each shot. Can you tell us a bit about that creative process?
My canvas is an empty warehouse. I start by building one single element for each set which is built from inside out. For inferno, each set took approximately four weeks to be built. Shooting will normally take the 2 last days. Finally, that set is destroyed and it gives space to a new idea.
Inferno is being exhibited at the Hopetoun Alpha (previously the Beresford St Congregational Church). Was this venue choice specifically chosen to annoy the likes of the Catholic Church?
My intent is to disrupt long-established ideas and to reclaim our share of spiritual ownership hijacked by distorted values of the church.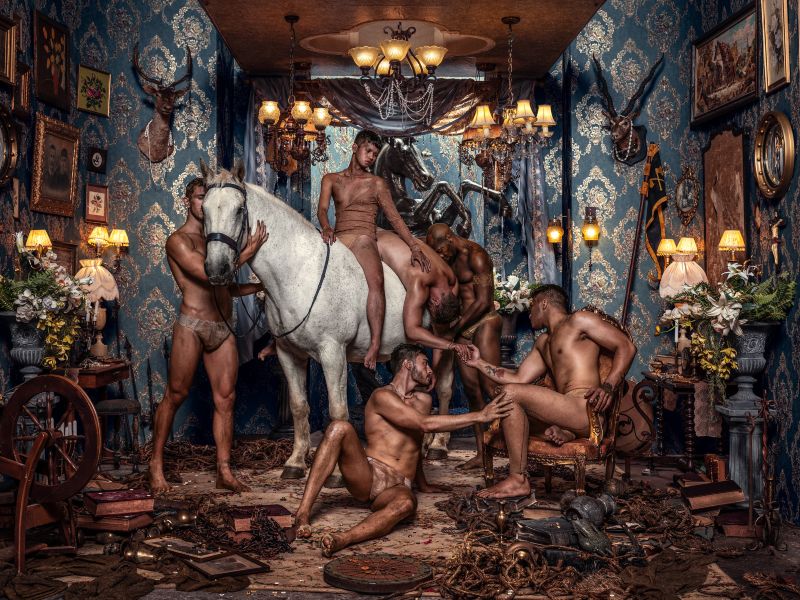 Do you care if religious groups are offended by that?
The message behind my work is one of inclusion. I encourage those who find it offensive to investigate it and raise questions.
Tell us a bit about your models and how you chose them? There are a few local faces and appendages we recognise from the Auckland community.
I am very blessed to have friends who embrace and support my projects. People who have lived through similar battles.
Actor Harry Dickinson is your muse. Can you tell us a bit about that relationship?
Harry has an in-depth understanding of my practice and an enormous willingness to make ideas happen. He's not afraid of challenges. I'm very fortunate to have collaborated with him in some of his projects as well.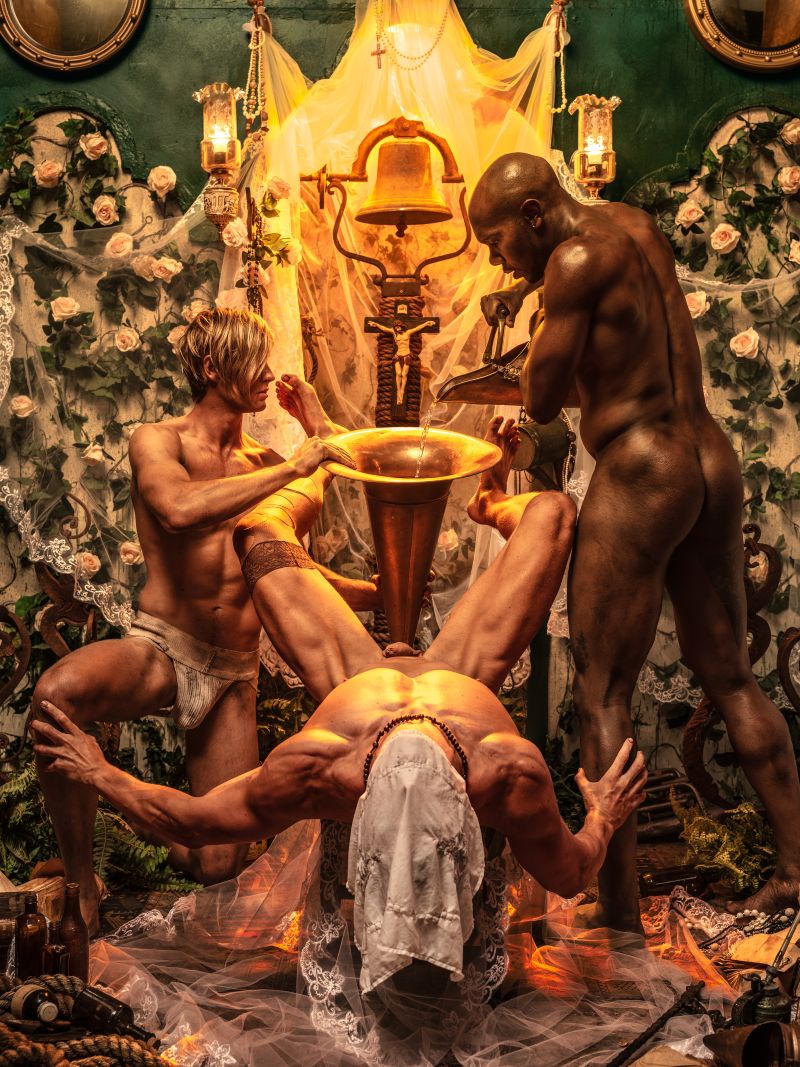 What is Inferno saying about fetish, particularly fetish within the gay community?
If it makes you happy, go for it. That's what the first person I came out to (my therapist) said to me. I hope it reinforces that sexual choices should be cherished and free of judgement.
Inferno will be heating up the Hopetoun Alpha (19 Beresford Square, Auckland) from Tuesday 16 to Sunday 21 July – open to the public from 10 am to 5 pm daily.