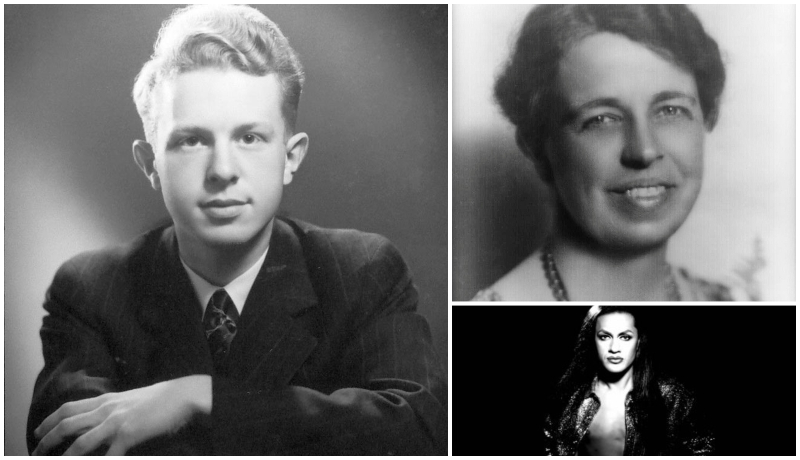 Gareth Watkins looks back at the events that shaped our rainbow community.
20 August 1909
Artist and drama producer Rodney Kennedy was born in Dunedin. In 1926, he enrolled as a student at the Dunedin School of Art, and in 1932 he met artist Toss Woollaston. They became "lovers", "lifelong friend[s]" or "close friend[s]", depending on the information source. After Woollaston moved to Nelson, Kennedy visited and spent his summers picking fruit and painting. Woollaston painted both his soon-to-be wife and Kennedy together in a 1936 portrait entitled Figures from Life. During World War II, Kennedy refused military service and was imprisoned.
27 August 1943
US First Lady Eleanor Roosevelt visited New Zealand with her aide Norah Walton during World War II, to inspect US troops and study the contribution New Zealand women were making to the war effort. Roosevelt had well-documented relationships with both men and women – particularly with journalist Lorena Hickok. Starting in the early 1930s and continuing for over three decades, the pair would write to each other – sometimes twice daily. At least 3,000 letters survive which document their relationship. In one, Hickok tells Roosevelt, "I want to put my arms around you and kiss you at the corner of your mouth." In another, "I can't kiss you, so I kiss your 'picture' goodnight and good morning!" One of Roosevelt's most famous public statements was "No one can make you feel inferior without your consent."
6 August 1985
Television news reported that for the first time, blood test kits were available in New Zealand to test for HIV. A $500,000 government-funded AIDS awareness campaign was also launched in the same week. The announcements came during the heated debate over homosexual law reform, with both pro and anti-reformers using AIDS as a key argument. Pro-reformers maintained that decriminalisation of homosexual activity would allow for better healthcare and education, while anti-reformers claimed that it would simply legalise the spread of AIDS. According to anti-reformer MP Norman Jones, it would be better for people with AIDS to die "sooner rather than later" to help prevent law reform.
4 August 1988
Photographer Brian Brake died. Brake is still one of New Zealand's most acclaimed photojournalists. He worked extensively in over 40 countries for the international photographic cooperative Magnum Photos and is probably best known for his Monsoon series and for his coverage of China in the 1950s. During his career, he was careful to retain his film negatives and transparencies. The majority of his collection – around 118,000 images – is now cared for by the Museum of New Zealand Te Papa Tongarewa.
17 August 2003
Media reported that a stunning 3-metre-high nude photograph of performance artist Mika was causing controversy at the Christchurch Art Gallery. The work, Mika: Kai Tahu by Christine Webster showed Mika in a full-frontal nude pose. A number of locals complained saying that it was disgusting and pornographic. One woman told media that she couldn't get the image out of her mind. "I walked around the corner, and I felt like there was a nude man standing there exposing himself to me… you just couldn't get away from it." Hubert Klaassens from the gallery responded by saying that the male nude was a well-explored subject in international art and artist Christine Webster welcomed the comments, saying that it was "very affirming" to get strong feedback.
18 August 2017
Police told media that Pastor Logan Robertson committed no criminal offence with his latest outpouring of hate speech. In a sermon distributed on the Internet in July, Robertson, from the Westcity Bible Baptist Church in Avondale, said "I'm not against [homosexuals] getting married as long as a bullet goes through their head the moment they kiss… that's what should happen." In 2014 Robertson made news headlines after telling a gay author "I pray that you will commit suicide." Robertson subsequently moved to Australia but was deported in 2018 following alleged harassment of Muslims. He then moved to the Philippines and, as recently as March 2019, was preaching to high-school students.