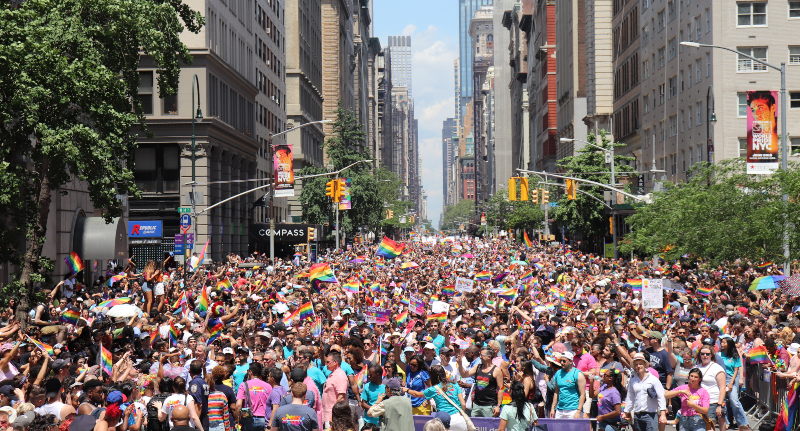 Oliver Hall hears it for 'New York, New York, New York!'
2019 marked the very first time World Pride had been held in the United States and the moment could not have been more fitting. Coinciding with the 50th Anniversary of the Stonewall riots, the 'world' turned up and turned it on, for the Big Apple's hottest celebration of diversity, inclusion and love.
New York Pride offered events and parties to suit almost every taste. The biggest of them are produced by NY Pride themselves with handfuls more put on independently. Highlights included –
Rally:
WorldPride 2019's Stonewall Commemoration event Rally, was held at the corner of Christopher Street and Waverly Place, just doors down from the famous little bar that gave birth to America's LGBTQ+ rights movement. An impressive list of speakers included New York's mayor, the owners of Orlando's Pulse nightclub, members of Australia's 78ers and people who were present at the Stonewall Riots.
While Rally celebrated how far our rights have come (both in North America and Worldwide) it acknowledged how far they still have to go. The sobering fact that marriage equality has been passed in 28 countries, yet in 69 other countries, LGBT acts remain a crime, cemented the event's urgent message: Don't stop fighting!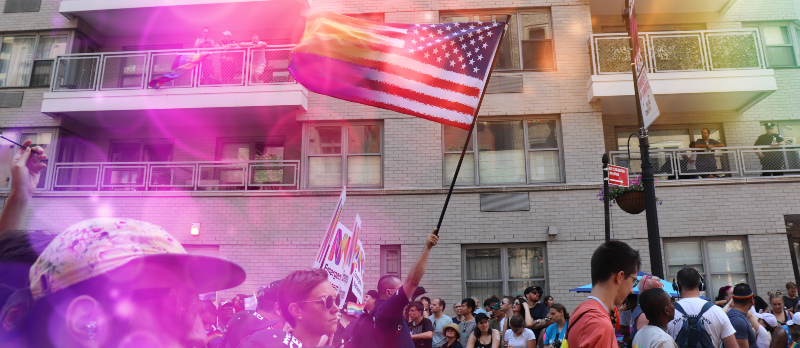 Savour:
2019 marked the second year New York Pride had produced this queer food event, billed as a 'one-of-a-kind immersive culinary fundraiser.' Sponsors provide food and snacks that are dotted around two-levels of the Michael Kors Building. In the kitchen, celebrity chefs whip up some Pride signature dishes for everyone to try.
Nothing brings people together quite like food and drink so if you are keen to make some friends during your NYC experience this is a great event to attend. You might even spot a celebrity or two. I passed Neil Patrick Harris in the lobby.
Pride Island:
Previously known as Pride's 'Dance on the Pier', that 30-year institution became NY Pride's hottest ticket, thanks to scoring huge headliners like the late great Whitney Houston. In 2017 NY Pride evolved the event into Pride Island, still based at Manhattan's Pier 97, but spread over two days with multiple headliners and a host stalls (reminiscent of our Big Gay Out).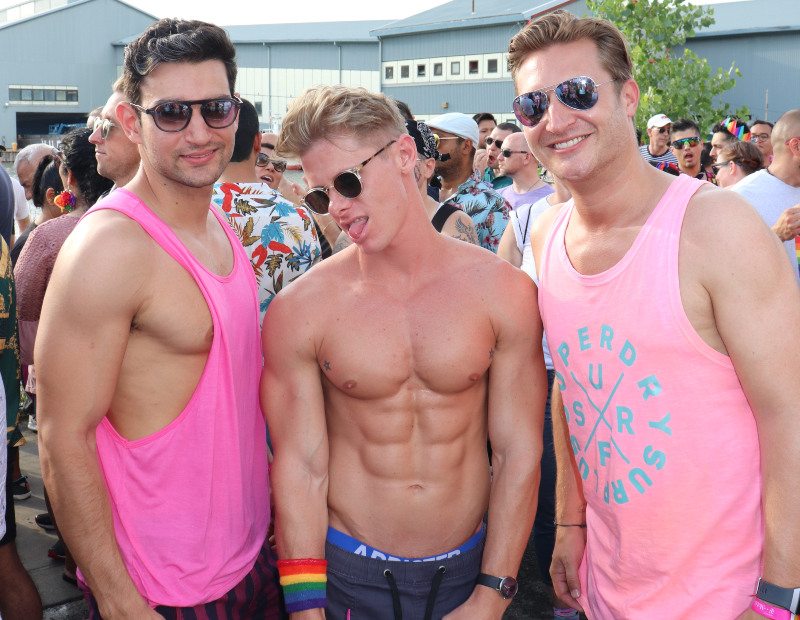 The headliners are impressive. On night one, Grace Jones brought her weird and wonderful talent to the stage, with a hot line up of supporting acts included pop's great trans hope Kim Petras and Brazil's Grammy-nominated drag-powerhouse Pabllo Vittar. Night two, the support acts blended into the background as the world's greatest mononymous pop star took the stage. While Madonna only performing four-song set left the crowd wanting more, opening with Vogue proved to be a very popular choice.
While Pride Island neither is, nor feels like an island, it does embrace Manhattan's waterfront and highlights how much potential Auckland Pride events could have to do the same.
Youth Pride:
While Pride Island embraced the waterfront, Youth Pride took advantage of Manhattan's other great natural beauty, Central Park. The event aimed squarely at our rainbow youth was headlined by a performance from new pop star Ava Max whose diversity-embracing anthem So Am I was getting played all over the city. Other performers included 16-year-old hip-hop DJ Nhandi and 16-year-old rapper Deetranada. A surprising amount of 70's Disco filled the air, suggesting a renaissance of the genre may be on the way!
March:
I have attended many Pride Parades over the years, including Sydney's magnificent Mardi Gras, but the mood generated by the million-plus people who turned out for the New York Pride March is like nothing I have ever experienced. The March was lead by a number of notable Grand Marshalls including the cast of POSE and creator of the Transgender Pride Flag Monica Helms.
Onlookers are there to truly celebrate and even the quieter ones show no sign of being introverted. The atmosphere was so electric that for the first time I considered buying rainbow paraphernalia and covering myself in all the colours!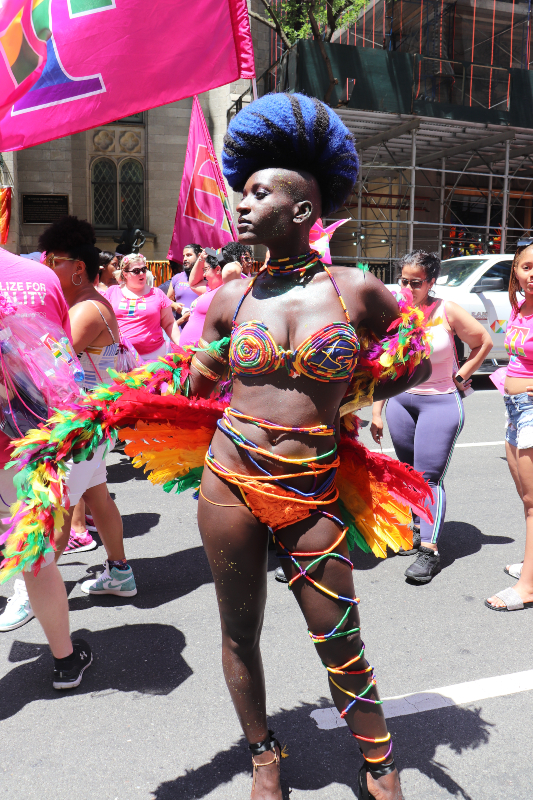 March is not perfect, however. It goes on far too long – starting at midday, at 1 am the final marchers were still walking! A simultaneous protest walk has also been organised by those who believed the march had become too commercial. Looking down at the flashing pink T-mobile bracelet on my arm, I concede that they may have a point.
Closing:
Pride's Closing ceremony, which annoyingly clashed with Madonna's Pride Island performance, was a blaze of flashing lights and fireworks. Opened by Melissa Etheridge; hosted by Margaret Cho, and concluded by Deborah Cox, it was a fitting end to a flashy yet thought-provoking Pride.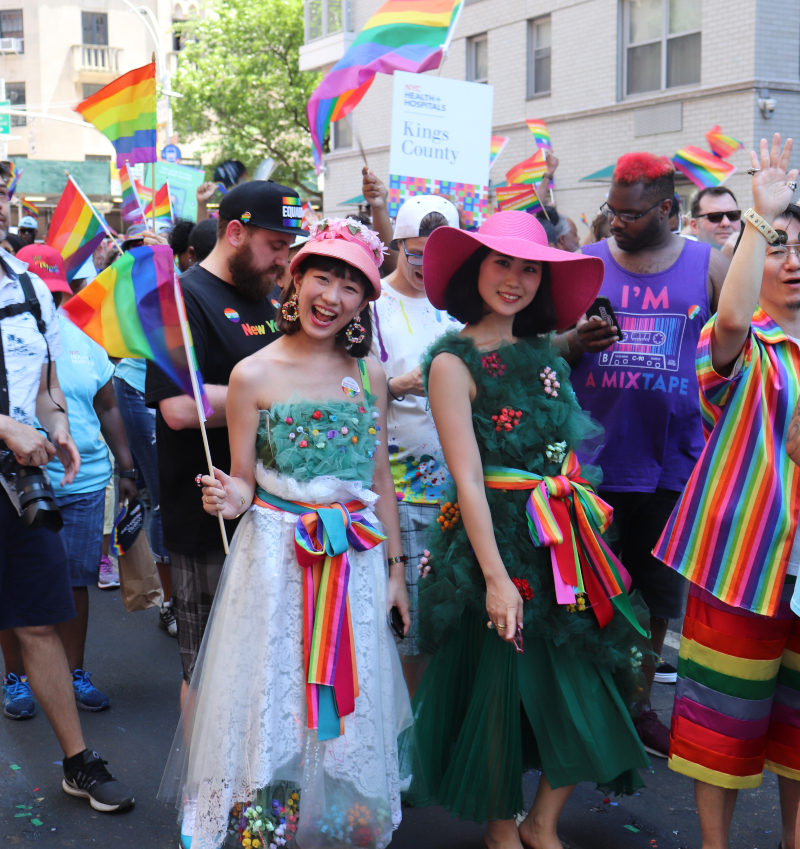 The Amsterdam Rainbow Dress:
Held outside of official Pride events, was an exhibition of the touring Amsterdam Rainbow Dress. Created to shame the countries where homosexuality is punishable by law, the dress is formed from flags of each of these nations. Whenever a country repeals the law and makes being gay legal, their flag is replaced with a rainbow pride flag instead. Designer Matjis van Bergen hopes that one day the dress will be made entirely from pride flags.
---
Book your New York trip at www.hawaiianairlines.co.nz