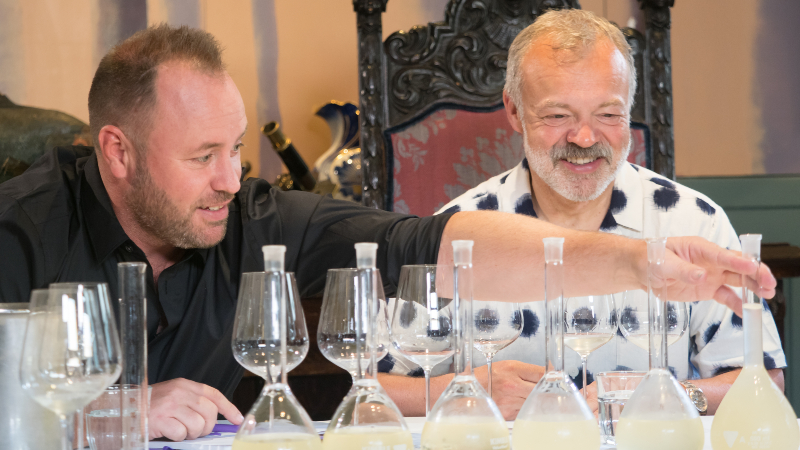 Just 14,000 bottles of the Graham Norton range were produced in 2014, this year's vintage will top 3.5million bottles! express checks out Graham Norton's Own SauviGNon Blanc 2019.
This is the sixth vintage of Graham's Sauv, produced by Kiwis Invivo.
Every year after vintage, NZ-based Invivo Co-founders Rob Cameron and Tim Lightbourne travel across the pond for a day of sampling and blending where Norton determines the final wine blend.
For the first time, the tight team extended an invitation to wine media guru Joe Fattorini to join their annual blending session
Joe – who has over 30 years of experience in the industry – was blown away by Norton's wine knowledge. "The blending process Graham and the Invivo boys go through is exactly what you'd see at any winery in the world – this is real winemaking, by people who care deeply about what they're doing."
Norton clearly knows what he's doing. His personally blended wines, which include Rosé, Shiraz and Prosecco, have won over 50 medals including four trophies from the UK's People's Choice Awards, Gold at the Global Sauvignon Masters and Gold at the Prosecco Masters.
Norton admits that the 2019 blending session was hard work thanks to the quality of the wines, telling us, "a standout vintage in Marlborough, meant it was tough to pick winners from this year's vineyard samples."
express sampled the new vintage and agree with Norton that this is a stonking year!
On the nose: From the moment you unscrew the top a powerful aroma of grapefruit and passionfruit fills the air.
On the pallet: Herbaceous characters with tropical and citrus notes make for a fruity and fresh mouthful!