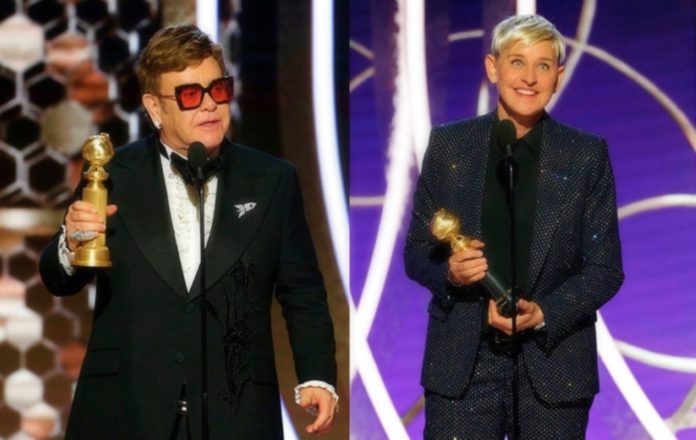 Elton John's Rocketman and Ellen Degeneres have been big winners at 2020 Golden Globe Awards held at the Beverly Hilton in Los Angeles.
In the first of two big awards, Elton John and his best friend Bernie Taupin won a Golden Globe for the movie's title track (I'm Gonna) Love Me Again.
In accepting the award with John, Taupin stated that Rocketman is the story of a lifelong friendship between himself and John.
"Thank you Hollywood Foreign Press, you know this is really sweet because this is not just about a song we wrote for a movie, it's a song we wrote for a movie which deals with our relationship," Taupin said.
"It's a relationship that doesn't happen very much in this town, it's a 52-year-old marriage."
Elton John said winning the Best Original Song award was very humbling.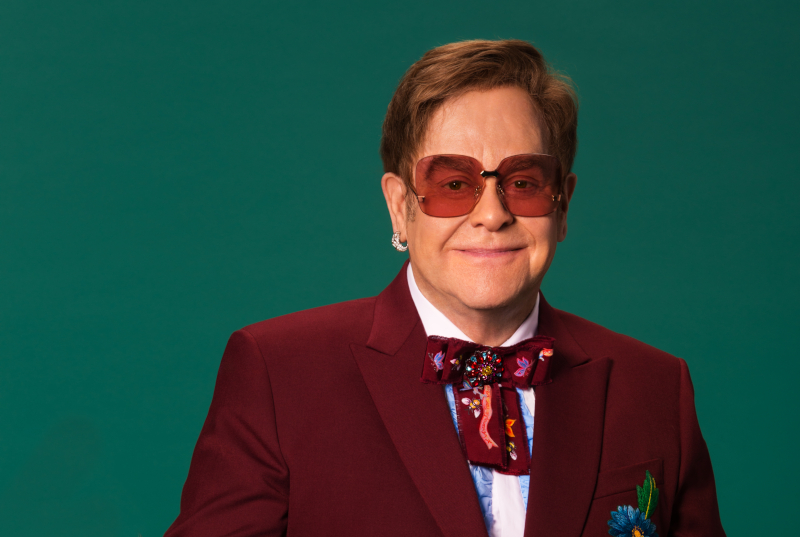 "Thank you to all my fellow nominees who are all great songwriters."
"To everybody that worked on Rocketman to Giles Martin who made the record with Greg Kurstin, to Taron [Egerton] who helped me sing it, to Paramount [Pictures] and everyone involved in this film, it was one of the most emotional moments of my life.
"Its the first time I have ever won an award with him [Taupin], I'm so happy thanks very much."
Rocketman also grabbed another Golden Globe when lead actor Taron Egerton (Who played John) won the award for Best Actor in a Motion Picture – Musical or Comedy.
In his acceptance speech, Egerton said he was honoured to nominated in a field that included Daniel Craig, Leonardo DiCaprio and Eddie Murphy.
"To Elton John, thank you for the music, thank you for living a life less ordinary and thank you for being my friend," Egerton said.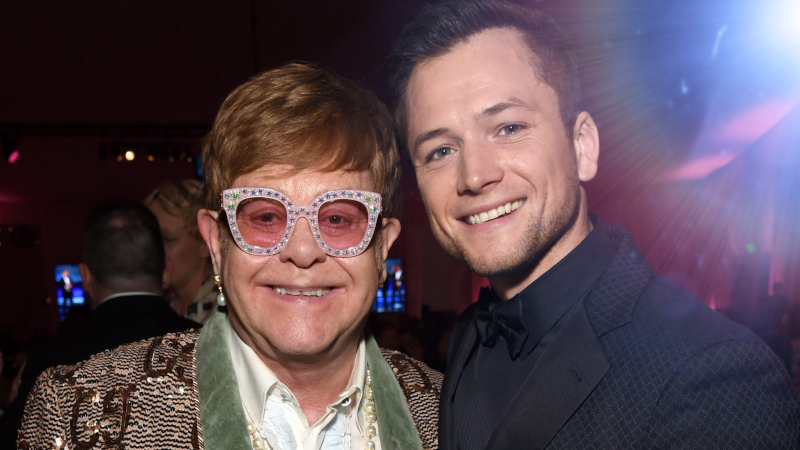 Ellen Degeneres has accepted the Carol Burnett Award for Excellence in Television during the Golden Globes telecast.
Degeneres 61, reflected on the ups and downs of her career including being sacked from two television comedy gigs.
DeGeneres said it took her a while to find her way in TV, even after she made history by coming out as a gay woman on her sitcom.
"I had a sitcom. And I lost that sitcom. Then I had another sitcom, and I lost that sitcom too," she said.
"I got to do something I always wanted to do: Make whiskey. Then I got a talk show. I got a talk show. And I was able to be myself. I feel like you all have gotten to know me. I'm an open book," she told the audience after receiving a standing ovation.
DeGeneres then poked fun at her sexuality, thanking her "husband Mark" who doesn't exist. Her wife, actress Portia De Rossi, was caught laughing wiping tears from her eye from laughing so hard.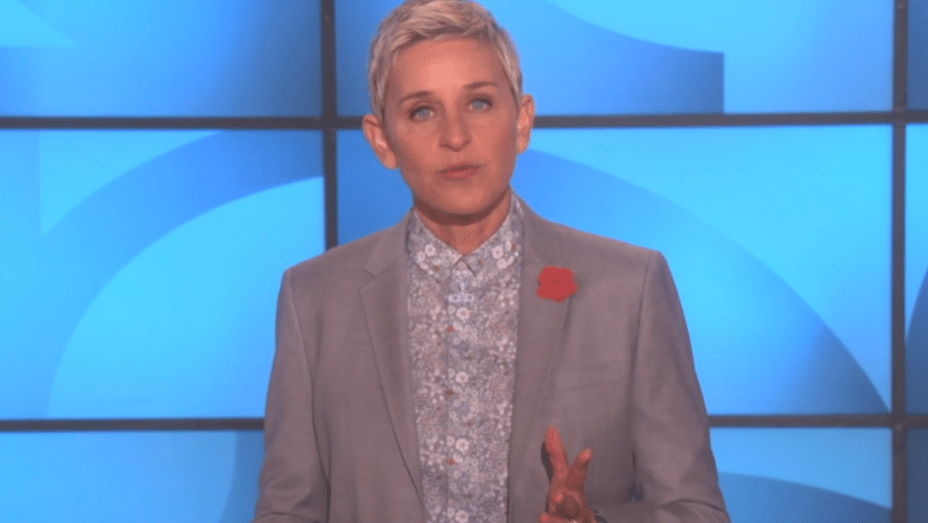 "I couldn't have done it without my husband Mark. Mark, you are my rock," DeGeneres said.
She also paid tribute to Carol Burnett, who received the inaugural award named for her last year before DeGeneres became the second recipient.
"There's a connection when we watch someone on TV for as long as we are on TV. And that's what it was like for me with Carol Burnett. I felt like I knew her. I felt like she showed us who she was every week. She was larger than life.
"We counted on her to make us feel good, and she delivered every single week. She never let us down.
"She was hilarious in all the sketches that she did. And when she did the Q&A with the audience, she was just genuine and personal. And I always felt like she was speaking to me, when at the end of the show, every time she pulled her ear, I knew she was saying, "It's okay. I'm gay too."
The surprise winner of the night was a movie that hasn't even yet been released.
The Golden Globes Best Motion Picture – Drama award went epic war film 1917, directed, co-written and produced by Sam Mendes.
---
Full List of Golden Globes winners below.
Television:
Best Performance by an Actor in a Television Series — Musical or Comedy
Ramy Youssef ("Ramy") – WINNER
Best Performance by an Actress in a Television Series — Musical or Comedy
Phoebe Waller-Bridge ("Fleabag") – WINNER
Best Performance by an Actor in a Television Series — Drama
Brian Cox ("Succession") – WINNER
Best Performance by an Actress in a Television Series — Drama
Olivia Colman ("The Crown") – WINNER
Best Performance by an Actor in a Limited Series or Motion Picture Made for Television
Russell Crowe ("The Loudest Voice") – WINNER
Best Performance by an Actress in a Limited Series or Motion Picture Made for Television
Michelle Williams ("Fosse/Verdon") – WINNER
Best Television Limited Series or Motion Picture Made for Television
"Chernobyl" – WINNER
Best Performance by an Actress in a Supporting Role in a Series, Limited Series or Motion Picture Made for Television
Patricia Arquette ("The Act") – WINNER
Best Performance by an Actor in a Supporting Role in a Series, Limited Series or Motion Picture Made for Television
Stellan Skarsgård ("Chernobyl") – WINNER
Best Television Series — Drama
"Succession" – WINNER
Best Television Series — Musical or Comedy
"Fleabag" – WINNER
Movies:
Best Motion Picture — Musical or Comedy
"Once Upon a Time in Hollywood" – WINNER
Best Motion Picture — Drama
"1917" – WINNER
Best Motion Picture — Foreign Language
"Parasite" – WINNER
Best Screenplay — Motion Picture
Quentin Tarantino ("Once Upon a Time in Hollywood") – WINNER
Best Original Song — Motion Picture
"(I'm Gonna) Love Me Again" ("Rocketman") – WINNER
Best Original Score — Motion Picture
Hildur Guðnadóttir ("Joker") – WINNER
Best Actor in a Supporting Role in Any Motion Picture
Brad Pitt ("Once Upon a Time in Hollywood") – WINNER
Best Actress in a Supporting Role in Any Motion Picture
Laura Dern ("Marriage Story") – WINNER
Best Actor in a Motion Picture — Musical or Comedy
Taron Egerton ("Rocketman") – WINNER
Best Motion Picture — Animated
"Missing Link" – WINNER
Best Actor in a Motion Picture — Drama
Joaquin Phoenix ("Joker") – WINNER
Best Actress in a Motion Picture — Drama
Renée Zellweger ("Judy") – WINNER
Best Actress in a Motion Picture — Musical or Comedy
Awkwafina ("The Farewell") – WINNER
Best Director — Motion Picture
Sam Mendes ("1917") – WINNER