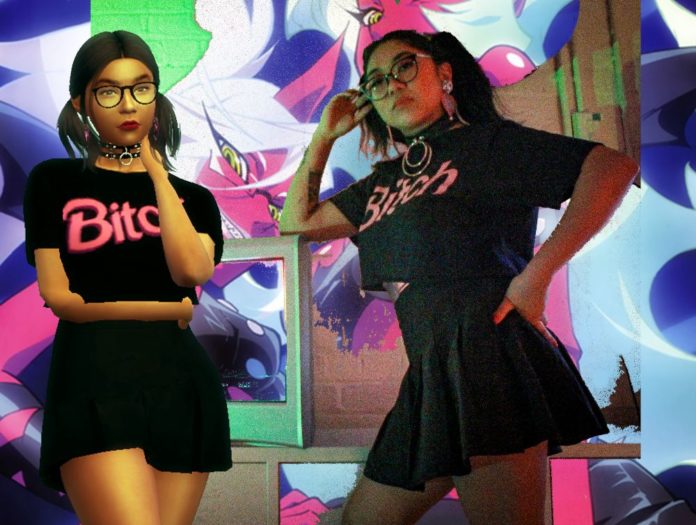 With virtual Instagram influencers like Miquela blowing up, the divide between real and unreal has blurred. It's in this new reality that queer artist Mariadelle (Abbey) Gamit resides.
"Before, we looked at these platforms as recreational, and something that you can turn on and off from. But right now it's pretty much impossible to not be seen unless you shrink yourself to something smaller than a pixel," she laughs.
Benjamin Bratton in his book The Stack showcases how technology permeates our "reality" yet Gamit suggests images – whether real or unreal – have long dictated what we define as "real life" with news and media once controlling mainstream visual consumption.
"The boundary was never there in the first place or rather, it was gone a long time ago," she adds.
"I can see people getting lost in the superficiality of it all, but I think if you remain aware of how these systems are governing us, stay centred to your core identity and compassionate to everyone and everything, you won't get swept away."
The 25-year-old Auckland creative was born in Manila and grew up in Cavite City, immigrating to NZ 13 years ago. She describes her work – which can be viewed on Instagram @jpegmezaddy – as showing how "a queer, migrant, womxn of colour navigates Aotearoa and the wider world; online and 'irl'".
"It's my perspective while hinting how I want to be viewed and interpreted by everyone else. Usually, it's different images coming together to portray a narrative or an avatar dressed in a specific look. Depending on the situation, I use images and symbols as armor or a tool to navigate it.
"I look at it as multifaceted versions of myself. These characters are all fluid – be it on my artwork, my social media or interacting with me face to face. My "sim" could be a sim of a sim," she laughs.
Rather than her work being a statement about social media and gaming and how people portray better or wilder versions of themselves, however, Gamit sees our various representations as simply extensions of "self".
"I especially think that it's the perfect space for marginalised individuals to reinforce their presence. It's a way to occupy space, as this extension of yourself holds the power to change people's way of reading you or interacting with you."
Being on the edge of the mainstream is something familiar to Gamit with her coming out not "exactly a walk in the park".
"There were a lot of factors that made it hard coming out, but I'd say dealing with growing up as Catholic made it a lot harder. Especially because it wasn't just about figuring out my sexual identity, but also go through the process of unlearning."
The central Auckland resident is excited about the possibility of future collabs.
"It'd be cool to work with people and brands who are inclusive or challenge uniformity. It'd also be a dream to create prints for a specific artists' merch. Some cool things I saw when I went travelling were Tengas in Japan with cool designs on the packaging. When I went to LA, lots of hemp products have really crazy designs on the packaging too."
As for her dream collab, Hollywood calls!
"Eric Andre randomly walk into my workplace on the day he had a show due in Auckland. I've always admired him as well as muse about the idea of writing skits for him. Bonus is if I get to be a DOP or an editor for his show. It would be a dream come true."
Article | Belinda Nash.