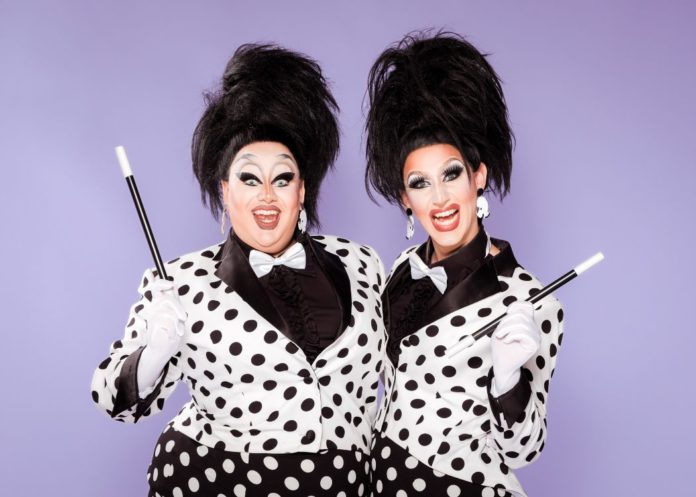 Express' favourite drag duo Kita and Anita have returned to our screens hosting Season 2 of House of Drag. They caught up with Oliver Hall to discuss the diversity of NZ drag and rubbing exposed shoulders with Hilary Barry.
"Season 2 is a whole new level of comedy, tragedy, and sheer debauchery!" The infamous Kita Mean tells express when asked about what sets House Of Drag's new season apart from the first. "The cast have watched and learned from Season 1 and have come into this competition galvanised and ready to charge their way to the top!"
Her demure partner in crime Anita Wigl'it still seems taken aback from the goings-on in season's house! "My goodness, there were some moments in Season 2 that positively left me clutching for my pearls," she divulges.
Perhaps Anita is referring to the rumours express has heard that three invaders will enter the house, hoping to steal the crown from the core cast of originals.
The new cast includes: 'proudly Polynesian' hyper-queen Bionica, witchy Wellington queen Clare Voyant, Elektra Shock who boasts a strong theatre resume, the competition's youngest queen Flor who brings a Latin-flavour from her home country of Guatemala, professional dancer Jen Tré Fire, one of the most booked queens on the Wellington circuit Kelly Fornia, Palmerston North's bear drag star Rhubarb Rouge, Stabitha who brings a taste for the macabre, and comedy drag king Willy Smack'n'Tush.
It's unsurprising that Kita and Anita have inspired such a diverse cast. Friends since 2010, the two began making an impact on the Auckland drag scene in 2015 and the following year debuted their monthly Friday night talent show Drag Wars. For many in the audience, it was the first time they had seen hyper-queens (women performing as queens), a type of drag that is now found in almost all LGBT+ venues that offer regular drag shows.
"At Drag Wars we told anyone and everyone that this was a safe space for them to either spectate or participate and the natural progression of that meant an increase in none AMAB (assigned male at birth) performers jumping into fabulous drag and hitting the stage hard!" Explains Kita.
Twelve seasons in, many have criticised Ru Paul's Drag Race for not showcasing the sort of diversity House of Drag presents by including hyper-queens and drag kings.
Kita and Anita are united in the philosophy that drag is for everyone. "Drag has a rich history of genderqueer humans propelling the art form forward, so in my humble opinion, I don't understand why people try to put gender boundaries onto it," Kita tells us. Anita agrees, stating, "drag is art and art is for everyone!"
It has been a rollercoaster few years for the duo who took over iconic K road drag restaurant Caluzzi in 2017, followed by entertainment venue Phoenix cabaret in 2019, the same year the first season of House of Drag screened on TVNZ OnDemand, raising their profile further.
"House of Drag has been another puzzle piece in one crazy whirlwind adventure that I have had the honour of sharing with my best friend!" Says Kita humbly.
"I have become a B-grade celebrity," Anita chips in with a wink, as she laments on how the show has changed their lives. "Season 1 has given me so many amazing opportunities; event appearances, pop-ups on some soon-to-be-released TV shows. It has created many wonderful memories, and most importantly it has helped me meet the wonderful cleavage and shoulder exposing goddess that is Hilary Barry!"
The Mother of the Nation better watch out, these two queens may soon steal her crown!
House of Drag Season 2 is on TVNZ OnDemand now.