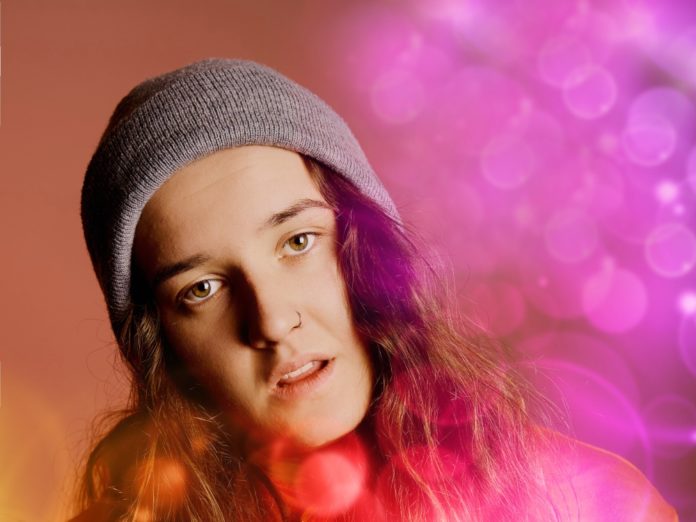 With the return of Lockdown Live tonight from 8 pm, express chats with local LGBT+ artist Abby Wolfe ahead of her live performance at 8:20 tonight via Instagram Live!
What has been the best AND the worst thing about being in lockdown?
I'm an introvert so I feel like I was made for Lockdown (haha). I've poured a bunch of hours into learning piano & production- So my "best" is: time to upskill. And the worst part is not being able to see my pals & get in the studio.
The situation with COVID-19 has hit the music industry hard – how has it impacted you personally?
It's definitely weird getting used to a new way of life, I know everybody is struggling. I personally was planning a few shows to coincide with some new music, but Corona definitely hit the brakes there.
You've got a lot of live experience under your belt – how does performing on a live stream compare to performing live in a venue?
Connection is a big loss when you're live streaming, there's nothing better than playing music to a crowd of people that are vibing. You feed off each other's energy and it's truly a feeling like no other. But in these wild times, streaming has filled a massive void and I think it has created something really beautiful. People who live overseas can tune in from the comfort of their own homes, & if you're someone who can't afford to go see your favourite artist live streaming gives you an opportunity to tune in. It's a blessing to be able to play to your communities right now. When you get down to the crux of it all, music is about connecting, so we're doing something right.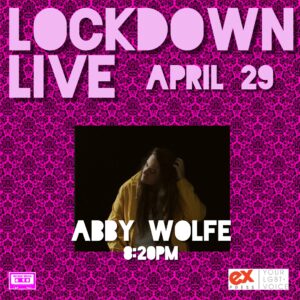 What tips would you give to any budding artists out there who want to give live streaming a crack?
My advice would be to go do it! If you have the means, spend some time learning how to set up gear so you have the best sound quality possible, otherwise just crack into it, test the waters. There's literally no better time to capture an audience.
If you were curating your own online festival, which five New Zealand acts would you have as your headliners?
That's so hard! I'd have to say… Foley, Nadia Reid, Navvy, Balu Brigada & Wells*
Who/what is your biggest musical influence/inspiration?
P!nk, I was given one of her records when I was 10 and I've been hooked since!
What's next for Abby Wolfe – any new music on the horizon?
New music definitely, I've spent some time hunkered down getting this next wave of music feeling good, so that's on the way. Hopefully, some shows, when the crazy settles & always more writing and creating.
---
Lockdown Live – a weekly live streaming initiative to support emerging New Zealand musicians. Thanks to our friends at NicNak Media starting from 8 pm on Wednesday the 29th of April, each artist/act will perform for 10 minutes, streamed live from their own Instagram accounts. With New Zealand currently in lock-down, many musicians are not in the same 'bubble' as band members and/or producers, so each act will tailor their performances accordingly.
You can tonight's performances via these links @tommietacos @saxinz @theabbywolfe @wearefoley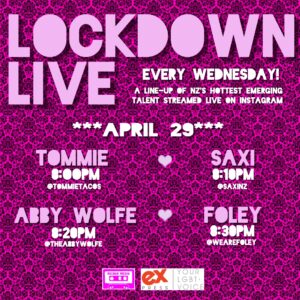 Lockdown Live was set up to help Kiwi artists during the COVID-19 Lockdown. With the New Zealand music industry being severely impacted by the pandemic you can help support Kiwi artists and donate to MusicHelps which provides useful information and sources of support to Kiwi music people affected.