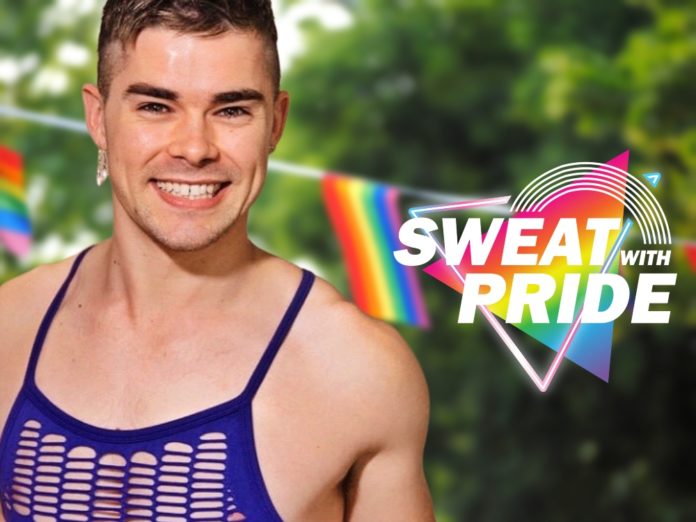 Blaise Clotworthy discusses his experiences around mental health and sexuality, and why he is taking part in the NZAF's 'Sweat With Pride'.
One in five Rainbow youth in Aotearoa have attempted suicide. I was one of them, and I'd like to share my story with you.
I realised I was gay when I was 12 years old and I did everything I could to hide it. I grew up in a conservative suburb in East Auckland in the early 2000s, where I was made to feel that being gay was immoral. I was often bullied for my femininity and experienced physical, verbal and psychological abuse from my peers. This set me on a path of anxiety and fear of my own identity that would resonate for years to come, culminating in over a decade of trauma and repression.
I came out when I was 19. Fear and miseducation around HIV and AIDS gave me crippling anxiety around the inevitability of Gay = AIDS = Death. When I came out, a loved one told me, "Just don't get AIDS, 'cause if you get AIDS, you're fucked." (Well that couldn't be further from the truth!). I lived with this gut-wrenching anxiety for years, and it wasn't until two years ago that began my journey of confronting the relationship between my sexuality and my mental health. It all started with one little four-letter word …
H-E-L-P. A word, that for many, is very difficult to say. I found it impossible to reach out – thoughts ran through my head: "I don't deserve help", "I don't want to be a burden", "I don't want to take the place of a more deserving person". I know now that these statements are false, but I couldn't bring myself to seek the help I so desperately needed. This is commonplace for Rainbow people who experience mental health challenges and these feelings are often intensified by pre-existing, long-standing insecurities about who they are and their place in the world.
After experiencing a suffocating anxiety attack, a close friend called a mental health crisis line on my behalf. I was diagnosed with severe anxiety, panic disorder and depression. I began treatment and started on my journey to understanding how sexuality is linked to self-worth. When your sexuality is attacked through bullying, homophobia or even internalised stigma, it can feel like a condemnation on the most intimate part of who you are.
People often perceive me as a happy, campy, energetic and charismatic human – a person who lives their authentic queer self. What those folk don't see is the daily work that goes into prioritising and choosing to help myself to live a fulfilling life.
I often go back to the techniques I learned in therapy. In order to maintain a sense of stability, I increased my physical activity. Being active enhances my sense of wellness and balance. I dance, I workout, I walk. Exercise has become a very important outlet for me. Through exercise, dance and performance, I have been able to find an outward expression of sexuality that allows me to maintain positive mental health habits.
This August, as someone who has experienced the mental and health benefits of exercise, I'll be participating in Sweat with Pride. I will exercise for 21 minutes (or maybe more!) every day, sponsored by my friends, family, and colleagues. You can participate too! By exercising every day you'll improve your own health, and the money you raise will fund projects at the New Zealand AIDS Foundation and Rainbow Youth to benefit other Rainbow New Zealanders. Now is the perfect time to get your groove on, so sign up now!
Support pathways
You do not have to suffer alone. If you or anyone you know is experiencing hard times and need support, please get in touch with any of the services below.
– The New Zealand AIDS Foundation provides free counselling to people affected by HIV and men who have sex with men
– Need to talk? Free call or text 1737 any time for support from a trained counsellor
– Lifeline – 0800 543 354 (0800 LIFELINE) or free text 4357 (HELP)
– Suicide Crisis Helpline – 0508 828 865 (0508 TAUTOKO)
– Healthline – 0800 611 116
– Samaritans – 0800 726 666
– Depression Helpline – 0800 111 757 or free text 4202 (to talk to a trained counsellor about how you are feeling or to ask any questions)
– OUTLine NZ – 0800 688 5463 (OUTLINE) provides confidential telephone support
– Alcohol and Drug Helpline – 0800 787 797 or online chat
– Are You OK – 0800 456 450 family violence helpline
– Gambling Helpline – 0800 654 655
– Anxiety phone line – 0800 269 4389 (0800 ANXIETY)
– Shine – 0508 744 633 domestic abuse helpline