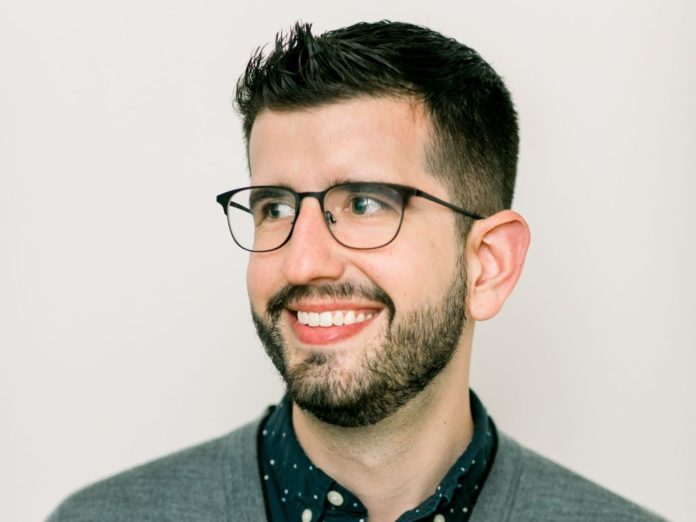 If You're a fan of Adam Silvera or Becky Albertalli, make some room on your bookshelves for Phil Stamper. Because you are about to fall for his cosmic love story, The Gravity of Us. Daniel Devenney talks with the queer author.
"I always get a bit emotional when I think about how queer teens can walk through a bookstore and see a book with two teen boys holding hands on the cover. That said, there are still so many more stories that need to be told, especially when it comes to intersectional queer voices. I'm happy, and I'm hopeful for the future, but we're not done yet!" – Phil Stamper
Cal is a popular social media journalist. He has an impressive audience of half a million followers. Not bad for a seventeen-year-old. His meticulously planned future is thrown into chaos when his father is chosen for NASA's latest mission to Mars. His whole life in New York is uprooted as his family relocates to Houston. To complicate things further, the entire thing is being filmed for a reality show called Shooting Stars. He's worried his family will crumble when put under a microscope. The producers want the astronauts to live in a 1960s bubble, paying homage to the previous space race to the Moon. They've manufactured retro suburbia for their shiny nuclear families. It isn't long before this old-fashioned facade clashes with modern values. However, meeting the charismatic and handsome Leon cushions the blow. Can Cal and his new relationship thrive in this strange new world he's been thrust into?
Phil is a self-professed space nerd. His passion and knowledge of NASA's missions in the 60s and 70s shine in this original story. He also explores social media, mental health, and first love in this smashing debut. He very kindly took some time out from his busy schedule to answer a few questions about his novel, upcoming projects, and life as a writer. (Eek! Excited fanboy Squeals!)
I loved the mixture of old and new in The Gravity of Us. It was a contemporary concept but with a retro twist. This created an interesting contrast. What inspired you to tie these two worlds together?
I could have written it as a historical, and a lot of the story would have more-or-less stayed the same—different forms of media competing for attention, the discussion of government funding amid fleeting support from Americans, the unique toll astronaut families faced between looking perfect for the cameras and worrying about their husband or father in space. But in modernizing all of these facets, I was able to build a fun, complex story that felt way more relevant in today's world. And I'm so glad I tied these two worlds together because I was able to show how we've changed—and how we haven't—and poke holes in a lot of the nostalgia that comes along with the original spaceflight era.
"Nostalgia is a blindfold", is one of my favourite quotes of yours. Why do you think we tend to romanticize the past?
This is a good question, and I'm still not sure it's something I can fully answer. Anything seems better when you're a few decades separated from it, I guess. I helped organize a 90s-themed book fair for my day job recently, and it was a huge hit. I listen to music from the 90s and early 2000s and each album or song will invoke a specific memory. Rereading Agatha Christie puts me right back into my high school bedroom, where I read about 40 of her books over the course of a year. It's nice to experience those feelings and memories again.
It's also interesting to have so much nostalgia for eras you weren't even a part of. I have a record player and a collection of old LIFE magazines from the 60s, and I think there's something cosy and fascinating about getting to learn more about times you never got to experience. But if you do that, you should also get all of the facts, and see what perspectives are missing from what you're consuming. That's the point Cal so precisely makes with that line, which is also one of my favourites!
Your second novel, As Far As You'll Take Me, is scheduled for February 2021. I can't wait to read it. Is there anything you can tell us about it?
Yes! I'm so excited to be able to share more about my sophomore YA novel. The story follows 17-y/o Marty Pierce as he leaves an uneasy living environment in rural Kentucky and moves to London to pursue his dream of being a musician. Along the way, he grapples with his anxiety, finds friends that quickly become family, and falls in love for the first time… with the wrong boy. The story is inspired by my own experiences with anxiety, identity, and first love—and truly, who hasn't fallen for the wrong boy at some point? It's a super personal book to me, but I think it has a lot of heart, and I can't wait for the world to meet Marty!
As a lifelong lover of queer literature, I feel spoilt for choice at the moment. Growing up, it was slim pickings. How important is representation and visibility to you when writing a novel?
I talk about this some in my author's note for The Gravity of Us, but it really is amazing that there are so many fantastic queer books, especially queer YA and books for kids, on shelves right now. That's not how it was when I was a teen, and I always get a bit emotional when I think about how queer teens can walk through a bookstore and see a book with two teen boys holding hands on the cover. That said, there are still so many more stories that need to be told, especially when it comes to intersectional queer voices. I'm happy, and I'm hopeful for the future, but we're not done yet!
Now for the hard-hitting stuff! I noticed through some social media sleuthing that you're a fellow Potterhead. What house are you, and who's your favourite character?
I'm a Gryffindor! My favourite character has always been Hermione, but I do have a soft spot for Luna.
There's nothing more transportive than a good book. Reading provided a welcome escape for many of us during quarantine, what books did you get lost in?
So far, I've read We Were Promised Spotlights by Lindsay Sproul and Late to the Party by Kelly Quindlen, which are both fantastic queer YA debuts that recently came out. In the nonfiction/memoir world, I've read Trixie and Katya's Guide to Modern Womanhood and R. Eric Thomas's Here For It. I'm rereading the Hunger Games series to prep for the new book, and I have Curtis Sittenfeld's Rodham on deck to read next!
When did you first realize you wanted to be a writer?
I never really wanted to be a writer growing up, but I was always a big reader. I studied music in college, then worked in PR for a non-profit after graduating. In PR, I loved that I could craft stories for a living, but writing press releases, speeches, and op-eds got boring fast. So, I decided to try my hand at writing fiction, and the rest is history. (Well, the "rest" was eight years of agony as I wrote four books, shuffled agents, and went on submission to editors for years before my first book deal. Oof!)
Your library is on fire! You can only save one book! What would it be and why?
At my hometown book launch, a family friend gave me her father's first edition copy of Catcher in the Rye. It was a thoughtful gift and reminds me of my fantastic launch event. It's certainly the coolest book I own, so I'd have to pick that one.
If you could share one piece of advice with aspiring writers, what would it be?
I'd say my main advice is to keep trying. Focus more on the process of writing than on one specific book. The market's always moving, and things are so subjective. I know every time I write a book, I get the feeling that that is my best work. But as soon as I put my soul into another piece, I realize it's not true. So keep improving your craft. Keep trying out new stories. Write what comes naturally to you, even write what doesn't. Try a bit of everything, really.
I received 92 total rejections from agents between two books, and 84 rejections from editors between three books. This industry is not kind to its artists—even the nicest rejections hurt, bad. But I think you grow so much with each rejection and with each new story, that as long as you keep trying, one day it will turn around. Just know that for every supposed "overnight success" there's usually years of frustration leading up to it that we never hear much about. Know you're not alone, and stick with your writer friends—they'll get you through the worst of it!