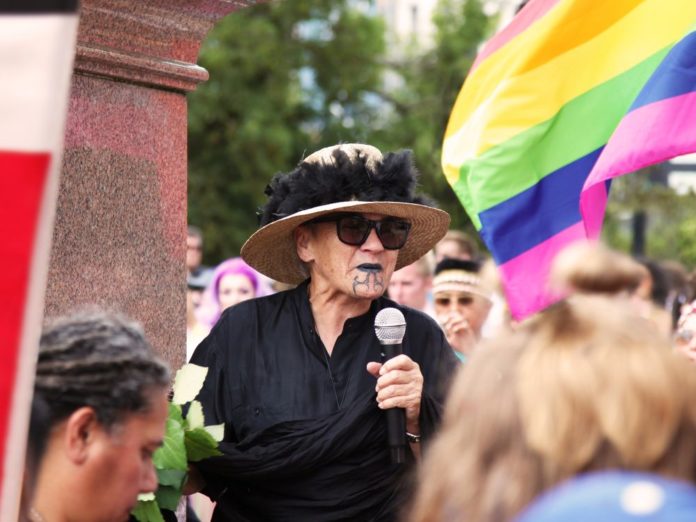 Take a step back in time with Auckland's new self-guided LGBTIQ+ walking tour which traces the formation of the 1972 Gay Liberation Front (GLF).
The GLF was a radical activist group that was made up of mainly young people and was responsible for bringing LGBTIQ+ people out of the closet and proudly onto the city's street for the first time in the country's recent history.
The Gay Liberation Trail was assembled by local artist Richard Orjis who has been researching the GLF for the past several years. Orjis stated that "queer histories are so important to share and celebrate as they are not often taught in schools, told in mainstream media, memorialised in the form of monuments or passed down family lines. History gives meaning to people and place, and the Gay Liberation Front talks to empowerment and radical intimacies that survived against a backdrop of discrimination and erasure."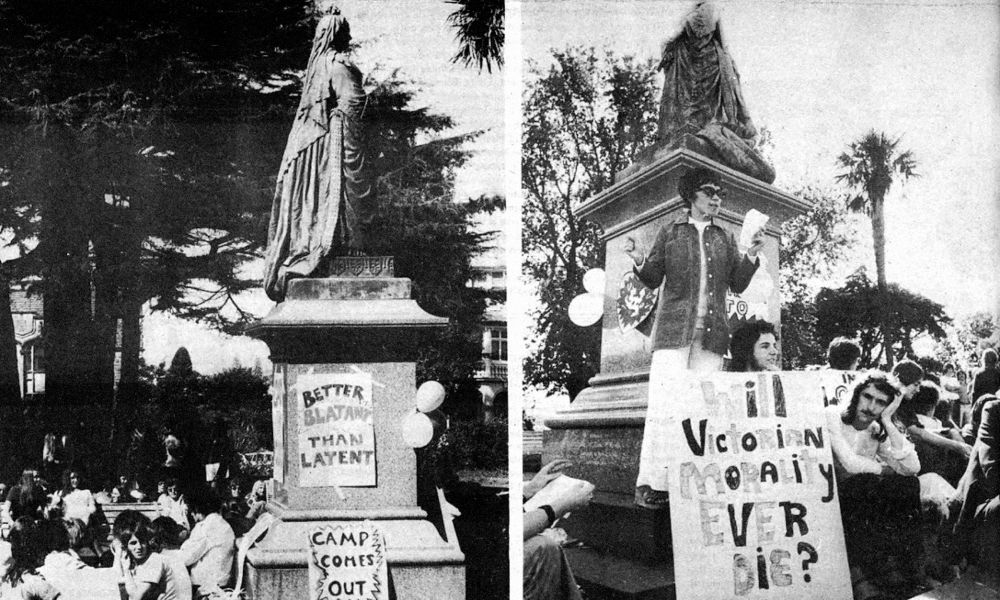 The catalyst for the GLF in Aotearoa was 23-year-old university student Ngahuia Volkerling (later Ngahuia Te Awekotuku) (Te Arawa, Tūhoe) and her denied entry into the United States. The New Zealand University Students Association (NSUSA) had nominated her for a U.S Government-funded scholarship to tour American Universities. In completing paperwork, Volkerling indicated that as a Māori lesbian she wished to research the American Gay Liberation and Red Power (First Nations) movements. After not hearing back from them, she fronted up to the U.S Consulate on March 15, 1972, only to discover that her visa was declined on the grounds of her being a 'sexual deviant'. Furious with their decision, Volkerling proceeded to the University's Student Quad and gave an impassioned speech calling for a revolution and for people, to be honest about their sexuality. This action led to the formation of the GLF, first in Auckland,
The GLF remained active throughout the 1970s and sought liberation from discrimination, enforced heterosexuality, gender-roles, and the confines of marriage and the nuclear family. They rallied for homosexual decriminalisation and freedom from corrupt political, educational and religious institutions. Additionally, they joined forces with other groups to fight against capitalism, sexism, racism and openly supported de-colonial struggles.
The self-guided walking tour titled 'Pride Walks: The Gay Liberation Trail' is available on smart devices via the AKL City Tours app. Supported by Auckland Council, the app has eight tours that include a focus on the city's Māori, built and creative histories, and can be downloaded via Google Play and The App Store.
As part of this year's Auckland Heritage Festival 2020, Richard Orjis will be taking two free walks that trace the movements of the GLF through the Central City on Sunday, October 4, 3:00-4:30 pm & Saturday, October 10, 3:00-4:30 pm. You can book on Eventbrite.com under 'Pride Walks The Gay Liberational Trail'.