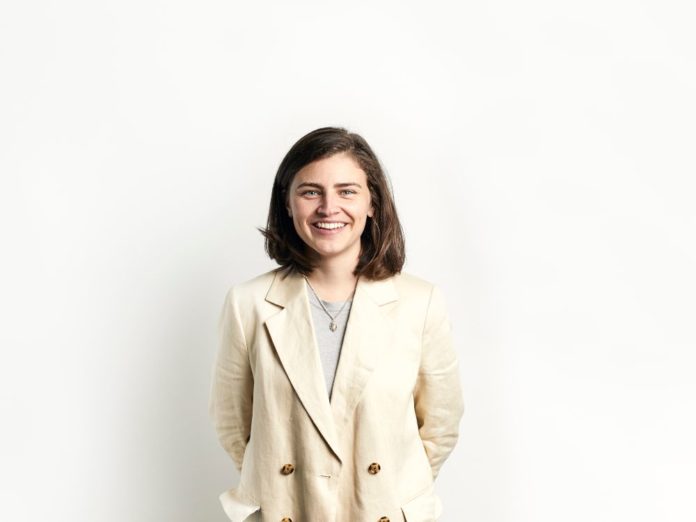 After Rainbow Auckland's Meet The Candidates event on 5 August, Oliver Hall went for a bus ride and beer with parliament's youngest serving MP Chlöe Swarbrick to find out fuels the green supreme.
Chlöe Swarbrick is by far the highest-profile candidate to attend the Rainbow Auckland event. Everyone plays nicely but when handsome National newcomer Jake Bezzant offers vague answers, Swarbrick performs an entire-face equivalent of an eye roll. "I do have a very expressive face," she says with a wry smile when later I raise this with her.
As the event winds down she suggests we do the interview at her K-Road office (formerly the Club X adult store). When I suggest we uber there, I am reminded that she is a Green MP and, "we like to catch the bus."
"Not used to riding the bus?" she asks me with the wry smile firmly back in place. I bluster excuses about living on the upper North Shore. 'The NX1' she offers, highlighting that she knows the route that would take me home!
On the ride, we discuss the ambition of her youth (to be a stand-up comedian) and meeting her fiancé (who was working in LGBT media) in Perth.
As we hop off and make our way up K Road a couple of grungy-looking youths approach us, each swigging from a can of Woodstock in the street. Swarbrick knows them. They are artists and she seems to be as big a fan of their work as they are of hers.
'I'm not the least bit surprised you are friends with the people drinking in the street,' I tease, and she begins to bluster as I had about the bus. To reassure her I am not judging, I suggest a beer at Eagle bar (a Woodstock swiggers delight). "I've never been in," she admits – surely sacrilege for someone who lives just off K road – "why don't we do the interview there?"
And we adjourn, aptly, to the smokers back patio for our chat.
A Young Queer Woman in Parliament
"I feel I have to legitimise and validate myself in a way some others don't have to," Swarbrick tells us when I ask how she feels her experience in parliament (as a 26-year-old woman in a same-sex relationship) would compare with that of her straight male peers.
She admits that it creates an added pressure: "You don't want to screw up, and potentially stifle opportunities for those who come after you."
Swarbrick had entered parliament while dating a man ("a lot of assumptions were made off the back of that") and when the media realised that relationship had come to an end and she was now dating a woman, "it ended up making the front page of the paper."
The situation left Swarbrick hugely grateful to be in The Green Party. "I'm really fortunate to have impeccable role models and matriarchs in our 75% female caucus and in Jan Logie (an openly gay MP who has served for nine years) especially," she says, surmising that had she been a member of a major party, she may not have had such a 'stalwart' to offer advice and support her.
The Voice of NZ Youth In Parliament
Despite us boasting one of the world's youngest Prime Ministers, Swarbrick does not think the voice of NZ youth is well represented in parliament.
"You've only got two members in Parliament under the age of 30, myself and National Party member for Pakuranga, Simeon Brown. I was actually studying Law at University with him when he started the pro-life group on campus. So that in itself shows you that young people don't all think the same. We can't speak on behalf of all young people," she says, suggesting she would like to see the average age of NZ MPs (51) decrease."
"You have an active disenfranchisement where young people are constantly being told that they are too apathetic, particularly by mainstream commentators and TalkBack radio. But if you actually sat down and talked to a young person you find that they care deeply about issues. They just don't necessarily believe that the systems that we've got are ever going to deliver for them. They don't look or sound like them and they have a track record of ignoring them and speaking down to them."
But before you get too disheartened, Swarbrick has seen a change emerging. "When I first ran for local body elections in 2016. I was 22 and a lot of people were like 'oh my God, that's so young'. But now you've got 17 and 18-year-olds running for parliament and no one's batting an eyelid."
Cannabis Reform:
2020 is a crucial year for youth engagement in politics. Polls suggest upcoming Cannabis Legalisation and Control referendum is on "a knife's edge."
"This will all be about whether we can get people to go out there and vote for what they believe in," says Swarbrick.
She believes that the LGBT+ community should be among those who get behind the reform. "LGBT+ kiwis have an experience of being a marginalized community and have seen how laws and cultural norms, have been applied unfairly to them. So when you think about cannabis prohibition that has been applied so disproportionately and unfairly towards Maori, everybody needs to reflect on the fact that 80% of New Zealanders will use cannabis by the time they're 21 years old, yet most of these people won't have had an interaction with our justice system. The Chief Science Adviser's report has shown that if we were to legalize tomorrow, you would have 1300 fewer convictions for Maori per year. What that demonstrates is that what we have right now, is a law that we know isn't working."
The fight for Auckland Central:
Cannabis reform is not Swarbrick's only battle. At next month's election, NZ's minor parties are fighting to survive and Swarbrick is a pivotal part of The Green's strategy.
Up until now the party have relied on getting 5% or more of the country's party vote to hold seats in parliament, but this year Swarbrick (who previously came third in 2016's Auckland Mayoral Race) is vying for the Auckland Central seat, much to the dismay of Labour voters, who are concerned she will split the city's left-vote and hand the seat to National's new candidate Emma Mellow.
Swarbrick disagrees. "The Greens have consistently run party-vote-only campaigns in Auckland Central and during that time you've had Jacinda who unfortunately didn't manage to clinch it and the same with Helen White, even when the other left-wing candidate opted to take a very low profile. So as far as I'm concerned actually this is anyone's game and why shouldn't we run a strong campaign to be the progressive candidate? What this electorate deserves is someone who represents [Auckland's] fierce independence and is willing to fight for it."
The Green Party's Future:
Most polls have indicated The Green Party is floating around the 5% threshold which would see them return to parliament, however it will not take many changes of heart at the polling booth to see them fall.
A Green Party-free future isn't something that Swarbrick wants to consider, but predicts, "our political representation would be far poorer for it… we would lose a lot of our potential to be a progressive, friendly and equal society."
As for where her future would go if the Greens are seatless, "I simply haven't considered it," she says with statesman-like poise.
I, on the other hand, have a theory of where her career could progress too, or rather, back too.
The Mayor of Auckland:
At 22, Swarbrick was the highest placing of the seventeen independent candidates that ran for Auckland Mayor. She was beaten only by the left and right establishment candidates.
I ask her about how different life may have been if she had been successful and that expressive face lights up the brightest I have seen it all night.
"I would have loved it! And I would have relished the challenge of reorienting some of these perceived unwieldy bureaucracies and try to enable greater accessibility and sense of ownership from residents about a council that is supposed to represent them. There's still a lot of mythology to bust around Council and I'm a massive geek for local government. It would have been a massively different life, but it would have been just as rich and challenging and rewarding."
A Woman of the People:
The back patio of Eagle Bar has gotten busy and an excited youth has accosted us.
"Are you Chlöe?" They ask. "Oh my God! Bitch – I love you. You're an actual queen!"
More gather.
"I live locally and this is the first time I'm actually passionate about my local vote," chimes in another, before admitting she is off to smoke a joint in the car park and would like us to watch her drinks.
"Don't put that in the interview," Swarbrick advises and it becomes my turn wear the wry smile.
Photo | Kate Battersby @katefrancisb