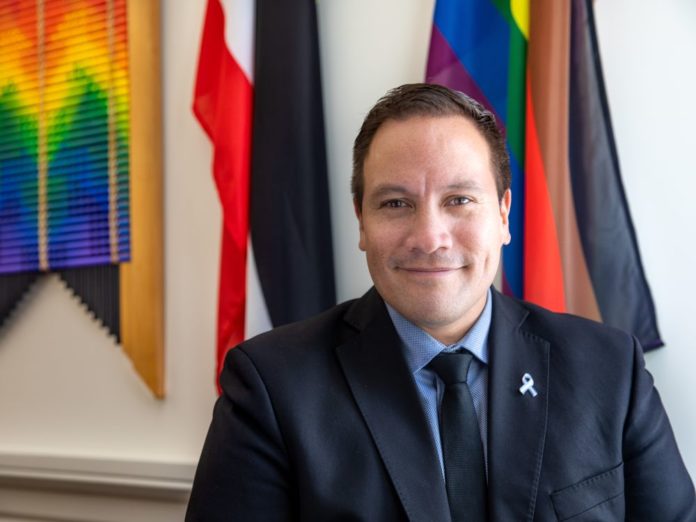 Tamati Coffey talks to Levi Joule about his surrogacy and adoption law bill, gay conversion therapy and the importance of takatāpui for the Māori roll.
Tamati Coffey doesn't sound worried. When it comes to the general election, the first term Labour MP says he is taking his cue from "the boss" Prime Minister Jacinda Ardern to be "relentlessly positive."
Despite being locked in arguably the most high-profile Māori electorate race and one of the most-watched races of any electorate for LGBT Kiwis, the MP for Waiariki displays his usual cheery persona that Kiwis across the country have come to know from the former Breakfast presenter's decade long run on TV1.
He's going to need to be as he faces off against Hannah Tamaki, the leader of far-right Vision NZ and wife of self-appointed 'Bishop' Brian Tamaki from Destiny Church.
So far, the campaign in Waiarki has been a clean one, with no attempts by Tamaki to weaponise LGBT issues in a way to draw more conservative voters into her fold, although Coffey says he has "not written it off," as a possibility in future.
Hannah Tamaki has however employed the old conservative dog-whistle messaging of being "the voice of family values," something Tamati wants to make clear she does not have ownership of.
"As a Dad and a man in a civil union relationship, as somebody from a big Māori family, I am all about family values myself," Coffey says.
Coffey may technically be a backbencher, he's got a higher name recognition than most cabinet ministers do, undoubtedly in large part due to his years on the television, but also from the attention that was given to his electorate race, at the last election.
As he points out, "it was the people of Waiariki electing me, which changed the government." By depriving the Māori Party of Waiariki, the junior support partner of National was fell from parliament altogether. Coffey notes that if they had won, "there would have been another rollover of the National/ Māori Party government."
It's late on a Friday afternoon when I call to discuss the 2020 election and how Parliament has treated him over the last three years, with his son playing vocally and the buzz of a busy household in the background, Coffey says he never thought he'd be representing his community in Parliament.
"It's been an eye-opening experience," he says of his first term. "It's like joining the army and you get your uniform and go off to serve your community."
When it comes to the LGBT community, Coffey has a Member's Bill of his own aiming to update the rules around surrogacy. "It was shaped by personal experience," he says.
Tamati and his partner Tim welcomed their baby boy last year, but still had to clear some legal hurdles to legally adopt him, despite being their biological son.
The 'Improving Arrangements for Surrogacy Bill' will amend five Acts and two sets of Regulations, which would remove the barrier of requiring same-sex couples from adopting their own biological children born via surrogate.
"These are all things that we've experienced, and we've lived through, and now that we're over the line, we're looking back and seeing how we can make things better for other surrogates coming through," Coffey said at the time of the bill's introduction to the member's ballot.
There is also the matter of his colleague Marja Lubeck's proposed bill to ban conversion therapy. I put to Coffey the same question I put to the Prime Minister in February. Why has that not happened yet? Coffey walks a fine line just as his boss does.
"We have been the ones who have historically been champions for our community. We are very staunch as a party about wanting to get rid of conversion therapy. Unfortunately, we haven't been able to get that over the line this term, but that is the reality of MMP."
I.e: NZ First is to blame, Labour MPs just aren't allowed to say that.
A ban on conversion therapy will be a priority for him in a second term, he stresses, and there is a very real chance of a majority Labour government being returned after the election, meaning support parties such as NZ First will not be required.
"That's what the polls say, but never rely on the polls," warns Coffey.
Coffey notes the clean sweep of all seven Maori electorates by Labour at the last election. "We as a Labour Maori Caucus carry that on our shoulders every single day."
He would like young LGBT Maori to see the importance of the Māori electorates, even if they are not on the Māori roll.
"While as a Māori MP, I'd love all Māori to be on the Māori roll, so we could have more dedicated seats in parliament devoted to creating a better Aotearoa for future generations of mana whenua, I am well aware that one-size-fits-all processes fail Māori, as they often don't reflect the diverse realities of our communities. And few Māori communities are more diverse than takatāpui.
"While our Māori seats are unique to Aotearoa and guarantee the voices of not just tangata whenua but mana whenua within New Zealand's existing political system, the fact is right now, we just can't risk the challenges and inequalities faced by Māori or takatapui being left to the Māori seats alone to champion.
"Too many of our tīpuna takatāpui suffered in silence, unsafe to vote as who they were in terms of their gender identity or sexual orientation, let alone able to find equal recognition of kaupapa Māori, for you to not use your voice now.
"Some parties out there still don't see us. And that needs to change. If that's change created through the Māori roll for you; awesome. If it's the general; kei te pai. Whichever roll feels most like you at this moment in your journey, start there. If there's one thing takatāpui know how to do, it's evolve!"
Photo | Jackie Cooper.