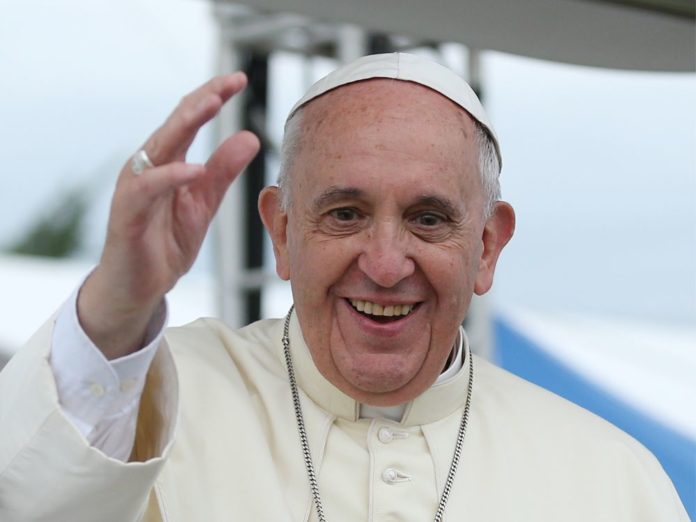 "Homosexual people have the right to be in a family. They are children of God" the Pope says.
In one of the biggest changes to the Catholic Church's stance on homosexuality ever, Pope Francis has declared his support for same-sex civil unions.
Pope Francis made the announcement in the feature-length documentary Francesco, which premiered on Wednesday at the Rome Film Festival.
"Homosexual people have the right to be in a family. They are children of God," Francis said in one of his sit-down interviews for the documentary.
"What we have to have is a civil union law; that way they are legally covered."
Francis had previously endorsed civil unions for same-sex couples while serving as archbishop of Buenos Aires, however, this is the first time any Pope has come out in favour of Civil Unions.
The Pope's public support for Civil Unions marks a major step away from a 2003 document prepared by the Vatican's dogma office, the Congregation for the Doctrine of the Faith.
At the time, the body opposed any official recognition for homosexuals, including civil unions, saying it could "devalue the institution of marriage."
The latest news is also part of an evolution of the views of the head of the Church. In 2013, Pope Francis said it was not his place to judge homosexuals and they should not face discrimination.
The remarks were more conciliatory towards homosexuals than his predecessor Benedict XVI, who was seen as quite conservative on issues of morality.
"If someone is gay and seeks the Lord with goodwill, who am I to judge?" Pope Francis remarked in 2013.
While the recent news is a major shift in the Pontiff's official stance, Francis made no new comment on same-sex marriage, which he is on record as opposing.