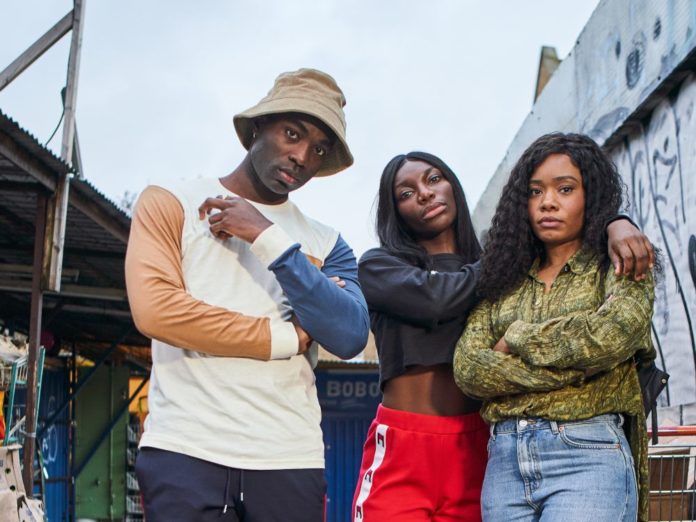 British actor, director, producer and screenwriter Michaela Coel has followed up her award-winning Netflix comedy Chewing Gum with I May Destroy. Actor Paapa Essiedu tells us about playing gay personal trainer Kwame in the dark comedy-drama about rape, consent and not looking back.
I May Destroy you is a frank and provocative series that explores the question of sexual consent in contemporary life and how, in our modern landscape of dating and relationships, we make the distinction between liberation and exploitation.
The characters are complicated and conflicted. They are typical young men and women, living in central London, who party, take drugs, worry about work and worry about each other. We see their mistakes, strengths and weaknesses, along with their capacity of being kind, loving, selfishness and self-absorbed.
Paapa Essiedu plays Kwame, the best male friend of Arabella (the protagonist played by Coel). Kwame is a personal trainer and handsome gay man with serious self-esteem issues when it comes to getting what he wants in sex and love.
Arabella is a writer working on her second book and trying to make her way in the world. After a drug-fuelled night out, she begins to experience flashbacks of a man she doesn't recognise having sex with her.
"It starts off with Kwame being a supportive friend to Arabella as she comes to terms with the trauma of what she's been through, but then Kwame has quite a confusing and traumatic experience whilst on a Grindr date, so over the course of the series we see him come to terms with things through various different coping mechanisms to process what's happened," explains Essiedu.
The series highlights how issues of consent and rape are viewed by society with different lenses when victims are men and when the victims are women.
"He's a very sexually confident and active man at the beginning of the series, a vivacious, fun-loving and 'live for the moment' type of guy, not really caring too much about anything, he's 'living his best life'. He then faces a traumatic experience and his different ways of coping with that, includes addiction and exploring his sexuality."
Kwame's arc in the series examines how his relationships with lovers and hook-up apps evolve following a traumatic encounter.
Essiedu says his research for the role came from talking to friends who have had experiences similar to those depicted in the series. "I kind of drew on that and looked at my own experiences in that sphere," he admits.
Essiedu attended drama school with Coel, where they trained together for three years and have been friends since then.
"Michaela has such a unique and authentic voice and a way of confronting the truth in a very direct manner." He says of Coel's writing, which flips from darkness to comedy, and back, with piercing accuracy.
"That's what life is like: one minute something is really funny and the next second it's not, and she observes that brilliantly… I hope people watch it and feel seen; and then secondly, feel confident to be able to speak out about any experiences that they've had that have been reflected in the series. I hope it empowers them to talk and take steps towards confronting and ultimately resolving those events and issues," he says.
I May Destroy You is streaming now on NEON.
If you have been the victim of sexual assault support can be found through the sexual harm helpline Safe To Talk on 0800 044 334 or free txt 4334.
You can report assault to New Zealand Police by calling 111 or visiting your nearest police station.