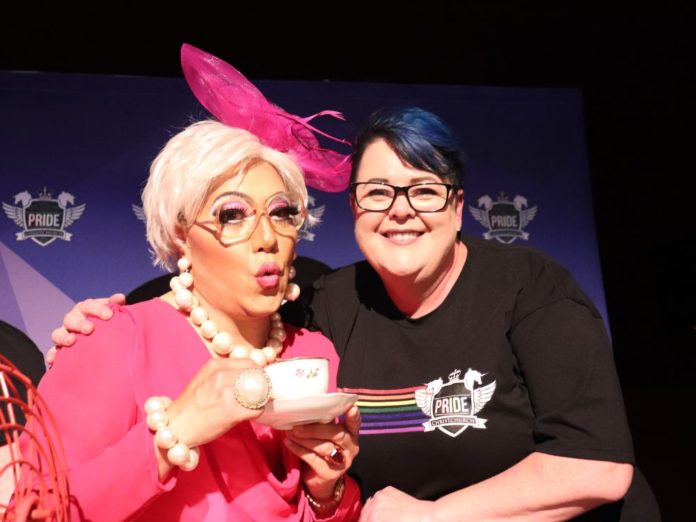 Legendary Christchurch Drag Queen Aunty Pipi is the nana you've never needed but always wanted. When she's not down at the casino on the slot machines then she's dropping balls at Bingo! Little Miss Cinnamon comes face to face with the Pride Bingo hostess to find out more.
This is your first outing since lockdown, what did you miss the most?
Lockdown has been hard for everyone in their own personal way. Bingo is one of those events that brings people out who don't always come along to the big parties, so it was essential to be able to finally provide that opportunity for connection to the community that many people need. Also, I have been testing the water with some new bingo calls!
So what are your favourite bingo calls?
Hmmm "51: Up your bum… with condoms and lube" is always a crowd-pleaser, but my new favourites would be "28: Judith's irate" and for no rhyme or reason "38: Talofa… my husband's Samoan!"
How did your journey with bingo begin?
My good friend and sister Meryl Vale started hosting Bingo for our local ChCh queer youth support group Qtopia with humble beginnings at a school hall for around 70 people well over 10 years ago, now we sell out theatres and bars for over 300 people with 1000's of dollars worth of donated prizes up for grabs.
What's your favourite part of hosting a bingo night?
Being able to get together with my good sisters Shirley St Albans and Meryl Vale (who sadly was unavailable this year due to some incident with balls) and share a few G&T's and laughs up on stage. Also giving away our very sort after personally signed photographs… these are collectors' items!
What's a favourite Bingo memory?
It would actually have to be when Meryl and I hosted a Bingo for our good friend's wedding, while they went and got photos taken after the nuptials. We've never had a church in such hysteria before, well, at least not for a good reason!
What does community mean to you?
To me, it means family, and family doesn't always mean blood. Community is being able to bring people together and support them and help create meaningful memories.
What are some of the big issues for our rainbow community?
Getting access to good health care can be harder for our trans whanau than anyone. I'm hoping our new members of parliament can help focus on that. Also mental health for our rainbow community, people need to know it's ok to ask for help but also knowing where and how to access that support.
What's one piece of advice you would give our queer tamariki?
I see a lot of young (and older) ones struggling to find out who they are, I'd say there's no rush, you don't need to have all the answers right now. Who you are and your sexuality is a journey and discovering yourself is half the fun of life. Enjoy your waka ride on the awa of life, for some it will be smooth and for some, it will be rough but don't forget to enjoy the journey.
For more info on Christchurch Pride events, including Bingo, follow @ChchPride on Facebook.
Photo | James Maxwell.