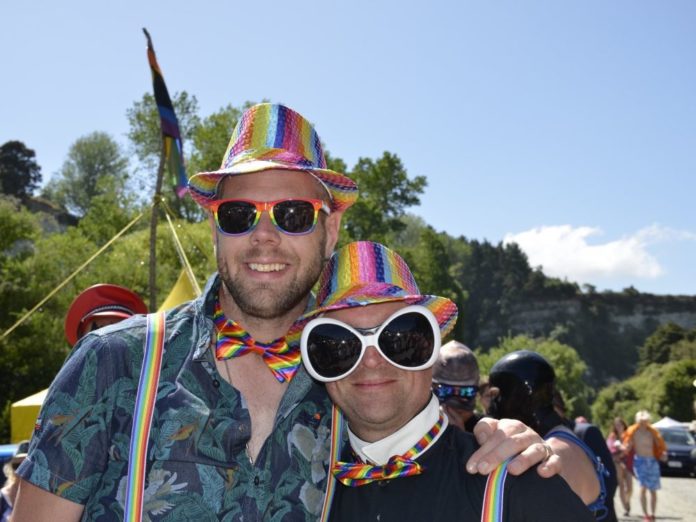 Vinegar Hill ( just a two-and-half-hour drive from Wellington) looks set to be one of the biggest and best LGBT+ camping festivals yet with the theme of One World, One Love.
Festival Queen Jamie Gardner says that 2020 has been difficult in the wake of Covid 19, and he encourages our community to get together to mark the end of a challenging year and to celebrate the start of 2021.
"Our aim is to gather our rainbow whanau together from all parts of New Zealand to relax and party in the beautiful surroundings of the Rangitikei river," says Jamie.
"This year's theme is One World, One Love which is really important at a time when all countries are united in fighting a pandemic which has claimed countless lives and devastated economies across the globe."
LGBTQI campers begin gathering at Vinegar Hill campground in the Putai Ngahere reserve, north of Hunterville, in the Manawatu-Whanganui region, from December 15. Camping pitches are allocated on a first-come, first-serve basis and there are plenty of beautiful spots next to the fast-flowing Rangiteki River nestled in a peaceful valley.
Jamie and his royal subjects have organised a week-long calendar of super camp, fun and frivolous events from December 27 culminating in an exciting New Year's Eve Party with shows, competitions with prizes, and a massive bonfire. Other highlights include:
Fashion in the Field – a catwalk parade of participants wearing clothing created by upcycling or using items from the surrounding woods
Caribbean Day – with a Pirates River Race and Calypso-themed party
Annual softball competition
Queen's Cocktail Party – Royal Family theme
Drag Bingo – hosted by the fabulous Miss Felicity Frockaccino
Roman Gods Toga Party
Many campers have been coming to the festival since its inception more than 40 years ago. It is family-friendly and attracts campers of all ages, ethnicities, and backgrounds. Last year's event included a wedding ceremony with grandparents and mokopuna among the honoured guests.
"Vinegar Hill is a friendly, safe and welcoming environment for everyone where campers can reunite with old friends and make new ones," says Jamie.
For more information visit the Vinegar Hill Gay Camping Facebook group.