Just the two of you under the stars with some of the country's most beautiful scenery, cleanest air and sunniest weather surrounding you. We have your post-Valentine's travel plans sorted!
One of the big lessons 2020 taught us is: don't leave things on your bucket list too long. For over a decade I had wanted to hike the Abel Tasman, but international travel plans and Pride festivals always took precedence. But along with its big lessons, 2020 also planted our feet on the ground. Our ground. And exploring Aotearoa became our top holiday priority once more.
So before we bid 2020 goodbye, my decade-long desire came true and we headed for the Tasman District. You want to get an early start when you're tramping to avoid having to carry a pack in the feverish heat of the early afternoon. So we opt for a night in Mapua, the closest town to Marahau, which acts as a departure lounge for most transportation options taking you into the national park.
We stay at The Gates Accommodation's Corru Gate which offers log-cabinesque accommodation (swap the logs for corrugated iron) in a shack-chic setting with a classic pot-belly wood-burner. It's the perfect spot to rest our heads before our early departure.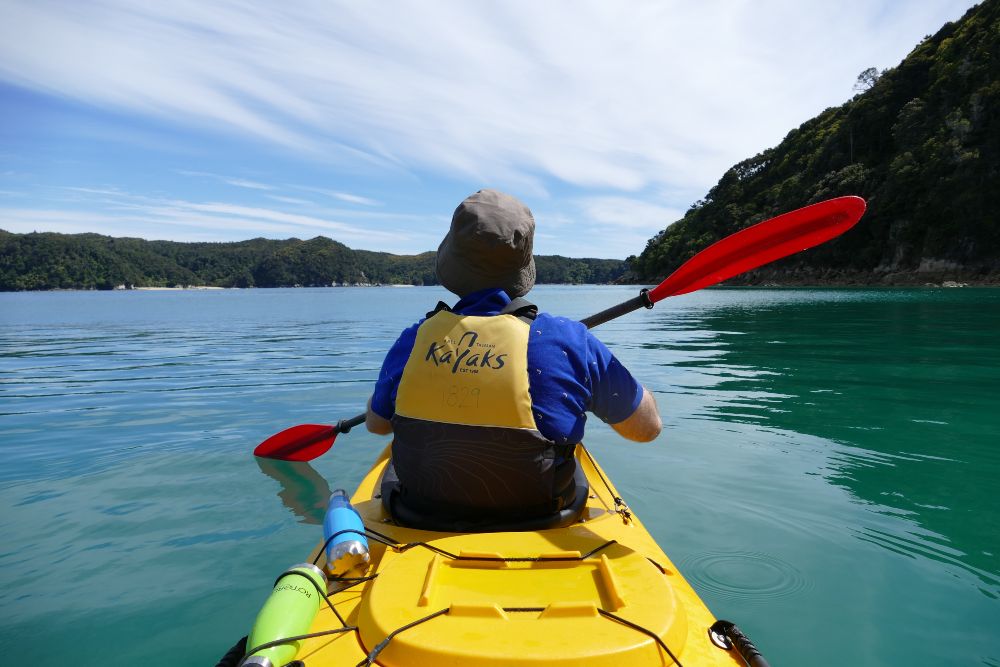 The next day we head over to Abel Tasman Kayaks in Marahau to begin our journey. A kayak experience is highly recommended to incorporate as part of your Abel Tasman journey. Some confident kayakers even skip the hiking altogether and rent a boat to kayak the whole way. We opt for a day's kayaking to start our Abel Tasman journey, with a guide to show us the sites and ensure we don't get into trouble.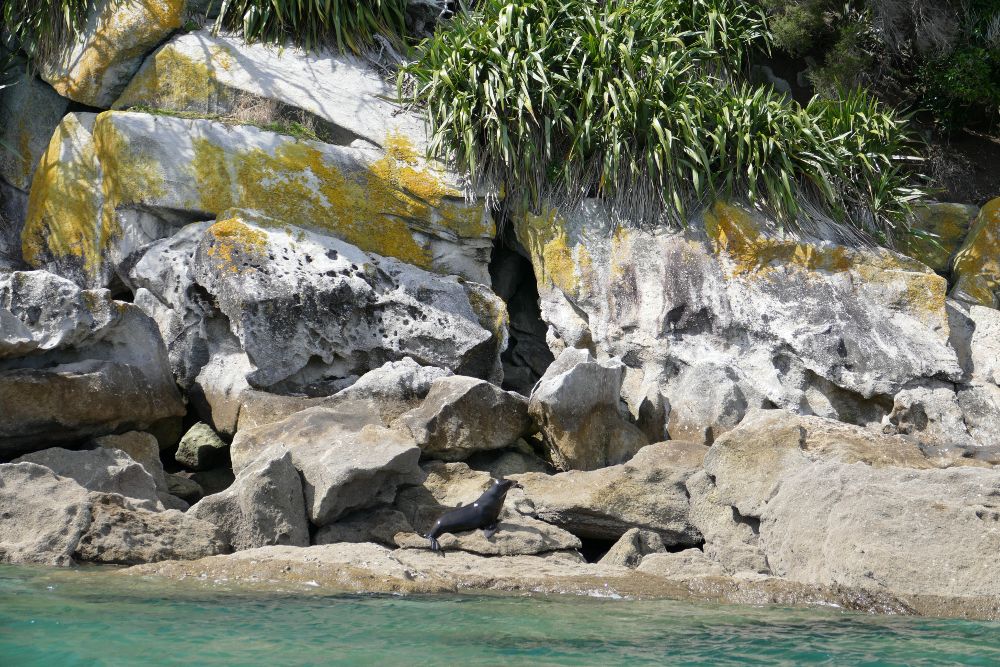 With the wind behind us, this is an epic way to begin discovering the national park. As we paddle up the Astrolabe region, our guide gives us some history of the area as we float past islands, seals and sea lions. It's a slick operation – they offer a locked car park you leave your vehicle in the whole time you're away (not just the day of your trip with them), while you're enjoying the scenery from you kayak, they transport your packs to Observation Beach, which is the conclusion of your tour, where your guide provides lunch. For those just doing the day trip, Abel Tasman Kayaks will return them to Marahau by water taxi, but we opt to continue our adventure and progress up the peninsula.
It's a 20 minute walk (thank God because our packs are seriously heavy) to take us from Observation Beach to Te Pukatea Bay our campsite for our first night in the national park. Te Pukatea is one of most photographed beaches in New Zealand because it is that postcard picturesque tree-lined little bay, brimming with golden sand, that everyone unrealistically associates with our beaches.
What makes it even more picturesque is that (unrealistically) we are the only people staying at small campsite. "There were nine here last night," a passing DOC worker tells us, highlighting our luck. While we might be the only 'people' staying, we are certainly not 'alone.' At dinner (the first of many noodle-based meals that will be heading our way) we are joined by a family of Weka (flightless chicken sized birds who are not the least bit fearful of humans) and a couple of ducks. Our new feathered friends make themselves comfortable around our picnic table and feel more like domestic pets than scavengers.
That night we sleep so well we miss the dramatic sunrise that Te Pukatea is renowned for and pack up quickly to ensure we can drop our bags over the hill at Anchorage beach. From there our names tagged bags will be transported up to our next destination Bark Bay (a service that is offered as far north as Totaranui). On the way we spot wild pigs (mother and baby) and many more of our Weka friends.
The scenery that guides us to Bark Bay is stunning and some of the track's return visitors tell us that there is no bad weather to see it in as the most of the paths are sheltered and the rain helps bring the moss-lined cliff walls and forest alive.
We are able to take the more direct low-tide walk that crosses Torrent Bay and ensures the nature around you in constantly changing as you go from coast to in-land with an undulating track.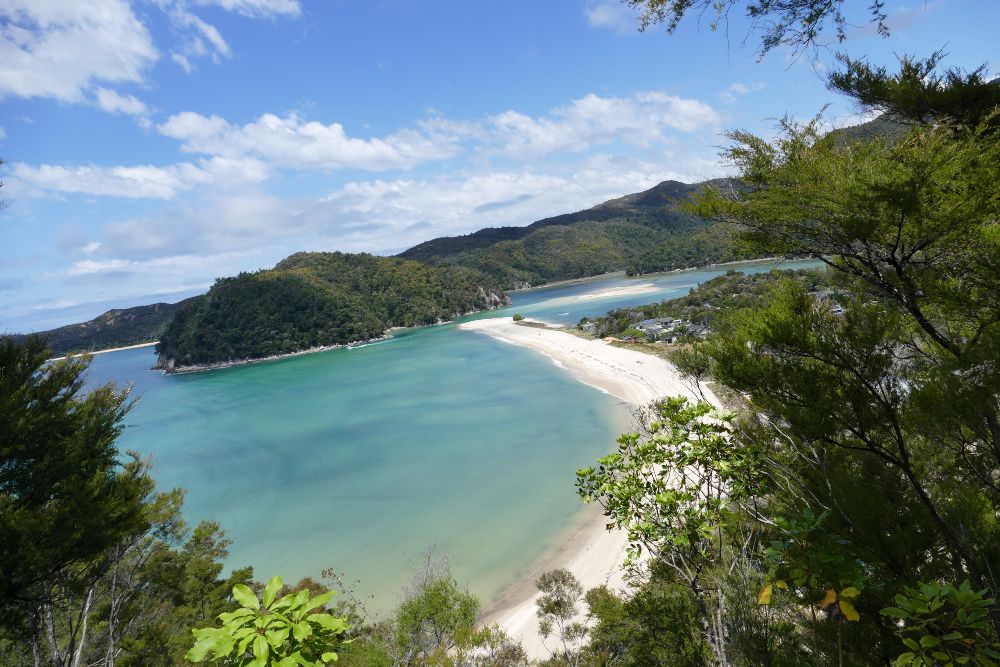 As we turn the corner and Bark Bay comes into view it looks truly breath taking and feels we have been transported to Tahiti. The campsite sticks out on a sand spit with the sea in front and tidal lagoon formed behind it.
The attractiveness of this campsite means it gets very busy and will often be booked out at peak times, but if you can get in, swimming in the warm lagoon is not to be missed. The addition of proper flushing toilets and a designated kitchen area are welcome bonuses.
After another blissful night's sleep, the steep climb out of Bark's Bay is a real jolt to the system and one we are very glad we are not wearing our packs for. We have sent those via water taxi on to Awaroa Lodge, and this special treat accommodation is giving us the incentive to get our toughest day of hiking complete in record quick time.
Full disclosure, we hadn't planned to stay at Awaroa Lodge, the idea was we would just have a meal there to help break up the monotony of snacking on fried fruit and nuts, but after the taxing trek and experiencing the great offerings of their restaurant which boasts better coffee than half of Ponsonby Road, we enquired about a room and bagged the last remaining one. They even sent their bell boy to the beach to collect out packs.
As well as we had been sleeping in our tent, after two nights of putting it up and packing it down, quality sheets, a hot shower and an hotel mattress have never felt so good. A dinner of rib eye and snapper highlighted we had made the right decision.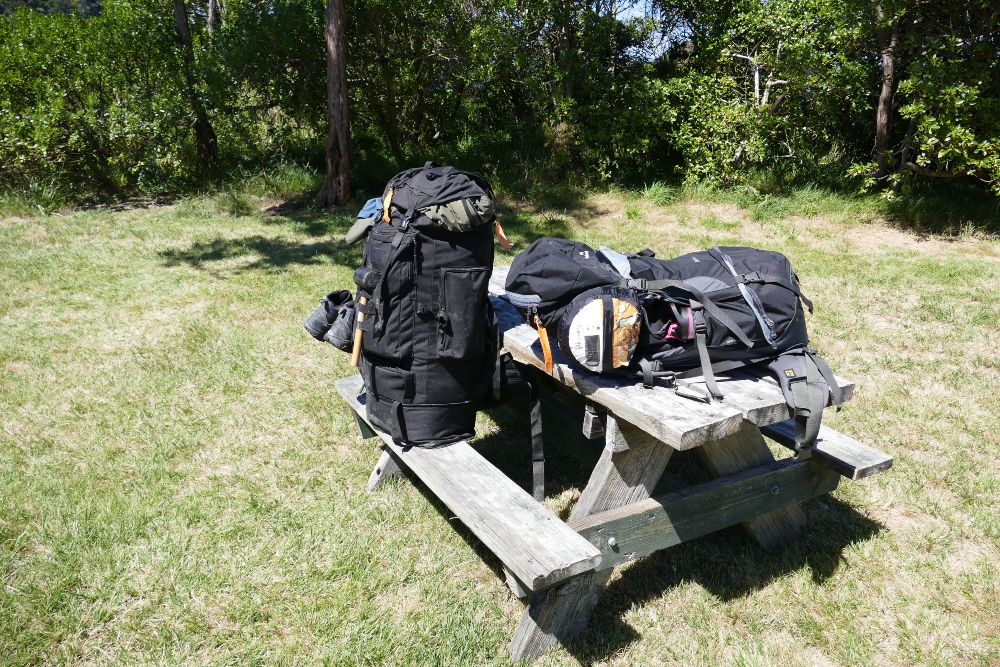 No bag transfers are available to go North from Awaroa so this is our first full day of carrying our packs. Having eaten most of our food and used most of our gas they are lighter than they were but the trek still provides a good workout.
Our journey takes us up to Totaranui, the only campsite accessible by road, which is renowned for being packed to rafters on New Year's Eve.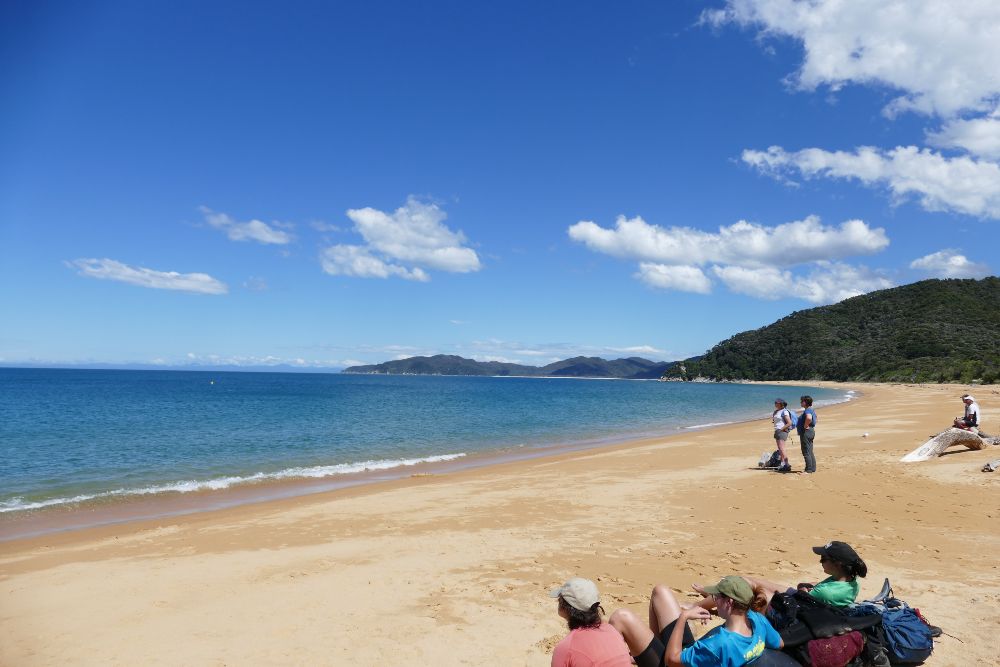 In our first real awkward moment of the trip the campground managers explained that because we were doing the great walk we were relegated to one particular spot at the campsite, segregated from the campers who were simply holidaying in the one spot!
However our designated area turned out to be beachside and bereft of others, so we had the place to ourselves. This was the first spot we stayed that did not have a fire ban so we collected drift wood from the beach and built our own bonfire in the designated fire pits. We toasted marshmallows. Just us, the weka and Spotify. One of our favourite nights of the trip.
The next day we took the water taxi from Totaranui beach back to Marahau – an epic adventure in itself. The speed boat took an hour and half to return us to our starting point highlighting how far we had walked.
While in the Tasman District, the tourism board recommended we spend some time to soak in Mapua, an underrated and charming little town awash with British ex-pats.
So our journey does not finish with the jet boat, and we return to the Gates Accommodation this time for a 'glamping' experience.
The Kissing Gate has been voted one of the world's best glamping experiences, and the property's unique scope and experiences on offer, you can see why! Lined with high corrugated fence, this paddock-sized space is all yours (!) and completely private – nudists rejoice!
Entering through a traditional 'kissing gate', your celebration of Kiwiana awaits.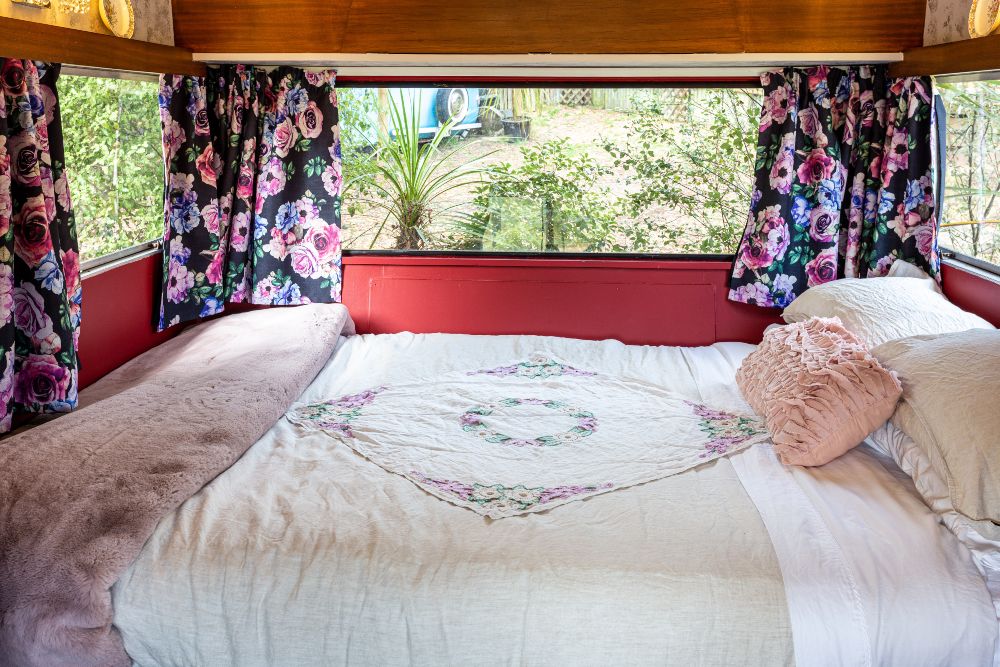 The bedroom us a traditional caravan boasting a large queen bed and a comfy couch. Cute candelabra light the room. There's plenty of power sockets for the phone and iPad and blackout curtains to unsure a peaceful lie-in is possible. The caravan is covered by an additional awning so heavy rain won't keep you up either.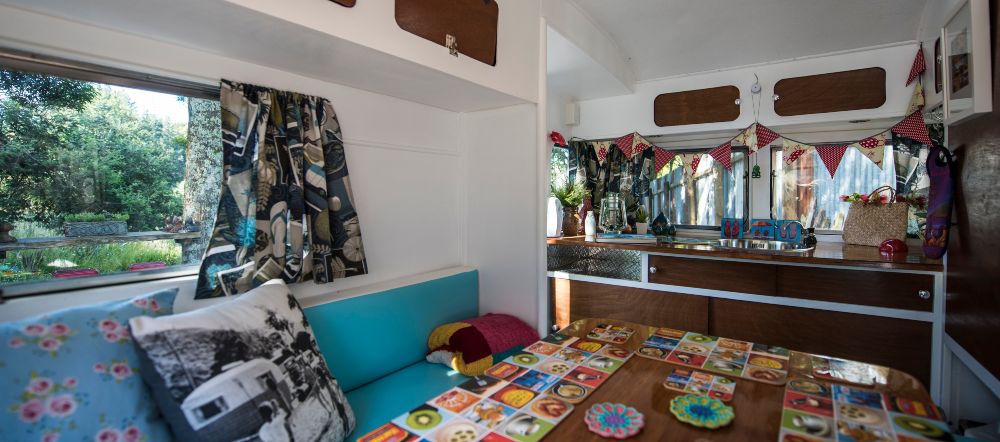 It is one of two caravans at Kissing Gate. For dining and board games, there is a ice cream parlour, pop-art style beauty to host you. Purposefully positioned in a shady spot, it's a lovely place to read in the heat of the day.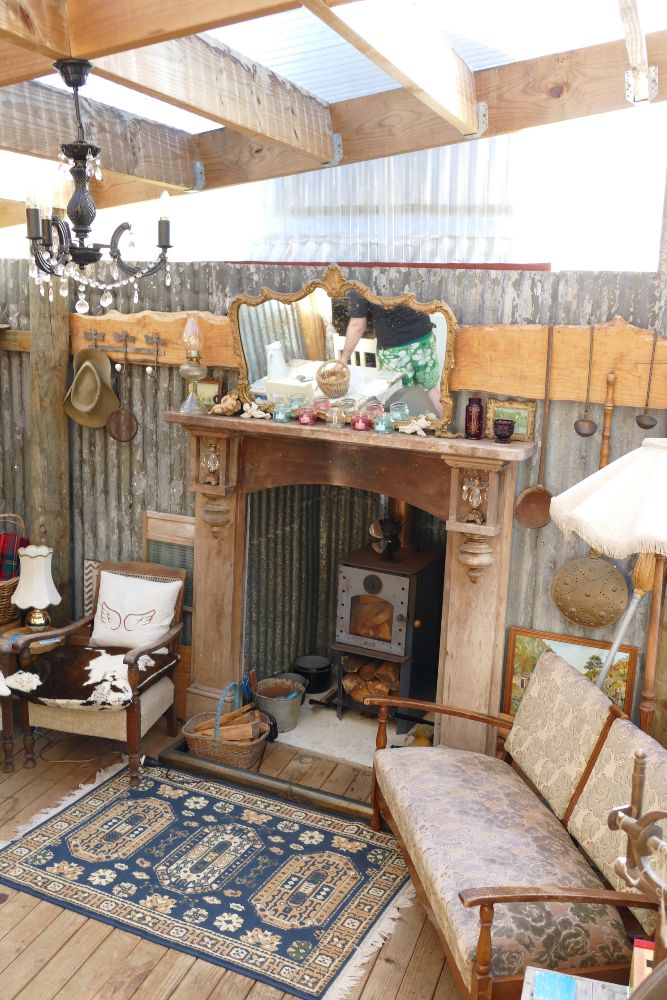 A wood-shed/log-cabin style building serves as your kitchen/dining room/lounge. Masterfully complemented with a beautiful wood-burner.
Located next to that is a fabulous shower room with an abundance of high-pressure hot water. Next to that is a compostable toilet. I have to admit my heart scan a little when I saw the lack of flush, but with wood chippings at the ready to dump on top, there was at least 'no smell', so we thought of the planet and persevered.
The centre piece of Kissing Gate is the large pond/small lake, again privately yours, for you to solely enjoy. Perched on the deck overlooking the lake is a clawfoot bath – a perfect place to spend a bubble-soaked night under the stars.
One of the biggest benefits of the lake is it's frog population. Not do these amphibians serenade us with their song, they also keep Kissing Gate mosquito-free, ensuring long Summer's evenings aren't spoiled by bites.
In addition, there are some lovely lake-side loungers and a little outdoor breakfast bar. A perfect spot to perch for your morning coffee.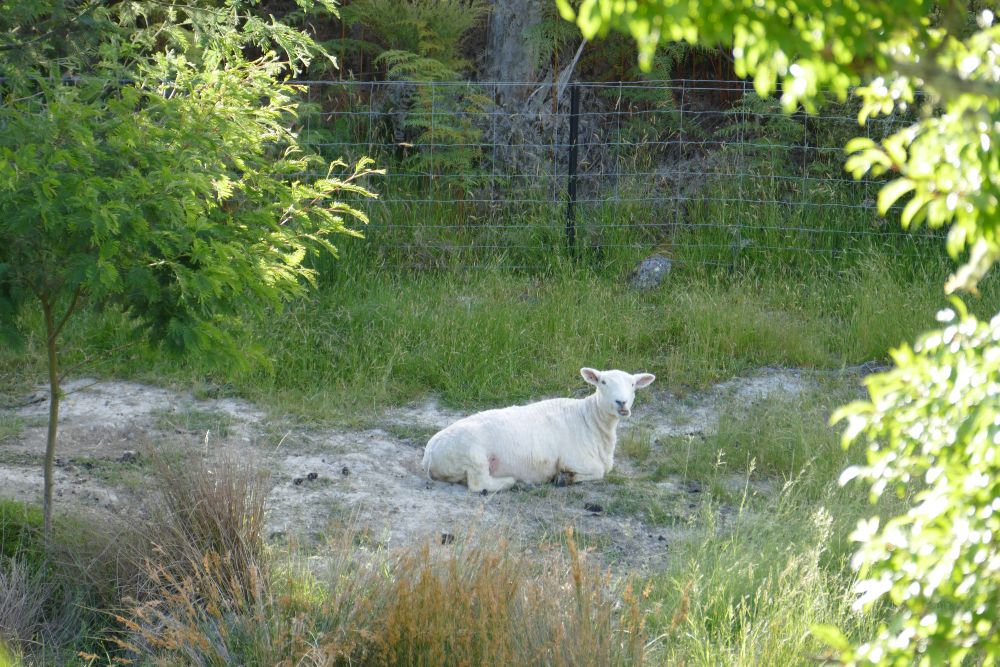 The longer we stayed at Kissing Gate, the more in-love with it we fell. Owners Roger and Adele added cute touches like giving us pots of marshmallows to toast over the fire and pellets to feed to the neighbouring sheep who would come to the fence on command! What could be a more quintessentially Kiwi experience?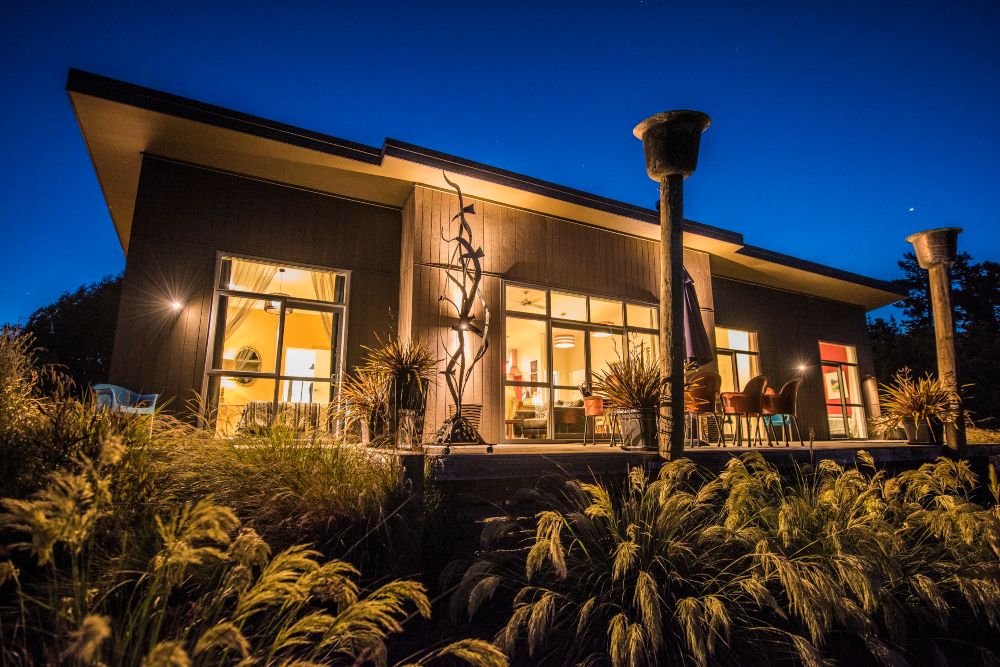 If the Kissing Gate experience is a little too close to nature for you, The Gates offers a third accommodation option, Copper Gate, where the beautiful surrounding scenery can be enjoyed from the deck of a modern Ponsonby-style villa with all mod-cons at your finger tips.
Copper Gate can be hired as a whole house that sleeps up to eight for those wanting to stay with friends or family, or divided into a luxury suite for couples.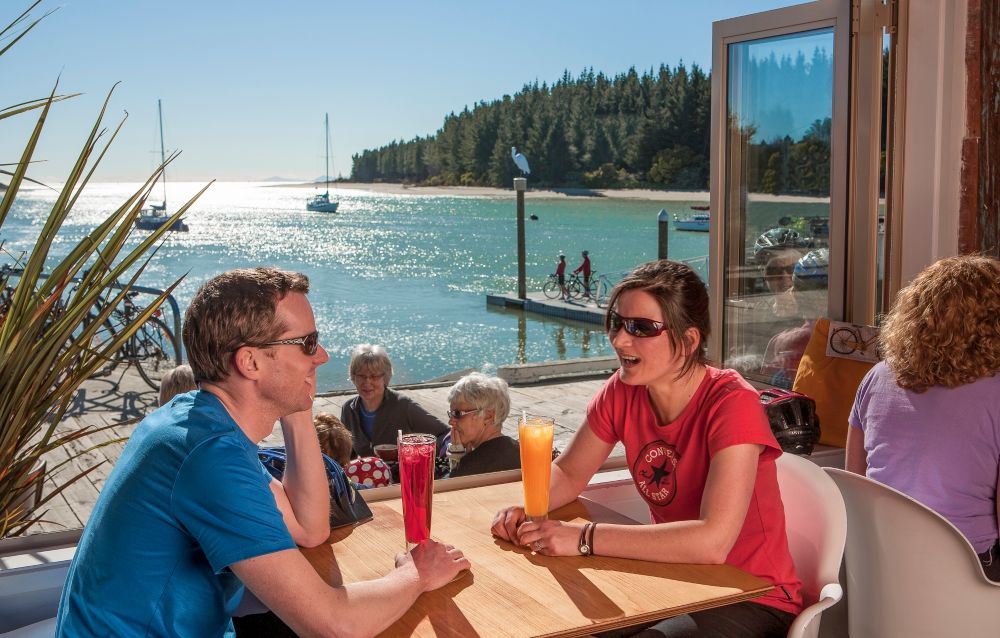 The Mapua area offers lots to do. The wharf just a ten-minute drive from The Gates, boasts some of the Nelson region's best restaurants like the popular Jelly Fish; as well as fantastic cafes and sublime fish and chips for more casual dining experiences. Add in great galleries and gift shops and the day has soon disappeared.
Further afield a 25 minute drive into Moutere, a gourmet foodie district, offers a wealth of vineyards and boutique food stores. Must trys include Neudorf Black Garlic, Little River Cheeses and Neudorf gourmet Mushrooms.
If you have more time to dedicate to the region, head West and discover delightful Gold Bay where Autumn Farm gay men's retreat is a must visit!
The Gates Accommodation is located 197 Seaton Valley Rd, Mapua, Nelson.