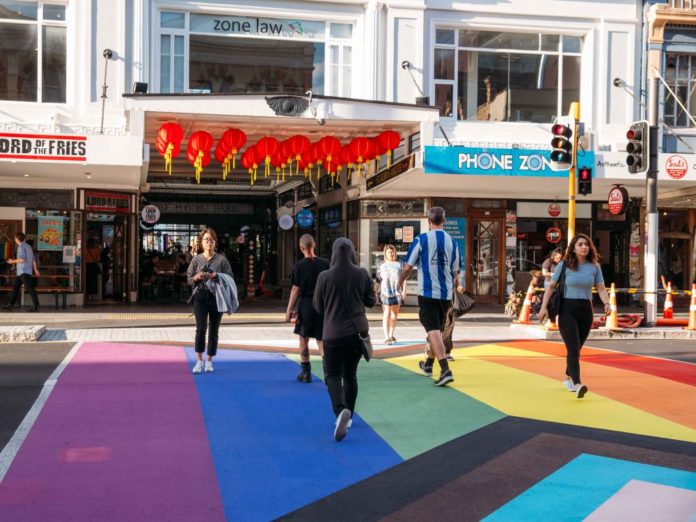 Karangahape Road's first rainbow crossing was installed during Pride month, immediately attracting scores of selfie-takers eager to pose alongside this colourful and meaningful addition to Aotearoa's queerest street.
The K' Road crossing is based on the Progress Pride Flag designed by Daniel Quasar in 2018. This design adds a five-coloured chevron on the original Rainbow Flag to place a greater emphasis on inclusion and progression.
The new flag includes black and brown stripes to represent marginalised LGBTQ+ communities of colour, alongside pink, light blue and white, which are added from the Transgender Pride Flag. The black stripe also represents people living with HIV/AIDS, as well as those who we have lost.
"Over the years, many groups have advocated for a rainbow crossing for Karangahape Road, so it's fantastic that their work has resulted in this outcome," says Michael Richardson from the Karangahape Road Business Association.
"Karangahape Road is the home of the Auckland's rainbow community. This street and surrounding area has a very special relationship with diversity, from the origins of Hape through to 2021. Using the Progress Pride Flag will represent the special history of this area to visitors and locals."
Claire Dixon, Auckland Transport's Community Transport Manager says that while the crossing is an exciting addition to Karangahape Road, the project is primarily aimed at raising awareness of pedestrian safety.
"The rainbow crossing is another way – a more fun, colourful way – of letting people know that this is a location where people can and should cross. We expect it will have a positive impact on pedestrian safety on Karangahape Road."
To celebrate its first rainbow crossing, the Karangahape Road Business Association commissioned a series of short videos documenting true-life stories of takatāpui, queer and gender diverse individuals who have lived and worked on K' Road between the 1970s and the present day.
The video series, plus a livestream of the recent 'Queer with a K' panel discussion, can be viewed on the Karangahape Road Facebook page.