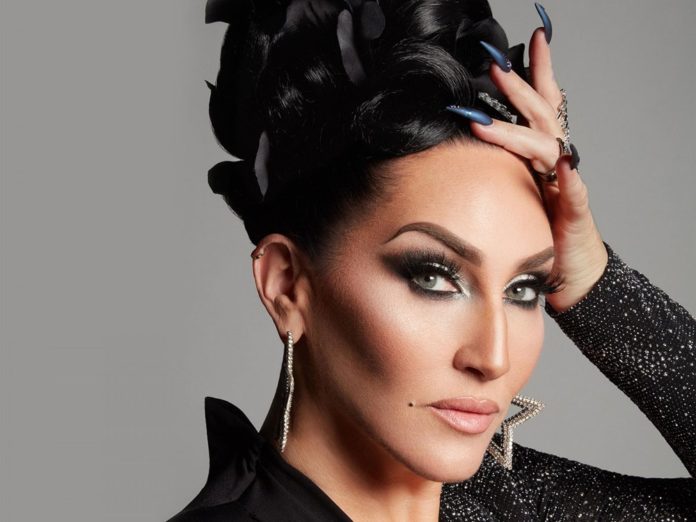 Since Season Three, Michelle Visage has been the matriarch of RuPaul's Drag Race. As the series' only permanent judge and Ru's right-hand woman, no one offers tougher criticism or warmer praise than Visage. She talks to Oliver Hall about her relationship with Ru, her time in Auckland and enduring toxic fandom.

On fame and fans
"I don't like the racism, I think it's disgusting," says Visage with the frankness you'd expect from the drag judging legend.
She is lamenting on her favourite and least favourite aspects of the fandom that being on RuPaul's Drag Race draws, and like many of the show's alumni, she notes that queens of colour often receive harsher criticism and hate on social media than others.
"If you're a fan of our show, you should love every single queen for who and what they are. I don't care about the colour of their skin, I don't care about the type of drag they do, if you love our show, you love them all! Full stop!" She emphasises.
Visage herself has not been immune to some of that criticism, which she puts down to simply being in the public eye. "Everyone knows better than you do. Everyone is a better judge. And want to tell you how horrible you are and how much you suck at your job!"
I'm quick to commiserate with her but Visage makes it clear she refuses to let it affect her. "It doesn't matter! I have the job. You don't. I know what I'm doing. I've been around drag since I was 17 years old and I love and respect every single one of the queens who has set foot on that stage."
Which, brings us to the positive aspects of being on Drag Race, and Visage sees a lot of them.
"My favourite is the world gets to see drag as a viable art form because in my experience it was always relegated to clubs and no one saw it as art! Drag Race has helped a lot of children, not only come out of the closet but also feel like they belong somewhere too."
Emersed in Auckland
We are chatting in early February. express broke the story that Drag Race Down Under would be filmed in Auckland a month before. Visage then flew to Auckland for 14 days of quarantine in a Queen Street hotel before 17 days of filming which she is about halfway through when we speak.
At the time, her social media was a celebration of our biggest city. From lunches in The Viaduct and manicures in Papatoetoe, to dance classes in Albany. "I like to assimilate and live as the locals do," she assures. Visage even managed to make a brief appearance at the Big Gay Out, despite being horrified how early the event finishes. "What kind of gay event ends at 7pm!? I'm used to arriving at midnight!"
At the time we talk, no footage of Drag Race Down Under has been seen publicly, and I ask her if our girls are cutting the mustard. She hears the trepidation in my voice and calls me out on it. "Around the world wherever I go, like when we started the UK series, everyone will go 'oh the queens are going to be shit, they won't be a good as the US' and we shut them all up, didn't we?!"
Visage is right, our local queens: Anita Wigl'it, Elektra Shock and Kita Mean are doing Aotearoa proud!
When Michelle Met Ru
In the late 80's New York nightclub scene, Visage and RuPaul were stars that orbited the same solar system but rarely collided. Often booked to work at the same parties, with Michelle as part of a vogue house and Ru as a drag host.
"I would always see Ru because she would be over seven feet in heels and attitude. So it was always like we would say 'Hi – hi' but never really talked, and it wasn't until my group The S.O.U.L. S.Y.S.T.E.M. had a song on the Bodyguard soundtrack [It's Gonna Be A Lovely Day, which went to number one on the Billboard Dance Charts in '92 with Visage on lead vocals] and Ru had Supermodel and we ran into each other at a dance music seminar in NYC. I saw him in the green room and said, 'hey, I don't know if you remember me but…' and he cut me off and said, 'Bitch, remember you? You are a mother fuckin' superstar!' And I'll never forget it! I was 23 and the only other person who had ever told me that was my mother!"
Four years later a morning radio show paired the two as co-hosts. "That's where we really fell in love with each other," reflects Visage. "When he walked into that radio station and saw me there and realised they were lining us up, he said, and I quote, 'of course it's you. Who else would it be? I've been watching you for years. It makes sense that both our paths have led us to this moment.'"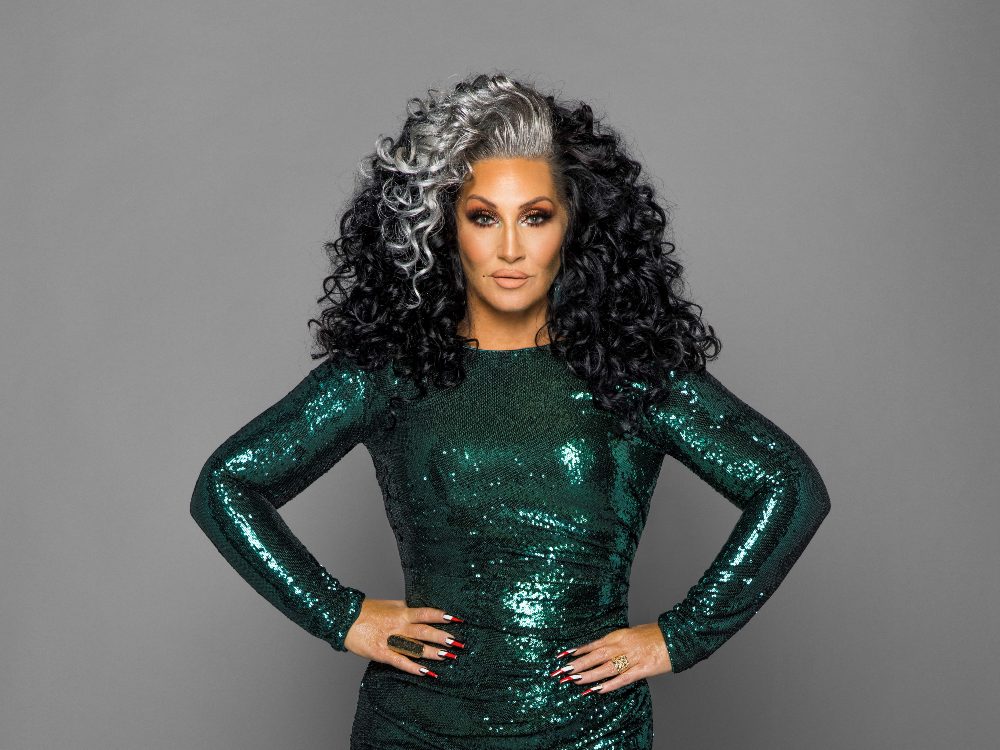 Ditching Everything for Drag Race
With their friendship and witty on-air chemistry cemented, Visage notes that from then on Ru would try to get her involved in most of his projects, "if it makes sense."
So, it was no shock when she received a call in 2008 when she was working for a radio station in West Palm Beach, to see if she could break her contract for two weeks to film the inaugural season of Drag Race.
"The next day I talked to my boss and he shut me down immediately. He asked me what the show was and when I explained it to him, he said 'that's not the right image for this radio station.' The minute he said it, I realised, he was a homophobe!"
"I was the sole provider for a family of four and I was in year one of a five-year contract – so if I said, 'screw you I'm gonna do this anyway,' they could sue me for four year's worth of money. I had to pass on the role."
She says she watched Season One 'in tears' wishing she could be there.
The Drag Race producers tried again two years later. This time, Visage went above her boss and called the President of CBS radio. While he agreed, the move ultimately lost her her job, as the station quietly declined to renew her contract for its fifth year.
A Presumptuous Success
Visage tells us she was never 'presumptuous' enough to predict the show would turn into the worldwide phenomenon that exists today.
In fact, to supplement her income she used her recognition from the show to book singing and hosting gigs on the gay scene. It was there that Visage slowly began to see the Drag Race audience changing as the show's impact broadened.
"First it was gay men, then gay women and then hetero presenting couples and then parents and children, often queer children." Visage explains, noting the show's popularity with 11 to 14-year-olds.
"After years and years of hearing the worst stories you can imagine, having parents introduce their children to me and explaining how they identify… I'm grateful for every frickin' moment!"
The effect is still clearly profound on Visage who had started going to gay bars at the height of the AIDS epidemic when many parents would refuse to support their children living openly.
"I always take a moment to thank them for truly loving their children for who they are. It's so refreshing to see parents stand by their child. And hear them say, 'well of course I would, it's my child,'" she says noting how times have changed.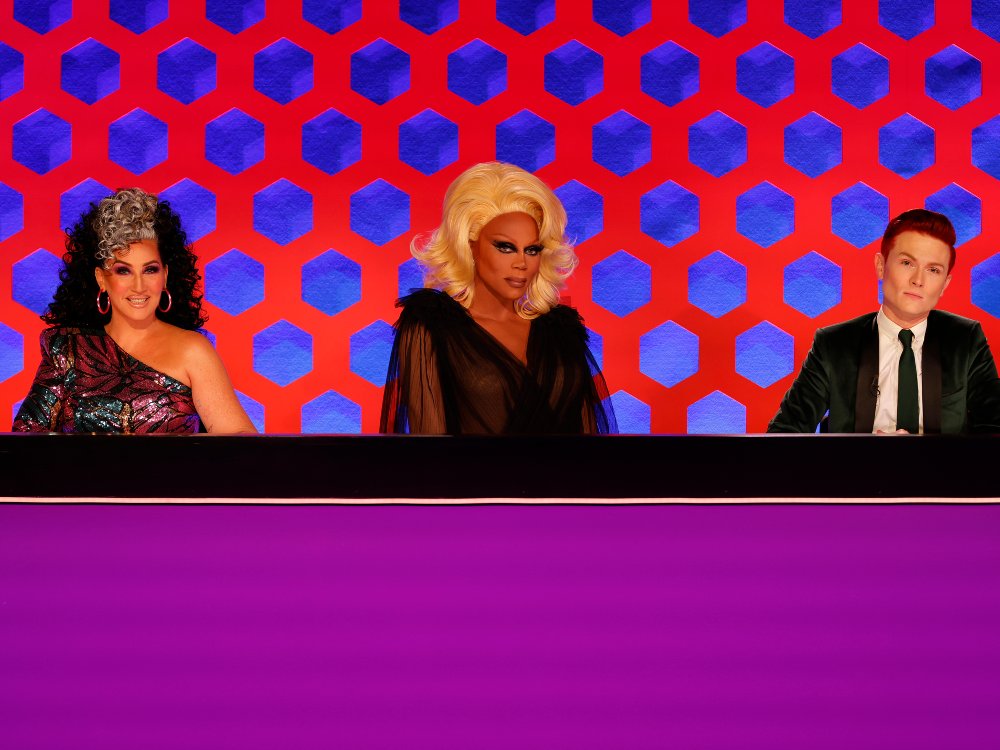 Ru's Judge & Judy
In 2017, Drag Race moved from MTV's LGBT+ channel Logo to mainstream music and reality station VH1, a sign that it hard truly been embraced by a mainstream audience. The following year it was syndicated to Netflix and became one of the streaming service's most popular shows.
Visage's critiques and banter with Ru, as contestants strut down the runway, have become a critical part of the show's success.
"Ru and I have always had that banter in our friendship.
Sometimes things we say land, sometimes they won't, sometimes they do the second time you say it. The whole 'kiss her, I don't even know her' thing started when I watched an Elmo movie with my daughter and Elmo says, 'tissue? I don't even know you!' And sometimes the girl's looks just lend themselves to that… It's all about chemistry, camaraderie and evolution!" She assesses, admitting, sometimes it can be hard.
"The most difficult is when a queen comes out and she's dressed impeccably and looks beautiful because that's so much more difficult to pun." She tells us.
That's where Drag Race's revolving judge, can land a hand. On the US version this seat is filled by either comedian Ross Matthews or style icon Carlson Kressley and in the UK, comedian Alan Carr and British institution Graham Norton share the role. On Drag Race Down Under, lucky Rhys Nicholson gets the job all to himself.
"The reason they got the job is they understand our humour and the way we do things. Carlson & Ross and Alan & Graham, they keep me on my toes and make me want to be better because they are so quick, so when I can keep up with them, I feel very accomplished!" She says, not mentioning Nicholson, as he had not been announced as a judge at the time of our interview.
Megastar Stans

Regular seasons of Drag Race also enjoy a guest judge joining the panel, and they are not hard to come by. "The beauty of being a guest judge on RuPaul is no one looks at is as a job!" Explains Visage. "Every person who comes on is a super fan. Even the big stars like Lady Gaga and Ricky Martin will sit down and say this is the best day of my life!"
One guest judge who Michelle has always wanted to appear on the show is hero, Madonna. She is one of a dream list of guest judges fans have petitioned for, but their schedules are yet to successfully line up. "We know that Dolly [Parton] would love to do it, we know Cher would love to do it, it's just all about timing, because they're very busy women."
But with Drag Race seasons constantly in production, it looks like all those ladies will get their shot. As for Visage, she tells us she sees no reason why she wouldn't still be judging Drag Race on Season 30!
Why? Because she never stops being inspired by the contestants.
"They all, even the first ones gone, even the ones who are questionable with their drag – every single one inspires me. There will be some who don't believe that and will think I don't like them, but it couldn't be further from the truth… I love all of them!" She says solemnly.
As for what the contestants will look like come Season 30, Visage remains unpresumptuous with her predictions. "Who knows what the future holds. There is no limit to what drag is and where it can go!"
New episodes of RuPaul's Drag Race Down Under are added to TVNZ OnDemand every Saturday at 6pm and screen on TV2 at 8.30pm.
---
Tickets for RuPaul's Drag Race Down Under Season 1 Live On Stage are on sale now! For complete tour and ticket information, visit: livenation.co.nz