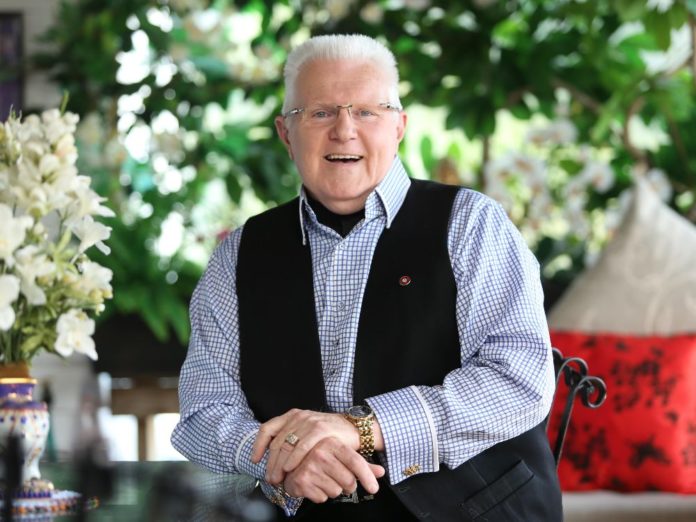 Historian Gareth Watkins looks back at the June dates that shaped Aotearoa's queer community forever.
29 June 1944
Author and media personality David Hartnell was born in Auckland. In the 1960s he moved to Sydney, becoming Australia's first male in-store makeup artist. He then moved to the United States where he interviewed the celebrities he met. Hartnell began writing a weekly Hollywood gossip column, using the now-famous catchphrases "I'm not one to gossip but…" and "…my lips are sealed." He also presented television and radio shows in New Zealand. In a 2011 interview with the Sunday Star Times he remarked "I've always thought, when the red [broadcast] light is on, you perform. When it's off, why waste your time?" Reflecting on his career Hartnell said "When I started gossip 40-odd years ago, they said, 'Oh, you'll never last.' And here I am. I don't know where the people are who rubbished me."
20 June 1980
MP Warren Freer told Parliament that he would no longer proceed with a private member's bill that would have decriminalised homosexual activity. This was the second time Freer had pushed for homosexual law reform. While both attempts in the 1970s drew support from some groups, there was also opposition. The Gay Rights Coalition felt strongly that the age of consent should be set at 16 (the same age of consent as for heterosexual activity) rather than the proposed 18 or 20. Activist Judith Emms told media, "Any bill which is not an equality bill simply reaffirms the idea that homosexuals are unequal." It would be another six years before homosexual law reform was achieved.
5 June 1981
This year marks the 40th anniversary of the first report highlighting five young, previously healthy gay men in the United States who had developed pneumocystis pneumonia – later linked to what we now know as acquired immunodeficiency syndrome (AIDS). James Curran, formerly of the Centers for Disease Control and Prevention, recalls "patients were having severe shortness of breath and pneumonia, weight loss, diarrheal disease [and] Kaposi's sarcoma." Even though the report came out in 1981, AIDS and the HIV virus had been quietly active in communities – not just gay communities – for decades earlier. In New Zealand, the first death from AIDS-related complications was in 1984. The next year blood testing for HIV was introduced. Nowadays, with significant advances in medical care, HIV is no longer a death sentence and now people who are diagnosed and tested early can have a normal life expectancy.
18 June 2019
The Ministry for Culture and Heritage announced that oral historian Caren Wilton had been given an award to record interviews with people who were part of New Zealand's transgender community from the 1970s to today. Wilton recorded long-form interviews with people talking about how things had changed over the last five decades. One interviewee talked about the Wellington scene in the early 1980s and winning Miss Queen of Queens, another talked about being married and transitioning later in life, and members of a family with two transgender children talked about growing up in the 2000s. The interviews have subsequently been deposited with the Alexander Turnbull Library. Since 1990, the New Zealand Oral History Awards have given over $2 million to more than 400 community groups and individuals to record histories relating to New Zealand and the South Pacific.
27 June 2020
Over five hundred Pride organisations from around the world came together to create a 24-hour Global Pride online event. The virtual Pride was born after COVID-19 pandemic restrictions forced the cancellation of many physical gatherings. Global Pride featured a live stream of music, performances and messages of support. Deputy Prime Minister Grant Robertson and Prime Minister Jacinda Ardern represented New Zealand. Ardern told the international audience that Pride was about "recognizing and supporting inclusivity, unity and a sense of community. For me, Pride is recognition of all the work that has been achieved and all the work that is left to do. And Pride can also change people's lives. It's an opportunity for people to meet their role models and see people celebrating their pride."