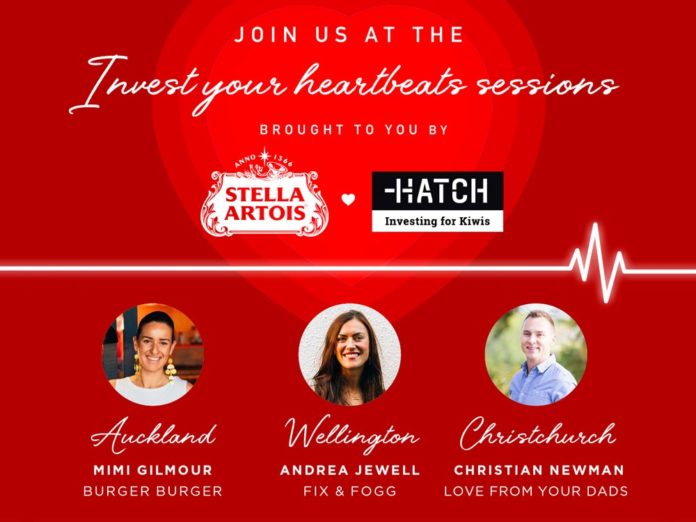 Kiwi investment company Hatch and the world's best-selling Belgian beer, Stella Artois, have teamed up to present a series of interactive discussion evenings aimed to demonstrate how we can all invest our time in the things that matter', in our three largest cities this June.
Kicking off in Auckland this Wednesday (2 June) the Invest Your Heartbeat sessions will be hosted by Hatch co-founder and GM, Kristen Lunman and each city will feature a keynote speaker who has successfully aligned their values and working lives by creating businesses they believe in.
Thought-provoking TED Talk-style conversations will expand into discussions that you can contribute to, for what promises to be a series of inspirational evenings.
Auckland will be hosted by Burger Burger co-founder Mimi Gilmour, who will explain how her love of food, hospitality and occasion, has kept her passionate about her successful restaurant chain.
"I'd tell any Kiwi looking to invest their time in something – whether it be a business, a job, or a relationship – to make sure that it aligns with a deeper belief," she recently told the NZ Herald.
In Wellington (10 June), former barrister Andrea Jewell will talk about how she and her husband left their legal careers to create the highly regarded peanut butter brand Fix & Fogg, with their passion for Vegan lifestyles and plant-based protein pumping at the heart of their business.
For Christchurch (9 June), Kristen will be joined by one-third of the 'team' behind the popular Instagram handle @lovefromyourdads, Christian Newman. Together with partner Mark, Christian created Love From Your Dads as a diary for their son Frankie (the third member of their team) and to help raise awareness for issues facing gay parents, particularly around surrogacy and adoption.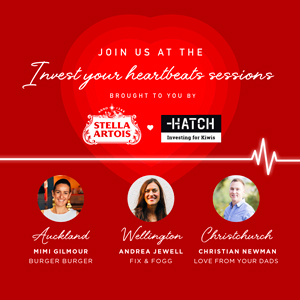 Christian is excited to collaborate with Hatch as it was the perfect excuse to start teaching Frankie about investments and healthy saving habits:
"For us, investing in shares is a long term thing and investing for the long term is one of the golden rules. It's a great way to make smart decisions based on research to learn more about investing before dipping a toe in.

"It's also a perfect opportunity to open a kid's account and start building their portfolio with them. Starting early is a great way to build healthy money habits and help set them up for life," he writes.
While each of the keynote speakers brings unique experiences and perspectives to these events, the goal of each evening is the same: invest your heartbeats wisely, in the things that truly matter.
---
Find out more about Hatch here and book in for the Invest Your Heartbeat sessions here.