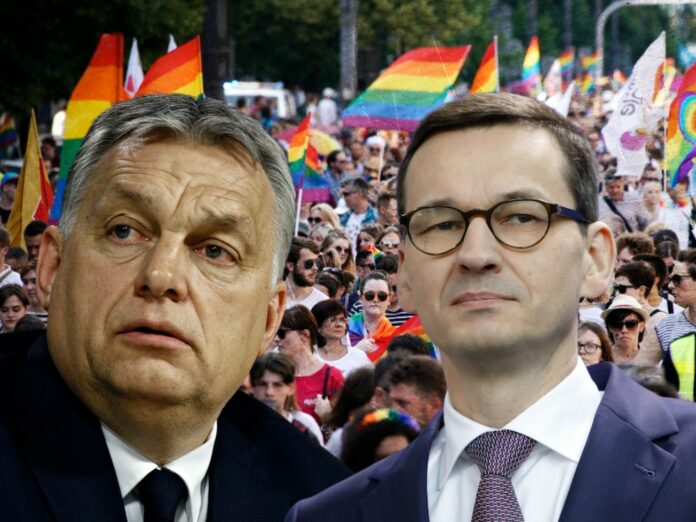 The Prime Ministers of Hungary and Poland have been welcomed to Slovenia by defiant LGBTQ+ activists to protest their backwards steps in LGBTQ+ rights.
Following a recent stand-off between Hungary (which recently passed a bill to ban LGBTQ+ discussions on social media), and supporters, Poland and Slovenia with other member nations of the EU around LGBTQ+ rights, the Slovenian activists showed their anger at all three leaders.
Proudly displaying Rainbow flags that covered the fence just across from the main entrance of where the meeting took place, the Slovenian LGBTQ+ protest has been praised by LGBTQ+ rights groups across the world.
Executive director of the nonprofit organisation Forbidden Colours, Rémy Bonny, described the protest as a " rainbow welcome to the Hungarian and Polish Prime Ministers during their visit to Slovenia."
"Just across the main entrance of where the meeting took place the fence was covered in rainbow flags. Slovenia rocks!" Bonny adds.
Since the introduction of the controversial Hungarian legislation, EU leaders have called for the repeal of the anti-LGBTQ+ law. Going even further, Matte Rutte – who is the Dutch premier called for Hungary to either embrace equality or leave the European Union altogether.
Despite the tension, Hungarian Prime Minister Viktor Orbán claims that the new law is "not about homosexuality," and according to the Independent, Orbán said "It's about the kids and the parents.
"I am defending the rights of homosexual guys, this law is not about them" – Hungarian Prime Minister Viktor Orbán
Defending Orbán, Slovenia's Prime Minister Janez Janša has claimed that the Hungarian leader should be allowed to express his ideas and claimed that there are "differences that need to be taken into account and respect."
"If you now judge a person based on imaginary European values which everyone perceives differently, and dual standards are used, then I think that this is the fastest road to collapse," Janša added.