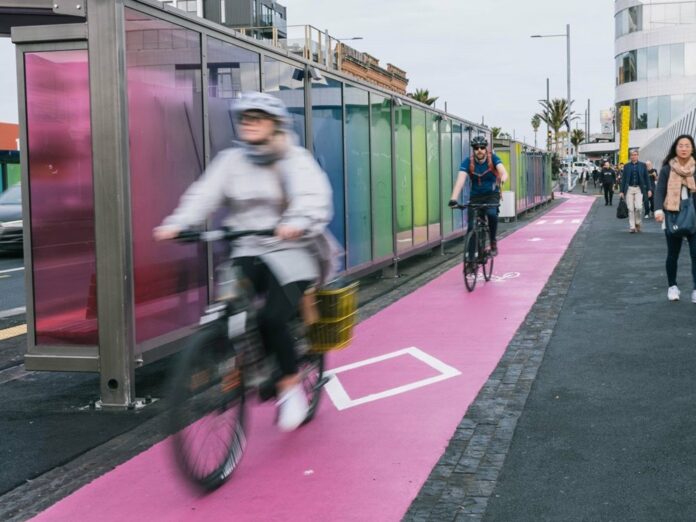 Bike lanes have popped up all over Auckland, yet even at peak commute times, many are sitting empty. Community stalwart Christopher Dempsey decided to 'be the change' and try out some of the hottest new e-bike models on our shiny new cycleways.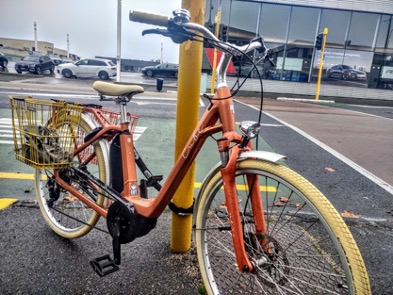 Cube Ella
When I picked up this gorgeous metallic burnt orange coloured Cube Ella, I was already thinking of who would love this e-bike? The answer came later that night at a DocEdge movie screening about the life of a drag queen in the States, and Anita D'Wiglit popped out to shimmy a quick number before the film. So I asked her to have a look at it – and wow, Anita looked was stunning on the bike.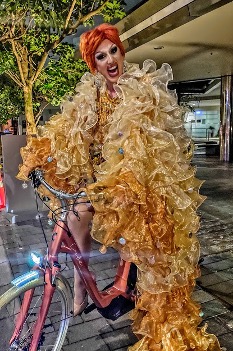 The Cube Ella is a delightful city bike – perfect for commuting around town or heading to brunch in Mt Albert. With whitewall tyres, and sit up handlebars it's a delight to cruise along the Quay St cycleway or the new Karangahape Cycleway.
It has pedal assist; you pedal to make the Bosch electric motor go. There are four speeds – I found that using the Tour speed was enough to cruise along between 20 – 30kph. The bike is light, which meant that you could still achieve good speeds on the bike without using battery power, or alternatively, you could take the battery out and use it as a regular bike.
The disc brakes are solid, and proved their worth when a car pulled out in front of me – cue some squealing of tires! There is a rear rack that will hold two panniers or baskets on either side, so you can do some grocery shopping on the way home, or they will hold a wig or two for a show.
One of the nice touches about the Ella was the front suspension forks. Combined with a comfortable seat, you were floating along – small bumps and ruts weren't felt, and larger ones were minimised. On a warm summer's Sunday morning, you'd have the time of your life on this bike along Tamaki Drive.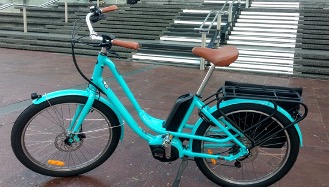 Benno eJoy
I've just spent a weekend cycling around, meeting friends, attending events. The difference is that I had the use of a Benno eJoy electric bike, and let me tell you, it was super fun!
I picked up in the city and promptly rode out to see a friend in Te Atatu, using the North-Western Cycleway. It's a comfortable bike – the seat is large, and the frame is solid, with large tyres. There are four settings with increased power assistance – Eco, Tour, Sport and Turbo. Eco is the lowest, delivering some assistance, while Turbo really powers you along, like Buckwheat in full flight. There's also an 'Off' setting, so you can cycle without assistance. Integrated lights front and rear ensure visibility at night.
The electric bit works when you pedal. Stop pedalling, and the motor stops. With easy pedalling on the Tour setting, I could comfortably cruise around at 20 – 30ks most of the time, which is the average speed of a driver in urban Auckland anyway.
There's an integrated lock with an additional chain for extra security at times. The sturdy rear rack is larger than normal, so you can carry that case of Lindauer without any problems.
If you remember the old Raleigh 20s we all had as kids – the eJoy bike is a sophisticated version of the Raleigh 20. You sit upright, and the handlebars are wide, giving you great visibility around you, and allows drivers to easily see you. German engineering gives you power at your fingertips and kicks in smoothly.
If you are looking for a great commuter bike – the eJoy e-bike delivered fun in a very smart package.