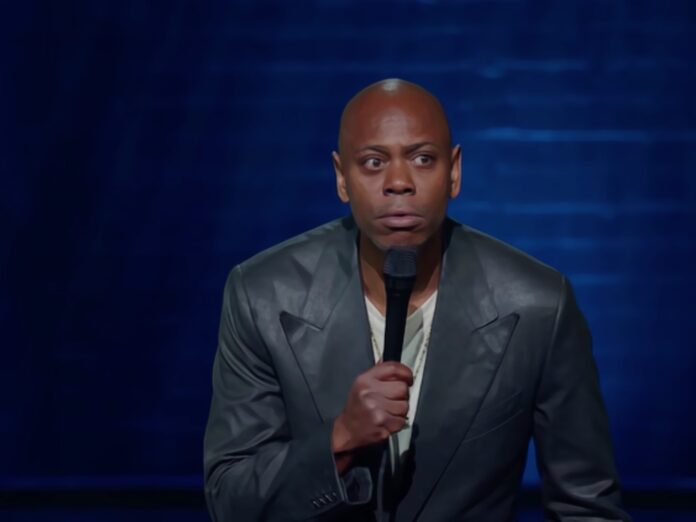 Dave Chappelle has been defended by the family of a late trans woman who was friends with the comedian, saying they are not offended by his controversial Netflix special.
Dave Chappelle's The Closer Netflix special has caused widespread controversy, with thousands calling for it to be removed from the platform.
The Netflix special which premiered on October 5, includes the comedian discussing his friendship with Daphne Dorman (a trans comedian who died by suicide in 2019), making explicit jokes about trans women, defending DaBaby and JK Rowling, and describing himself as "Team TERF."
Following the backlash against Chappelle, Dorman's family have since issued a statement in the comedians' defence saying, "Daphne was in awe of Dave's graciousness. She did not find his jokes rude, crude, off-colouring, off-putting, anything."
"She thought his jokes were funny. Daphne understood humour and comedy – she was not offended. Why would her family be offended?" they added in a statement to the Daily Beast.
Despite Chappelle's support from Dorman's family, LGBTQ+ rights groups highlight that while the comedian's comments may not have offended or hurt Dorman herself, his remarks come at a time when the transgender community is facing greater hostility across the world.
"2021 is set to be one of the worst years on record, with the Human Rights Campaign already sadly having tracked 38 transgender or non-conforming people in the US who have been fatally shot or killed by other means," explains a petition to remove the show.
"In England and Wales, 2,540 hate crimes against transgender individuals were recorded in the year to the end of March 2020, an increase of 16 per cent. As well as violence – both fatal and non-fatal – being perpetrated against transgender people worldwide, the transgender community is constantly attacked by media outlets, public figures and politicians."
So far, the petition to have the show removed has obtained over 7,500 signatures.