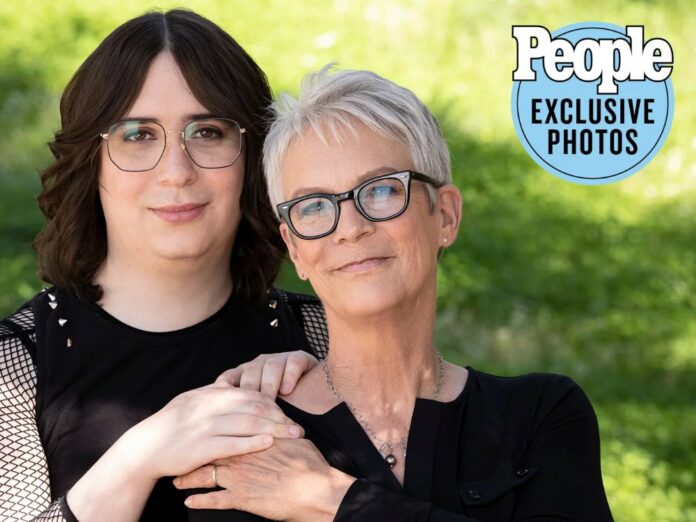 The Halloween Kills star spoke about being a parent to a transgender daughter and says "I'm going to make mistakes."
Three months after revealing that her youngest child, Ruby is transgender, Halloween Kills star Jamie Lee Curtis has spoken about her own experiences as a parent saying she is still going to "make mistakes."
Speaking to People magazine, Curtis admitted that "learning new terminology and words"
Is still a challenge at times.
"It's speaking a new language," Curtis told People.
"I am new at it. I am not someone who is pretending to know much about it. And I'm going to blow it, I'm going to make mistakes. I would like to try to avoid making big mistakes."
Curtis said she's become more thoughtful over time, explaining, "You slow your speech down a little. You become a little more mindful about what you're saying, how you're saying it. You still mess up; I've messed up today twice. We're human. But if one person reads this, sees a picture of Ruby and me and says, 'I feel free to say this is who I am,' then it's worth it."
Ruby, who works as a video editor told People she was 16 when she first began to think about her gender identity.
"A friend of mine who is trans asked me what my gender was. I told them, 'Well, I'm male.' After, I'd dwell on the thought. I knew I was – maybe not Ruby per se, but I knew I was different," she said.
Seven years later, Ruby decided to first tell her fiancé that she was trans.
Ruby says bad experiences with counselling prevented her from coming out earlier, something she regrets.
"I had a negative experience in therapy, so I didn't come out immediately when I probably should have. Then, seven years later, still being Tom at the time, I told the person who is now my fiancé that I am probably trans. And they said, 'I love you for who you are.'"
Ruby said she was at first "intimidated" at the thought of coming out as trans to her parents but that her Mum and Dad (director Christopher Guest) were nothing but supportive.
"It was scary – just the sheer fact of telling them something about me they didn't know," Ruby explained: "It was intimidating – but I wasn't worried. They had been so accepting of me my entire life."