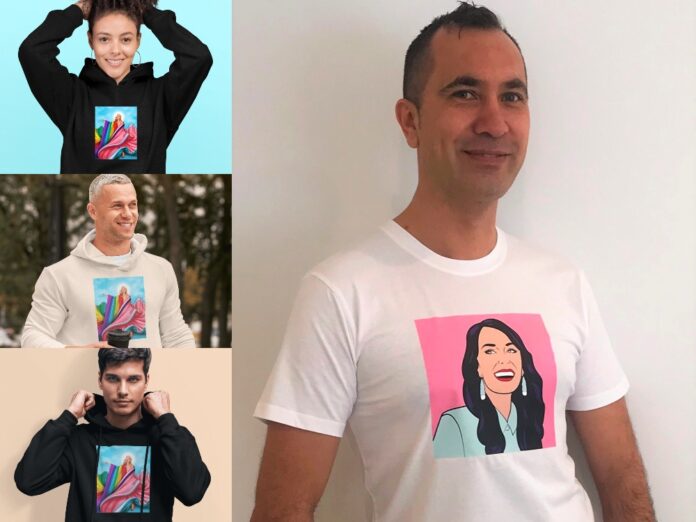 What's with the name? A tribute to a fashion icon. express spoke to Famine of Beauty founder Kevin Barratt to find out what's really behind the name?
Introduce yourself, what do you do?
Kia ora, I'm Kevin Barratt, 'One Man Brand' and founder of a glorious little 2020 lockdown start-up, Famine of Beauty. We offer a fabulous mix of products from gorgeous apparel, luxurious bathrobes, artworks & accessories. I'm also a full-time Registered Nurse – go me!
At Famine of Beauty, my message is very simple: "I'm just trying to spread a little love, just trying to spread a little kindness". You'll see this message within every one of my products. What I really adore about Famine of Beauty is the fun I've had in making some truly beautiful connections. These connections are what I call 'Heart Puddle' moments. But, a little more on these later …
How did Famine of Beauty come about?
One morning in May 2020, I woke up cold, tired and a little bit grumpy. I put on my bathrobe, and it wasn't giving me the comfort I needed. I thought, mate, you seriously need a new bathrobe! How about you make one with Ashley Bloomfield's face on it? Genius, I thought. So I ran my idea past my incredible partner Gav (who thought I was slightly cray cray) but said go for it! So with that, I emailed Dr Bloomfield asked for permission, and he said YES! The Ashley Bloomfield Bathrobe went completely nuts all over the Motu, and I've never looked back since. With that, Famine of Beauty was well and truly borned (sic).
Where did your company name Famine of Beauty come from?
Great question! In Vogues 2009 documentary 'The September Issue,' there's a spectacular quote by Andre Leon Talley where he says, "It's a Famine of Beauty. A Famine of Beauty honey. My eyes are starving for Beauty". When I was coming up with a company name, his quote popped into my head out of nowhere, and I just thought perfect. And here we are today. I was due to handwrite Mr Talley a letter of thanks this year, to let him know his quote and penchant for cloaks quite literally changed my life. But, sadly, he passed away recently. Famine of Beauty will forever be a tribute to him.
It sounds like you're really enjoying what you're doing?
OMG. YES!!! I absolutely love it. I know through Famine of Beauty that this is EXACTLY what I'm supposed to be doing. I've always known deep down this was the area I was supposed to be in, but for various reasons, I could never get round to it. But baby, I'm here now! Now, I just eat, sleep, and breathe Famine of Beauty (outside of my Nursing hours). I just love it so so much. It's SO much fun. And there's much more of that fun and love to be shared around. Through Famine of Beauty, I just get to be me … And to be honest, I'm pretty god damned fabulous – hahaha!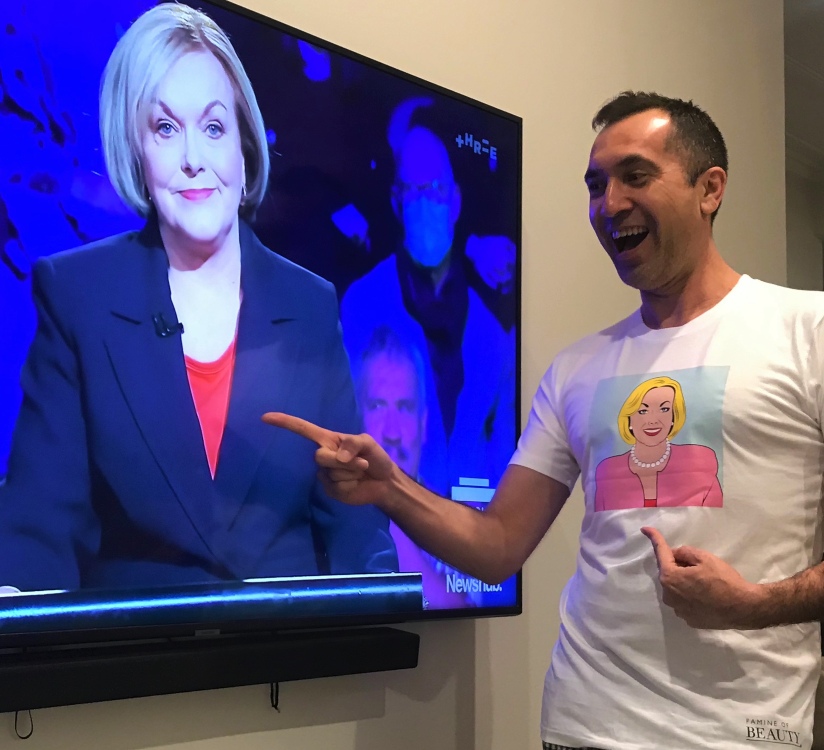 You mentioned some fabulous stories/connections you've made. Tell me about some of them?
In the short time since starting, there have been so many already. However, here are just a few of the highlights and what I call 'Heart Puddle' moments:
Gifting an Ashley Bloomfield Bathrobe (on behalf of Famine of Beauty and Dr Bloomfield) to Whaea Rose Greaves, a local Ponsonby Maori woman who was subject to a vitriolic racist attack. I made a new friend this day.
Meeting Yaniv Janson, an incredible young artist from Raglan who lives with epilepsy and autism. We met purely by chance on the Auckland to Wellington train when he commented on my Cindylicious We now feature some of Yaniv's stunning, internationally acclaimed paintings onto clothing & other accessories. Yaniv & I are in contact most days. We're pretty much besties now.
Making the beautiful 'The Cloak of Many Colours' clothing & accessories. These items were created for our gorgeous Rainbow Community and supporters. The Cloak combines together the LGBTQIA+, Genderfluid and Transgender Flags. A wonderful customer, now friend (Jo from Funky forms) made me the wonderful wearable Cloak of Many colours garment. Absolutely stunning xo
Lastly, what do you want to achieve with Famine of Beauty, and where do you see yourself headed?
I want to make Famine of Beauty a globally recognised brand – I don't dream small! And I absolutely believe I will get there. There's that beautiful quote in Paulo Coehlo's book 'The Alchemist' which says: "When you want something, all the universe conspires to help you achieve it". Well, I truly believe in this.
So, on that note, I would absolutely love to chat or connect with people who can offer me some advice or guidance on taking Famine of Beauty to the next level. I would honestly & truly welcome that.
Famine of Beauty is all about beautiful creations, creating 'heart puddle' connections and being true to myself. All while sharing my simple little message of "I'm just trying to spread a little love, just trying to spread a little kindness."
For more information on the incredible Kevin Barratt and Famine of Beauty, Follow them on Instagram or Facebook along with checking out their website famineofbeauty.co.nz, You can also email Kevin at famineofbeautynz@gmail.com