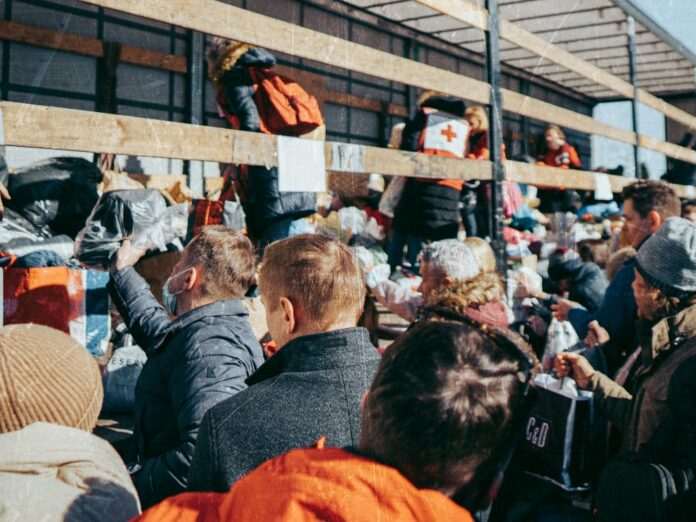 The Biden administration is reportedly drawing up plans to fast track and assist in resettling LGBTQ+ Ukrainian refugees in the United States.
According to NBC News, Biden's plan will be unveiled as early as this week, with multiple sources explaining to NBC that the initiative will allow vulnerable Ukrainians, including members of the LGBTQ+ community, activists and journalists, to enter the US safely.
The national security adviser for the White House, Jake Sullivan, explained on Tuesday the 22nd of March that Biden will "announce further American contributions to a coordinated humanitarian response to ease the suffering of the civilians inside Ukraine, and to respond to the growing flow of refugees."
NBC has also reported that while plans to resettle Ukrainian refugees in the United States may be temporary, officials believe most refugees will likely wish to return to Ukraine when it is safe to do so.
The plan to resettle LGBTQ+ refugees follows a letter from 70 U.S. politicians urging Biden to put such measures in place and adding that the U.S. must "dedicate sufficient resources and attention to Ukrainian members of groups that have historically faced violence and persecution under Russian rule and occupation."
The letter also highlighted Putin's previous attacks on the rainbow community, resulting in LGBTQ+ Ukrainians living in fear since the country's invasion in February.
"As you know, LGBTQI+ people widely face discrimination and persecution in Russia. In Chechnya, reports have documented what has been described as a large-scale 'anti-gay purge' by Russian security forces," the letter continued.
"When the killings of gay men began in Chechnya in 2017, the Trump administration was slow to respond and failed to work with organisations that resettle LGBTQI+ people who faced danger. We cannot repeat the previous administration's mistakes."