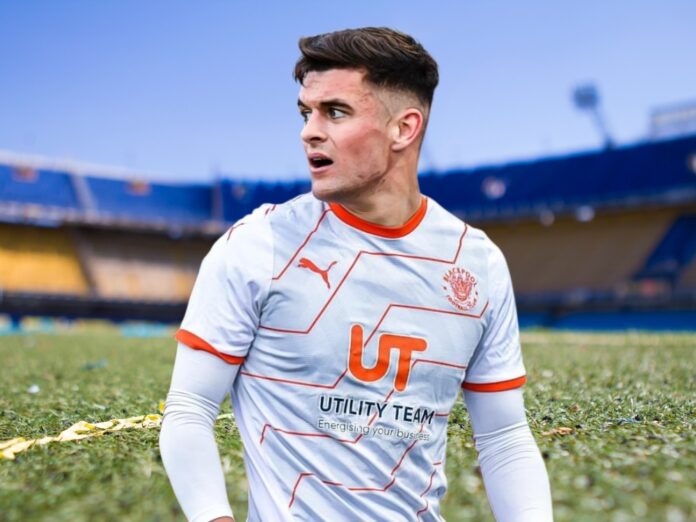 Blackpool footballer Jake Daniels has ended decades of silence from within professional men's football, becoming the first player in the United Kingdom to come out as gay since Justin Fashanu in 1990.
17-year-old Daniels, who only just made his debut for the club this month, explained that he felt comfortable and ready to come out publicly while acting as a role model for others in the game.
"Now is the time to do it," he said. "I feel like I am ready to tell people my story. I want people to know the real me."
While Daniels had been aware of his sexuality since he was six years old, says he kept it a secret as he pursued his dream of a football career.
Speaking with Sky Sports, Daniels said that he considered waiting until he was retired to come out; however, he knew that would "lead to a long time of lying and not being able to be myself or lead the life that I want to."
Daniels says the decision to come out had been some months in the making and involved consultation with his family, his club, the LGBTQ+ charity Stonewall and Sky Sports, who first reported the story.
"I am hoping that by coming out, I can be a role model, to help others come out if they want to. I am only 17, but I am clear that this is what I want to do and if, by me coming out, other people look at me and feel maybe they can do it as well, that would be brilliant. If they think: 'This kid is brave enough to do this, I will be able to do it too,'" Daniels explained to Sky Sports.
Daniels' decision to come out has been praised across social media by LGBTQ+ advocates, fans and football organisations alike.
Liz Ward, who is the director of programmes at Stonewall, explained that his actions showed "incredible courage."
"Football is ready for this moment, and we believe it has been for some time," Ward said, before adding that she felt society is now "moving towards a world where players can live openly as their true selves, both on and off pitch … something we can all take pride in."
"This is an opportunity for everyone involved in football – from the players to the fans in the stands – to support Jake and show that football is everybody's game," she concluded.