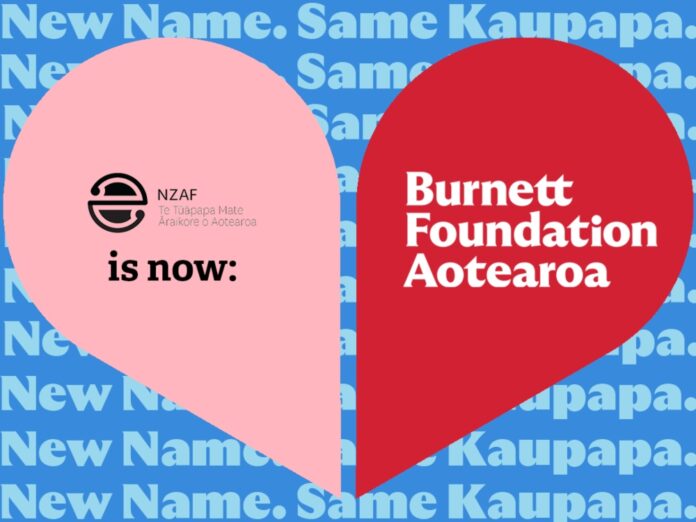 After 37-years of service to the community, the New Zealand AIDS Foundation has announced its official relaunch as Burnett Foundation Aotearoa.
The New Zealand AIDS Foundation (NZAF) announced its name change yesterday to honour its co-founder, pioneering AIDS activist Bruce Burnett, and prepare for the challenges and opportunities of the future.
Founded in 1985, the NZAF has continually evolved to face new issues that have emerged and affected the LGBTQ+ community of Aotearoa, including challenges posed by other STIs and physical and mental health issues affecting people living with or affected by HIV.
With the landscape of HIV and AIDS in Aotearoa changing significantly since NZAF was founded, the charity says the name change will allow them to continue to evolve over time.
Burnett Foundation Aotearoa Board Chair Sam Humphrey says, "We have listened carefully to the communities we serve. One consistent message was that, with AIDS now being rare in Aotearoa thanks to effective HIV treatments, NZAF's current name no longer reflects the particular challenges we face or the services we need to provide."
"By relaunching as Burnett Foundation Aotearoa, our organisation is honouring its incredible legacy while positioning itself to meet the evolving needs of people living with or affected by HIV now and into the future."
"The new name also empowers us to think creatively about what else the organisation might do in the future, in addition to building on our achievements to date."
Despite the new name, the charity says that Burnett Foundation Aotearoa will retain the vision, mission, and principles of NZAF and will play a key role in ending local HIV transmission by 2025.
Incoming Burnett Foundation Aotearoa Chief Executive Joe Rich says he is inspired and excited by this next step in the organisation's journey.
"HIV will always remain at our core, even when we reach our goal of eliminating new transmissions. We know that if we were to take our foot off the gas in the future, infections would rebound quickly. Burnett Foundation Aotearoa will continue to empower rangatahi and future generations to stay safe."
For more information, you can head to BurnettFoundation.org.nz