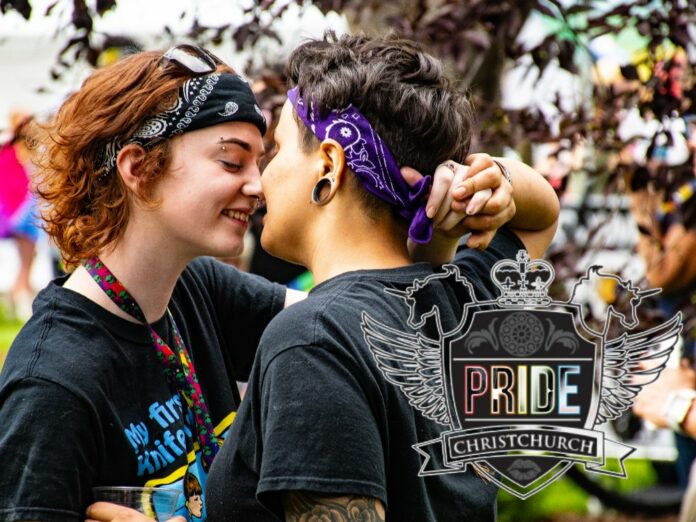 Kicking off this Friday, Christchurch Pride is bigger and better than ever! To celebrate the return of the largest pride festival on the mainland, express has put together a list of our favourite not-to-miss events for the first epic weekend across the Garden City!
The Wonder of Matariki: A Pride Kōrero
Friday 17 – 12:30 pm to 1:30 pm (FREE)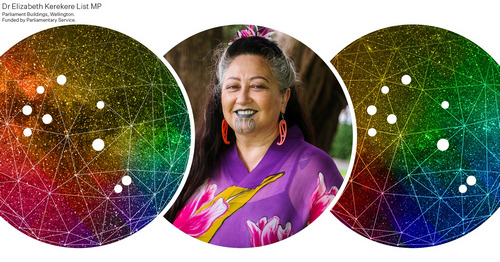 Hosted by Aotahi – School of Māori & Indigenous Studies at UC, Green MP Dr Elizabeth Kerekere will lead a very special kōrero on the wonder and meaning of Matariki, inviting perspectives from a range of fabulous Takatāpui and Rainbow voices.
Panellists include
Jessica Niurangi MacLean (Ngāti Kahu, Ngāti Hine), Lecturer at Aotahi, UC
Rihari Campbell-Collier (Te Aitanga-a-Māhaki, Te Whakatohea, Ngai Tai, Te Whānau-ā-Apanui), Youth MP for Dr Elizabeth Kerekere
Siobhan Tumai (she/her) (Waikato Tanui and Ireland), Takatāpui activist, Māmā, and community worker living in Ōtautahi.
RSVP HERE
– The event will also be recorded and/or live-streamed.
---
Pride Walk of Support
Friday June 17 – 1:30 pm (FREE)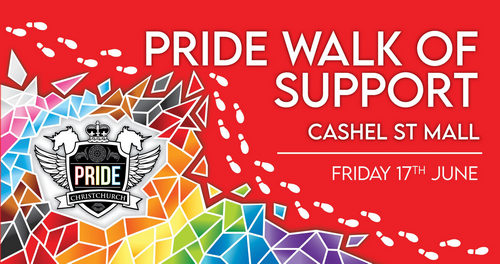 Christchurch warmly welcomes all friends and whānau to join Christchurch Pride as they officially open the week with what will be another super exciting installation in Ōtautahi in a not to be missed event.
Christchurch Pride has been busy working behind the scenes with the Christchurch City Council and the Christchurch Foundation to make the city the most colourful it has ever been!
Come along to the chch CBD, check out colourful casual and some of the fantastic window displays, and take some selfies #chchpride #coloufulcasual #loveislovechch – Find the Fletcher Building Rainbow Truck for the starting point, then along Cashel St as the parade makes its way to an official ribbon-cutting event for the entire Chch community!
---
Fri-YAY!!! @ RiverPride
Friday June 17 – 6:30 pm to 9:00 pm (FREE)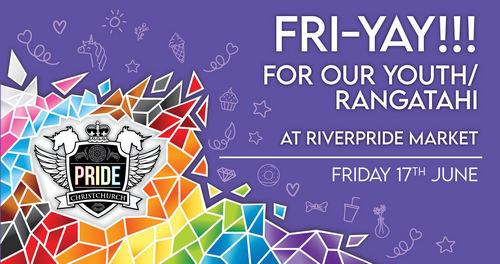 Welcome to Fri-YAY @ RiverPride Markets … one of Christchurch's most loved venues.
Over the Chch Pride celebrations, Riverside will become RiverPRIDE!!
And to celebrate this, what better way than to have a family-friendly event.
Stage Shows upstairs at 7 pm, and again @ 8.30 pm some of our amazing Queens will be there, including Christchurch local – Little Miss Cinnamon and Wellington's Hugo Grrl.
---
FriGAY Drinks Opening Party
Friday June 17 – from 9:00 pm (FREE)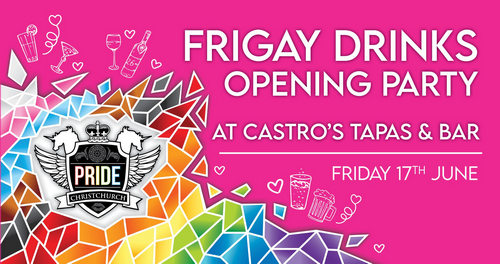 Christchurch LGBT Social Events & Christchurch Pride are super excited and proud to bring you the biggest FriGay Drinks ever to celebrate the opening of Christchurch Pride Week 2022!
Following on from the family-friendly event inside RiverPride Market, the Original FriGAY drinks is a not to be missed R18, free event at a super cool and exciting venue!!
The Terrace will be packed with colour, so bring your rainbows, dust off your sequins, glitter, feathers and wigs and let's show Christchurch just how fabulous life can be!!!!
The one and only DJ Gregor will be in the house with a big dance floor to shake your booty!
Feel free to pop along early and grab a table to enjoy some of their amazing Tapas.
---
Kahukura
Saturday June 18 – From 6:00 pm ($575)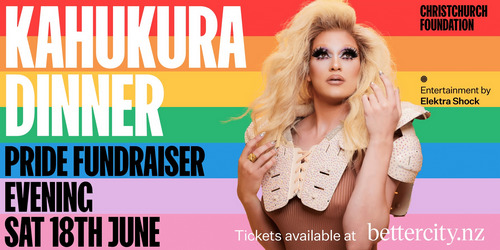 Introducing … Kahukura … something never before seen in New Zealand and a supporting event for the Christchurch PRIDE Festival.
Run by award-winning event company Campbell & Co, this will be a must-attend "black tie" dinner, with guests literally dressing in specific colours to create a rainbow of humanity when seated for dinner.
Kahukura, interpreted as rainbow, comes from Kahukuratītīa; goddess of the rainbow. Kahu (cloak), kura (to glow), titia (to adorn). The glowing cloak adorned across the land. The event is designed to unashamedly raise money for the PRIDE Endowment Fund, our legacy of support for greater Ōtautahi, Christchurch's rainbow community.
MC'd by Eli Matthewson, the event will have a wide variety of entertainment. Individual tickets are $500 + GST per head and include a gift to the PRIDE Fund. No auction or other fundraising activities will be run on the night.
---
Qtopia Pride Ball
Saturday June 18 – 7:00 pm to 11:00 pm ($10 – $25)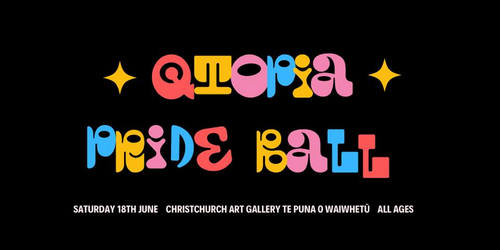 Qtopia Pride Ball is back for Christchurch and World Pride 2022! All ages and all-inclusive, this ball is for everyone!
Come celebrate an unforgettable night with your community in the gorgeous Christchurch Art Gallery Te Puna o Waiwhetū. Make your entrance down the marble staircase, dance to our incredible DJs, have some delicious kai, and enjoy some great entertainment!
Tickets are 'pay what you can', so the ball is accessible to all. Any proceeds from sales will support Qtopia in our vital mahi, creating positive social change through education, advocacy, support and celebration. Tickets sold out last year, so be in quick!
GET YOUR TICKETS HERE $10 student/unwaged, $25 waged
---
Leather & Lace
Saturday June 18 – 9:00 pm ($20 – $30)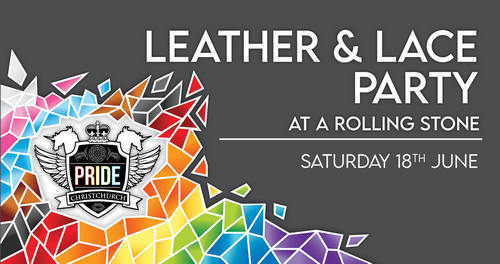 Leather and Lace will be a night to remember …
Moody and sexy with a hint of burlesque and a whole lot of gender f*ckery. Leather and Lace is a safe gender non-specific queer event with a fabulous entertainment line-up to reflect that!!
---
Pride Bottomless Brunch
Sunday June 19 – 11:00 am to 1:00 pm ($70)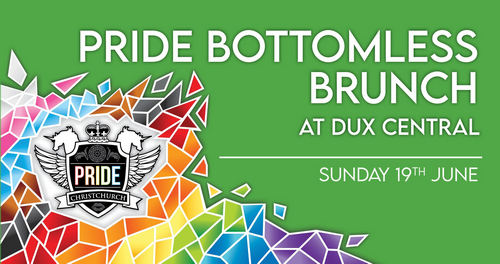 Who doesn't love bubbles with brunch?!
Grab your gaggle of gays and all your fabulous friends come along to one of the city's most loved locations, where the wine will be chilled, the food will be just as divine as the company … especially after a few glasses of bubbles!
Not that we condone day drinking … but it is fun!! Don't forget to arrive by Uber or bring one of those responsible friends to drive you home xox
The fabulous team at Dux Central are providing a DJ to set the mood for what will be a perfect day!!!
---
Gaymers Night: Play-to-Win Social
Sunday June 20 4:00 pm to 8:00 pm (FREE)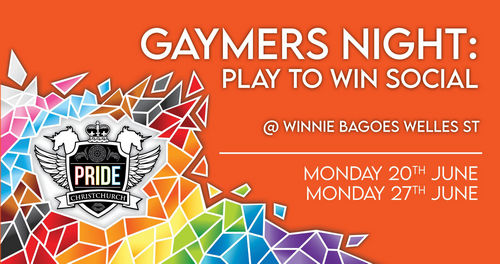 Play-to-win is a concept where people can sign out a game donated by Gamersphere, play it, and then enter their name in a lottery to win that specific game at the end of Chch Pride. Each game can be experienced by dozens of people in a short amount of time.
All board games donated by Gamersphere NZ will be raffled off on Sunday, 27 March 2022.
Winners will be contacted at that time and their names will also be announced on the Gamersphere website and social media. Play-to-Win is an event for Gaymers of all ages. You won't want to miss it because everyone's a winner.
---
For more information on Christchurch Pride, including an entire list of all the fabulous events, head to their website chchpride.co.nz or keep updated on Facebook.