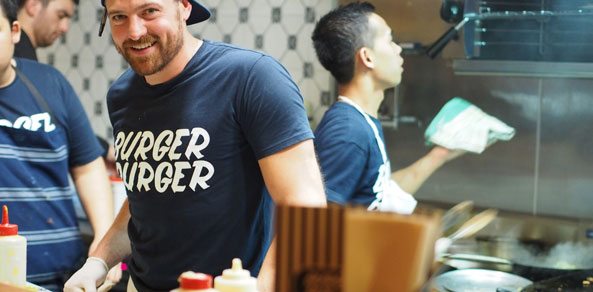 Alexia Santamaria is the co-author popular blog www.cheapeats.co.nz the Auckland guide to eating great food without going bankrupt.
There is so much to like about Burger Burger.
The atmosphere is loud and fun, the burgers are legendary, the soundtrack is cracking and we have to say looking at gorgeous Chef Adrian in the open kitchen is no hardship either.
We love the beef burger (actually we love all the burgers) and the fact that you can replace the – absolutely delicious – buns with lettuce if you're not feeling carb-ish is a huge bonus. You will never visit another chain burger restaurant again after tasting Adrian's bad boys.
Burger Burger, Ponsonby Central, 136-138 Ponsonby Road, Auckland
www.burgerburger.co.nz
 Article | Alexia Santamaria