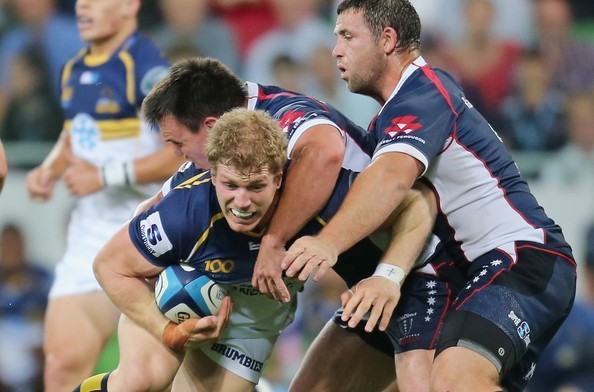 Former Wallabies captain and current Brumbies player David Pocock has denounced the homophobic slurs allegedly used yesterday during the Brumbies game against the Waratahs. 
An agitated Pocock made referee Craig Joubert address alleged homophobic slurs from a Waratahs forward as NSW clinched a 28-13 win in a fiery Australian contest at Allianz Stadium The Sydney Morning Herald reports
Joubert said he did not hear the remarks – allegedly made at scrum time – but asked NSW captain Michael Hooper to have a word to his forwards.
"I'm getting some pretty aggressive comments coming from your guys – that there are homophobic slurs [being made]," Joubert said.
Hooper replied: "We're not into that".
But that did little to satisfy Pocock, who is a vocal supporter for same sex marriage rights.
"You heard that sir … you can't say that, there could be gay players out there."
Pocock continued: "That's fine, but after that their captain said: that's rugby. That's not right."
The Brumbies player later expressed his disappointment saying  "As players, we've said the Brumbies aren't going to tolerate any homophobic slurs, I just made that clear to the referee that it's unacceptable. You can be the toughest man in the world, but it's got nothing to do with using that sort of language,"
"Where you start is quelling out that sort of language. I didn't hear it myself, I was just making the referee aware of it so he could act. Our job as players is to quell it out. That's what we did, I don't think it should be a witch hunt. It's about educating the players and ensuring that rugby does become more inclusive."
Article | Levi Joule.