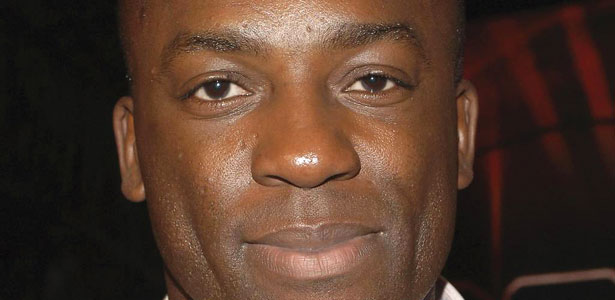 British actor DeObia Oparei joins the cast of TV's hottest show Game of Thrones which returns to our screens this month with it's fifth season.
Oparei's unique resume has seen him working in Sydney as a street performer, stripper and drag queen in the 90s – with his hulking six foot six frame extended to over seven foot when he strapped on heels.
In 2001 he was cast in Baz Luhrman's Moulin Rouge as La Chocolat (the angel-lke character who saved Nicole Kidman's Satine each time she was close to death); followed by a number of small roles in Hollywood action blockbusters including Doom, Dredd, Death Race 2 and Pirates of the Caribbean: On Stranger Tides. 
Proving to be more than just the mass of his muscles, Oparei once again dug out his wig and heels to perform in his self-penned play Crazyblackmuthafuckin'self staged at London's prestigious Royal Court theatre, where he played an actor who subsidised his career by working as a dominant rent boy or glamorous call girl, depending on the needs of his clients.
His latest role as royal bodyguard Areo Hotah, on Game of Thrones, seems to perfectly suit both his action man persona and raunchy penchants. Hotah serves the rulers of Dorne, a land where women are empowered to be as brutal and ruthless as the men, and taking partners of both genders is commonplace. Once again Oparei is dressing up for his role. "The costume is really challenging," he tells us. "It's beautiful… but it's heavy as s**t. It's this gold, brocaded long coat and then underneath that are these leather harnesses. Then it's studded with these incredible star designs… Ninety per cent of the performance is the costume."
He also wields a rather phallic weapon. "It's this incredibly tall axe," He chuckles. "I mean I'm 6' 6" so it must be nearly 7ft and it's incredibly heavy!" He describes this experience as, "like picking up a ten year old child. I had to be trained how to wield it, specifically above my head – I got me some swinging action going on!"
Filming in Spain alongside Kiwi star Kiesha Castle-Hughes, he says the experience feels more like a big budget movie, "I remember Baz Luhrmann's attention to detail [on Moulin Rouge] was just incredible. It's the same here… the scale of it is amazing!"
Game of Thrones premieres Monday 13 April on Sky's SoHo with a global simulcast at 1pm, replayed at 8.30pm.
Article | Oliver Hall.