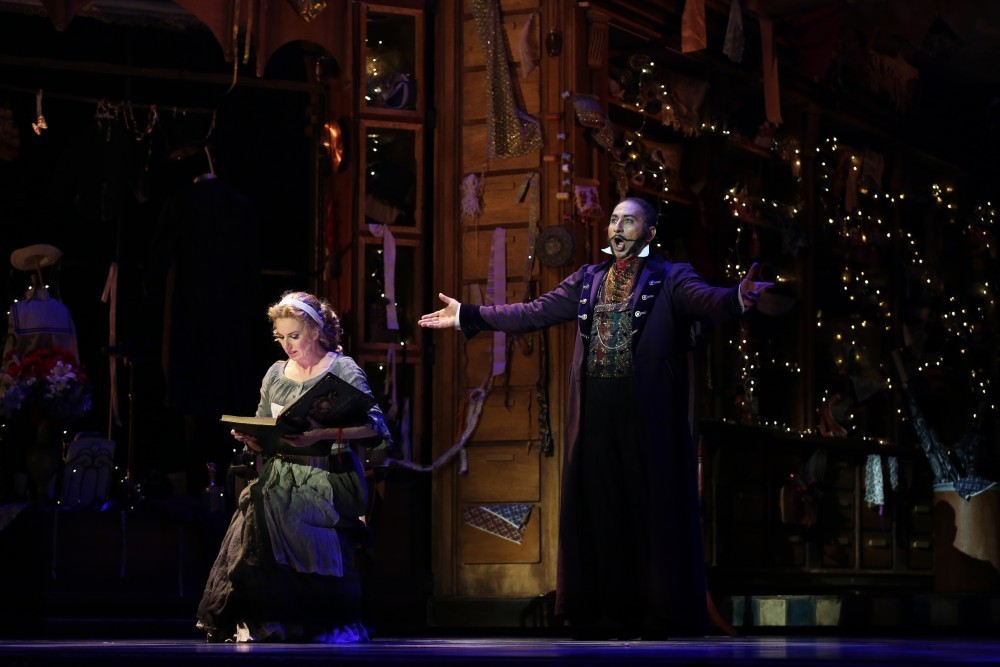 Luke Alexander Wilson gets a behind the scenes look at NZ Opera's upcoming production La Cenerentola – Cinderalla with a whole different kind of magic.
La Cenerentola is Rossini's operatic retelling of the classic Cinderella fairytale, adored by audiences since it's premiere in 1817. New Zealand Opera's upcoming production promises a lavish and extravagant Dickensian take, set in 1800's England and sung in the original Italian.
With Disney's recent release of a live-action take on the tale, the story is currently experiencing a renaissance of favour. But just how different are the two takes? Catching up with cast member Ashraf Sewailam offered me a lot more insight into the production.
La Cenerentola offers a humanistic take on the beloved rags-to-riches tale. There is no glass slipper, no pumpkin coach, and no clock striking midnight. The result is a kind of magic more human in nature. Rossini's choice to focus on the triumph of virtue and the celebration of good character imbue the tale with a sense of reality and even allow it 'dive into darker parts of the story.'
Sewailam plays Alidoro, a character modern audiences could parallel with the Fairy Godmother in Disney's version, but with some key differences. Alidoro is neither magic nor a mother, rather a master manipulator who ensures Cinderella is in the right place at the right time. Fans of the Disney version will be thrilled to know that La Cenentorala boasts its very own version of Cinderella's famous transformation. Though it lacks the helpful mice with surprisingly good sewing skills, that the Disney scene boasts, Sewailam's character offers the young Cinderella some sage advice wrapped up in sass, and who doesn't love a high sass factor?!
Based primarily in the states, Sewailam has appeared onstage in Opera houses across North America, Europe, Australia and New Zealand and is also known for voicing Mickey Mouse in Arabic language adaptations of Disney films. NZ audiences may recognise him from New Zealand Opera's 2012 production of Rigoletto. Sewailam is no stranger to this opera; he performed the role of Alidoro in 2012 when Opera Queensland staged an English translation. The opportunity to perform the piece in its original Italian is something Sewailam has been looking forward to since the premiere of the last production.
Of course, I had to ask, had Ashraf seen the latest film adaptation of Cinderella in cinemas yet? 'Yes. I loved it. It was a feast for the eyes.' Judging from Sewailam's reports from rehearsals, La Cenerentola looks set to be much the same – dazzling, beautiful and larger than life. Set in the nineteenth century English haberdashery, bursting with bric-a-brac, which Cinderella calls home, the set is an appropriate setting for a tale of such proportions. The New Zealand Opera's opulent set will transform the theatre and transport audiences to a land of operatic abandon.
Lindy Hume, Artistic Director of Opera Queensland, has been charged with bringing this production to life and brings a wealth of experience to her direction, having directed the 2012 English version staged in Queensland starring Sewailam. Despite sharing some key collaborators, Sewailam spoke with great enthusiasm about the how the collaboration of New Zealand Opera and Opera Queensland has reinvigorated his performance and allowed the production to explore exciting new ideas and artistic territory.
In addition to Sewailam, the cast is comprised of a talented group of seasoned performers whose interpretations of these classic characters are sure to delight.
The chorus includes Christian Thurston, Jarvis Dams & Aidan Gill storming the stage in drag, performing as the maids, adding a further dimension to the production which which sounds almost carnivalesque in its revelry. Thurston, Dams and Gill are not new to NZ Opera, but they are excited to strut their stuff onstage amid such a stellar cast. When asked if opera differed very dramatically from the popular fairytale, Dams responded that, "while the Rossini version of Cinderella is somewhat different to the fairytale we all know and love, it is a very refreshing take on the original story. Gill's description of the production in three words was "Engaging. Exciting. Exquisite.", while Thurston describes it as "a must see."
For opera lovers (we know you're out there!) it's a rare chance to see this classic performed on our shores. Never been to an opera before? What better way to acquaint yourself with the medium than with the reimagining of a childhood favourite? After all, we're never really too old for fairytales.
La Cenerentola is a New Zealand Opera & Opera Queensland co-production, supported by Orchestra Wellington & The Auckland Philharmonia Orchestra. It is showing in May 9-16 at The St. James Theatre in Wellington and May 30-June 7 at ASB Theatre, Aotea Centre in Auckland. The opera is sung in Italian with English surtitles. For more information visit www.nzopera.com.
 Article | Luke Alexander Wilson.
 Photos | Patric Seng.