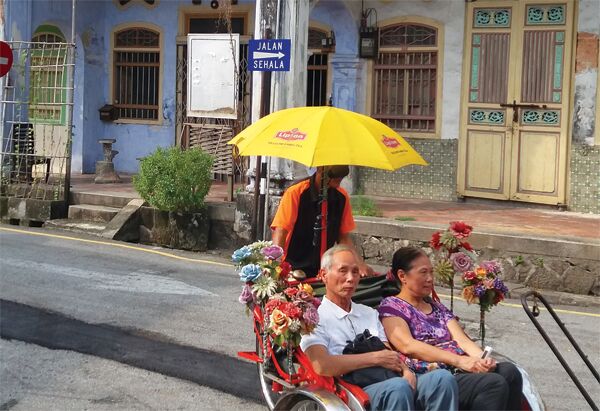 The Penang experience is unique in Asia: Racial diversity, food to tempt every gourmet palate, beaches and beautiful boutique hotels at affordable prices.
Penang, an island an hour north of Kuala Lumpur, Malaysia, is a true gem. One you will want to come back to again and again. And where better to stay than in one of the restored boutique hotels in George Town? You will spy a number as you walk and explore this fascinating bustling community – once a major trading post like Singapore and Hong Kong, but still with its original terraced shop houses now saved from the wrecking balls. The four boutique hotels described here all offer a unique glimpse of historical Penang along with service, elegance and individual style.
COFFEE ATELIER
This handsome mid 19th century building, part of which was originally a coffee trading house, still has the original roasting pots in the centre and like other shop trading houses in George Town was also the home of its Chinese owners. Now with 6 rooms all furnished in Chinese antiques this hotel also doubles as an art gallery. At the time of writing it was holding an art exhibition by two of Penang's leading artists, gay Chinese guys Soon Lai Wai and his partner Lim ah Cheng. The café with its relaxing street side terrace is hosted by a group of charming cheeky individuals able to do a flat white as good as anywhere in NZ. Around NZ$130 per night.
CAMPBELL HOUSE
This beautifully restored building also houses the best Italian restaurant (il Bocaro) in George Town. Arrive with your partner and the very vivacious Nadya will suggest dinner and then after, perhaps, a visit to the Opium Room upstairs– alas not for drugs anymore but to indulge in a bit of amore! Very chic, very appealing. This 11 room hotel is extremely highly rated by guests who enjoy the service and hospitality from its owner operators, Nadya and (chef) Roberto. Around NZ$130 per night.
SEVEN TERRACES BOUTIQUE HERITAGE HOTEL
Almost opposite Coffee Atelier is this grand heritage hotel from award winning hoteliers Carl Steinberg and Christopher Ong. Completely rebuilt from a row of seven dilapidated adjoining Anglo Chinese terrace houses, this 18 room luxury hotel includes precious antiques and personalized suites as large as an individual apartment. The restaurant offers a gourmet menu option and a lap pool will help cool those needing comfort after a hard day exploring. Starting at NZ$180 per night. Note this exclusive hotel is not on hotel web booking sites.
REN I TANG
A more relaxed option, this restored Inn has a vibe more akin to a backpackers. But with 17 rooms all individually styled in modernist themes, and with the Tang café, all needs of the modern gay traveller are catered for. The open garden with a large table is a delightful resting spot and leads to some of the less expensive rooms. Proudly run by Karen Choo, the Ren I Tang has a decidedly female friendly feel. The Tub room is highly recommended – its shutters open on two sides to present lively street scenes below. The history here is no less authentic too – it was once a Chinese medical hall and still has some of the vats which were used to cook up the herbs. In the Little India district. From NZ$80 per night.
Penang is where they are filming the TV1 drama Indian Summers and I was invited to join as an extra in one of the club party scenes. Not surprisingly many working on the production are gay. And with a big service sector many of the local Chinese, Indian and Malay boys are too! There is even a gay bar but avoid as it is quite the most unfriendly empty place you don't want to be!
The happening place is China House, a connected group of alleys and rooms that houses bars, fine dinning, incredible coffee and cakes and at night a live jazz band. Opposite this is the very hip industrial style eating place, Sekeping.
The beaches at Batu Ferringhi are good – with beach front cafes – but you need to get the (101) bus out there. For the more adventurous take a walk in the National Park, Teluk Bahang, to Monkey Beach. After getting over the 90 minute trek each way in tropical heat you may be tempted to take a boat back! For shopperholics the malls provide a chance to further indulge. Try Paragon Mall, close to George Town, or go to the more upmarket Gurney Plaza. The Japanese chain Uniqlo is the place to buy inexpensive good quality clothing and Padini, a Malaysian clothing chain, is great also.
Food in Penang is everywhere. Chinese and Indian street food can be great…at prices that literally make you laugh. Even formal restaurants, such as the traditional Malay Jawi House Café Gallery seldom cost more than NZ$10 per head for a many course fabulous dinner. The Bohemian area around Chulia and Love Lane includes many interesting small cafes, often attached to backpacker's hostels.
George Town is now a world UNESCO heritage area and as a result has literally "taken off". Oh how you wish you could have picked up one of the traditional terraced shop houses 10 years ago…now they are priced sky high. But any of the four heritage boutique hotels above will more than provide a comfortable safe environment – all will give you the opportunity to live and breath the history of this amazing island city.
 Article | Richard Todd