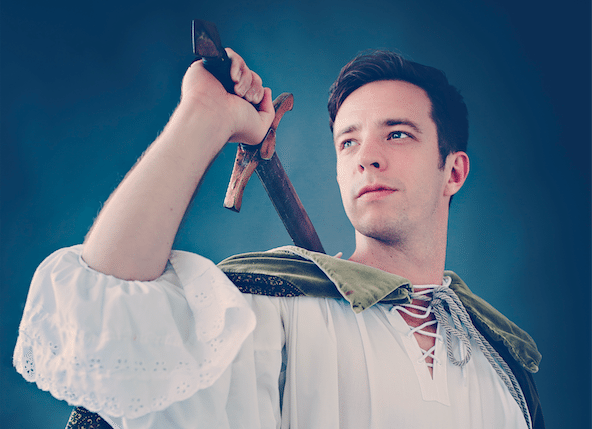 This year's International Comedy Festival has a super strong line up of LGBT focused comedy. From overseas stars to local living legends, Oliver Hall reflects on who gave his funny bone the biggest tickle! 
The real jewel in this year's crown was Chris Parker and Tom Sainsbury's sex-comedy masterpiece Camping. This ode to Carry On… told the hilarious tale of two couples who had booked the same batch for their respective honeymoon and twentieth wedding anniversary. What could have ended up as a messy farce was grounded by brilliant comic writing, oddly relateable characters and and exceptional performances from the cast; particularly rising star Kura Forrester and world-class chameleon Chris Parker. If this show returns – miss it at your peril.
Eli Matthewson's stand up offering was notably more PG. express' former Hottie of the Month made scial media the focus of his show, tackling the topic in sketches and even requiring audience members to Instagram and let him log on to their Facebook accounts. Sadly Eli's awesome abilities deserved funnier, more developed material to work with. Clearly at ease on stage and unphased by hecklers, the talented comic actor and MC sadly comes up short with sketches that lacked punchlines and purpose, despite a promising start to the show. Perhaps this stumbling block could lead to Eli embracing some edgier material that could truly showcase how superb he can be.
But, I'm probably biased as I like my comedy a little more bite, and acidity is easy to find at this year's festival thanks to Stephen K Amos and Joel Creasey. Amos seems to take no greater pleasure then destroying his heckler filled drunken audience, which often turns out to be the highlight of his shows. Creasey on the other hand (oft referred to as Joan River's love child) launches is rapid fire quips; refreshingly firing his ammunition more often at him self than his audience. This young blonde is well worth checking out.
The 2016 NZ International Comedy Festival runs until 15 May. www.comedyfestival.co.nz
Main Image | Eli Matthewson
Article | Oliver Hall