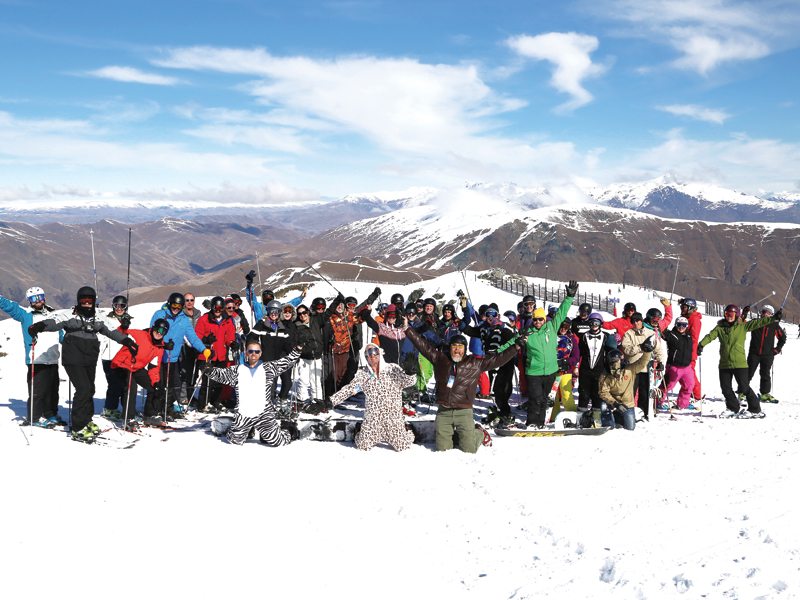 Don't let winter wanderlust get you down – ski into spring with the largest gay and lesbian winter pride event in the Southern Hemisphere, Gay Ski Week QT!
The first time I saw snow was a magical experience. After spending years avoiding winter on tropical island getaways, experiencing the sheer beauty of a snow-topped mountain was nothing short of transcendent. Sure, it was cold – but that was nothing my Kathmandu puffer jacket couldn't remedy. As I laughed through my first failed attempts at snowboarding, I forgot about how cold the snow was and started thinking about how much fun I was having. I was a convert. So when I heard about Gay Ski Week Queenstown and it's amazing line up of awesome winter events in August and September 2016, I knew I had to go!
Gay Ski Week has been a rainbow winter staple since 2012 and is the largest winter pride event in the Southern Hemisphere. From 27 August to 3 September, Queenstown will serve as the sublime venue for this fun-filled eight-day escapade which, on top of a fabulous scheduled event every night, also encourages fabulous extras like a onesie day at Cardrona and Diversity Day at the Remarkables. I'm personally super excited about the much-loved drag race that'll take place in the snow!
With a plethora of guests ranging from international DJ's to the spunky MKR contestant Jordan Bruno (of mother-and-son team Jordan and Anna) who joins the proceedings as the Australian ambassador, you won't be sold short on eye candy or amazing things to do and see. Jordan comments that "GSWQT is special because it brings people from all over the world and all communities together. It does have its parties, but it is also an event for families and people of all ages too. When Mum asked me if she could attend, I was thrilled! I hope it encourages other family members to come celebrate too. Be proud of who you are!"
I can't wait to get back on that snowboard by day, and feel the vibe at night! express brings you the best of Gay Ski Week QT 2016, so mark these down in your diary and make sure you dress to impress.
The party kicks off on Saturday 27 August with the Broken Shed Opening Party at The World Bar, 12 Church Lane. You'll be welcomed into the warm bar from the cold Queenstown air with a complimentary drink and nibbles waiting for you! The opening party is the best time to catch up with old friends, and a great place to make new ones. Once you've broken the ice, you can dance the night away with the fabulous international DJ Haylenise from Melbourne.
Sunday 28 August evokes the spirit of Queenstown in more ways than one. Feel the vibe from abroad the magnificent Spirit of Queenstown for the Anchors Away Boat Party, where the unbeatable Sydney DJ Adam Love will be tearing up the turn tables. What would be more fun than a boozy boat party? Boarding commences from St. Omer Wharf at 6.30pm and we set sail 7.30pm, so don't be late!
After an opening weekend of supreme playfulness, Monday 29 August will get your brains back into go-mode with the LYC Queer Quiz Night at the Ballarat Trading Co. Kicking off at 7.30pm, get ready to work a whole different muscle as your glamorous host tests your knowledge and teases some fabulous prizes! The evening of brain Olympics is sponsored by LYC which is all the more reason to go along and flex your intellect.
Tuesday 30 August ushers in the MoreFM Comedy Night at Sasso on Church Street. Not only will you be treated to a night of side splitting hilarity, but the line up of talented jokers spells some serious eye candy too. From Wellington by way of  New York City comes New Zealand's cuddliest bear, Neil Thornton, and from TV3's Jono and Ben at 10 comes the fabulous Eli Matthewson. Your food is included in your ticket price, so get in early to make sure you get the best seat in the house!


We get right back into party mode on Wednesday 31 August with the Caluzzi Cabaret Night, brought to you by Gibbston Valley. Back at the Skyline for another mind-blowing show, the Caluzzi queens are guaranteed to deliver a spectacular night 450m above Queenstown. But don't go packing your hiking boots yet – you'll travel up the mountain in style with a complimentary drink in your hand. Dinner and entertainment will get you in the mood to boogie, and DJ Sparkles will provide the tunes.
If glitz and glamour is you bag, make sure you spend Thursday 1 September at Skycity Karaoke. Hosted by the one and only Miss Ribena of Family Bar and Club in Auckland, we are bound to see a whole range of balladeers strutting their stuff on the stage. When your vocal cords need a rest after too much Madonna, pop along to the Skycity Queenstown Casino and try your luck responsibly!
You are going to have to bring a change of clothes to the Desperados Wet and Wild Foam Party on Friday 2 September. Come along to Loco Cantina and get wet and sudsy with all of the new people you've met over the past week! DJ ACraig from Melbourne is back again to mix things up at the biggest and best wet night out you can have in Queenstown. The fun starts at 7.30pm, so be there and be queer!
Don't let the final night of Gay Ski Week be a sad one! Although we may have to wave farewell to some new friends, the rainbow community knows how to go out with a bang! Spend Saturday 3 September at The Memorial Centre for Heroes & Villains, brought to you by Family Bar. It is a night not to be missed, with DJ Jordan Eskra from Auckland and the beautiful Victoria Anthony from Sydney keeping the party pumping. Who will you dress up as? Maybe you look good in a latex cat suit, or want to show off your six back in a Superman cape? Whether you are a hero or a villain, the closing party of Gay Ski Week will be the best party you'll attend all year!