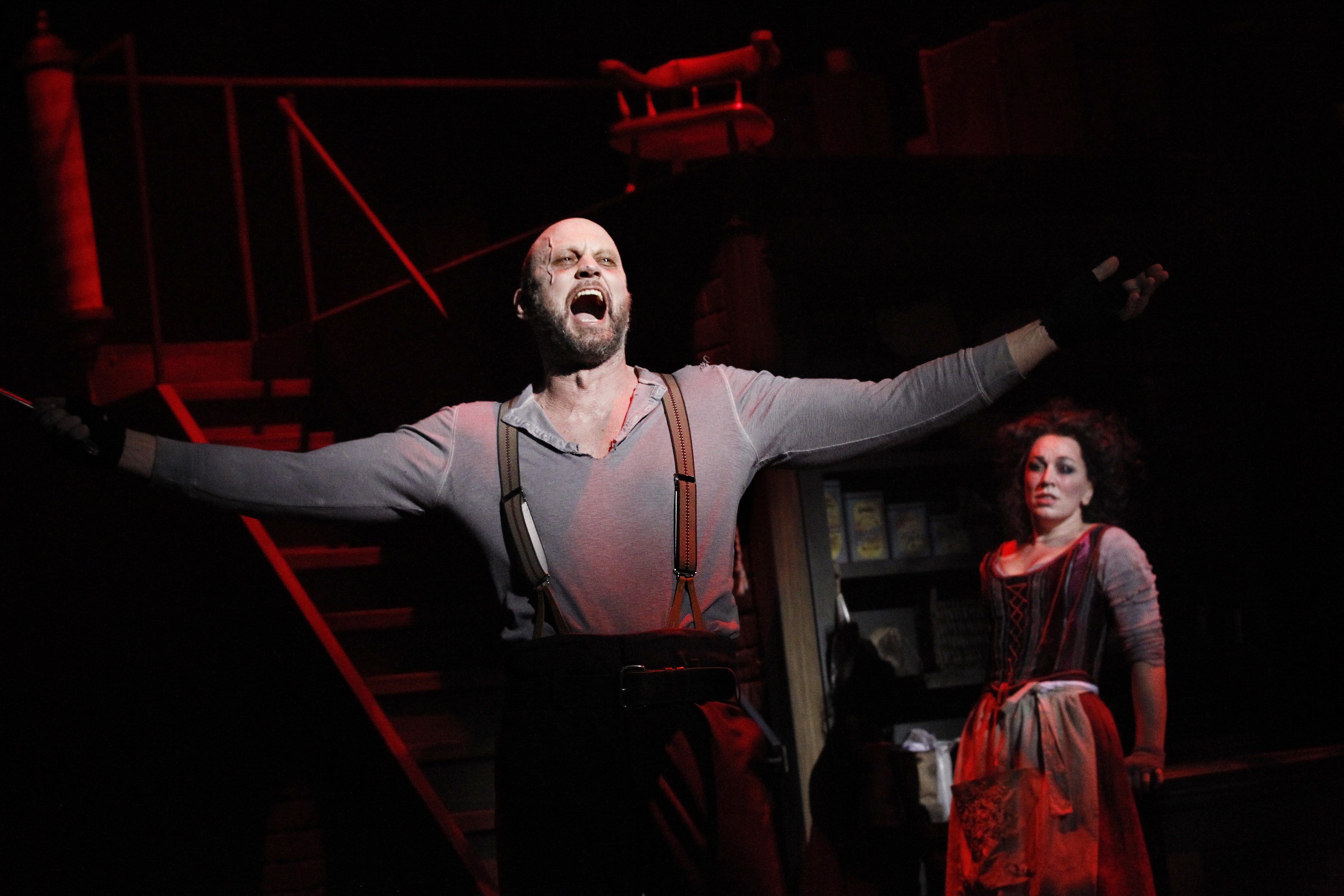 Amy Jane Bedwell talks to  Sweeney Todd cast member Cameron Barclay about being on stage, theatrical horror, and the virtues of opera.
Cameron Barclay is a member of the twelve person ensemble featuring in the New Zealand Opera's staging of Sweeney Todd: The Demon Barber of Fleet Street, as well as being the understudy for the role of Anthony.
Is there anything you found particularly challenging about the role?


As with any Sondheim work we have to pay a lot of attention to the rhythm and the text. He is an absolute genius with the way he sets text to music to make it seem conversational while being sung at the same time.
As for this production where I have to both learn an ensemble plot and understudy one of the lead roles, it can sometimes be a little confusing with all that extra information in your head. Then of course, the role of understudy is an interesting one because you never know if you are going to go on! However, the person playing Anthony (James Rodgers) is an incredible singer and artist and I'm really looking forward to watching him work.
Sweeney Todd is definitely part of the horror canon, how do you think this sometimes gruesome subject matter translates to the stage?
I think it translates very well. This is due in large part to the often spine-chilling music of Stephen Sondheim. I mentioned that he was a genius in the way he sets text to music but he is also a master of setting a mood (sometimes even without the spectator really noticing at first) and the he can change that mood on a dime.

For people who have seen the film, how different can we expect the experience to be in an operatic style?
Firstly, I don't think we should consider this work to be presented in an operatic style, per se. As opera singers, in our training we have to learn to sing many genres of music and fundamentally the technical basis for all singing is very similar. Having said this, the audience may notice that singers who sing operatically perhaps have a richer vocal tone than the actors in the film.
The most obvious difference between the film and the original stage version is the fact that Tim Burton chose to omit many of the chorus scenes. A feature of the stage version is the Greek-style chorus which will interject from time to time in order to comment on the action. I think for film this was a necessary choice.
Something else people will notice perhaps is that the actors in the film can afford to be much more subtle in their portrayal as the camera can pick up much more nuance than an audience member who may be at the back of a 2000 seat auditorium!

What do you think are the biggest draw cards of Sweeney Todd for the GLBT community?
While there are no overtly LGBT storylines within Sweeney I think the subject matter is universal; more than just a deranged madman on a killing spree, there are very complex factors at play like loss, revenge, power, sex and love. I think that the LGBT community can relate to that, right?
If that's not enough, there is also our set, created by Tony Award-winning designer, Roger Kirk, which promises to be a real showcase in itself.
See Sweeney Todd on selected dates from 17- 23 September at the Civic Theatre. For more information and to buy tickets, visit http://www.nzopera.com.