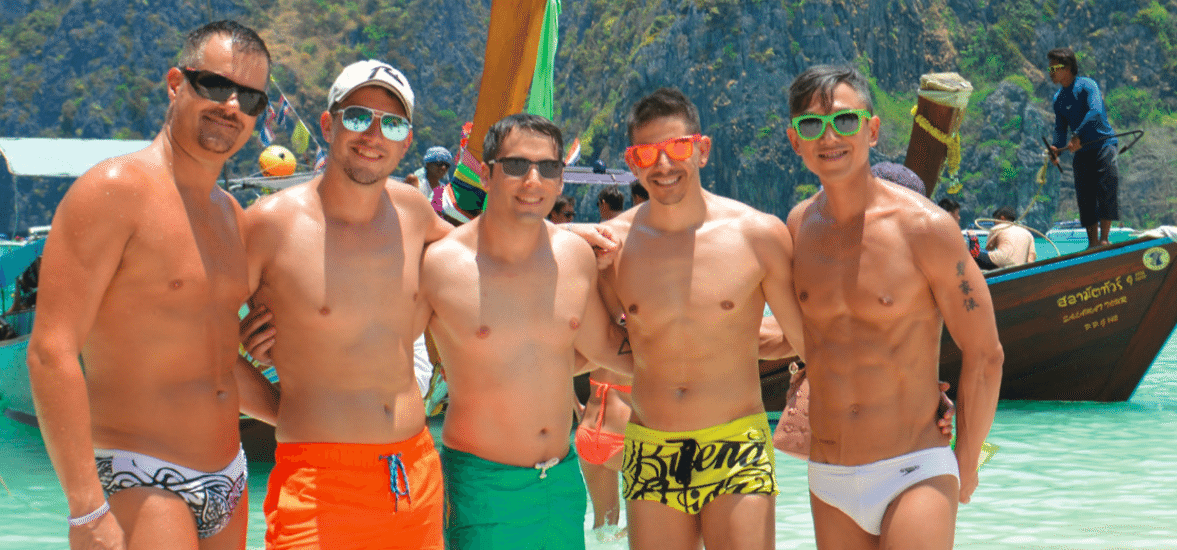 The second TropOut week-long gay festival moves to New Caledonia in May 2017 after an acclaimed debut in Phuket last year. Hedonists, party-goers and sun worshipers are being joined by Jordan Bruno who will offer both his gastronomic skills and beauty for all to enjoy!
The week-long TropOut in upmarket Bang Tao Beach, Thailand in April 2016 was a sensation with over 120 people staying at the luxury resort and over 700 attending the headline party with Robin Schulz at Xana Beach Club. Gay men from 21 different countries attended, aged between 22 and
74 with most being in the 25–45 year group. Many Australians, North Americans and Europeans came and raved about the event with smaller numbers from New Zealand, Russia — even Bermuda!
TropOut is established as the "stylish alternative" to other large-group gay travel events with guests mostly reflecting that by coming from professional fields. In May 2017 the event moves to New Caledonia and the organisers have booked out the Château Royal Beach Resort & Spa at the end of Anse Vata Bay. The all-suites resort is on the beach and within an easy ride to Noumea and its attractions.
The fun-filled week at TropOut is designed around the key themes of "chill, party and explore" with guests having the option of doing as much or as little as they feel like. While the parties were the talking point of last year's event, this year food and culture are real highlights also. Daytime activities include snorkelling in pristine lagoons, luxurious day spa therapies, swimming in the famed Blue Hole, and of course, partying! You won't want to miss the day party at Le Ponton or the trip to Duck Island.
For food lovers, having My Kitchen Rules star Jordan Bruno at TropOut will be the highlight of their stay. He will be sharing his extraordinary gastronomic talents during exclusive cooking experiences with guests. He has done his homework too, having already scouted out a shortlist of the best cuisine, restaurants and fresh food markets. Jordan says, "I couldn't resist a dabble at the local food scene. It's an exotic mix inspired by both French and Melanesian tastes, which makes it genuinely unique. I can't wait to explore this scene with the guests and, hopefully, give them some culinary inspiration to take back home."
New Caledonia has multiple attractions, great beaches, idyllic islands and a rainforest hinterland for hikers. Often referred to as a slice of Paris in the Pacific, Noumea has chic shopping, great dining options and all those French pâtisseries to drool over!
Many guests to the inaugural event last year said they really enjoyed the community vibe from being with other gay men from all over the world, some of whom have become lifelong friends.
TropOut New Caledonia can be booked by visiting www.tropout.com or partner travel agents. Packages start from approximately NZ$1,500 per head for the whole week, 6 to 13 May. Options include multiple occupancy (two or more per suite), luxury suites and daily breakfasts. Note, all suites have kitchens. To ensure you get the best accommodation option for you (and friend or partner), book early! Three-hour flights from Auckland are available on AirCalin from approximately NZ$600–$800 return, similar to Air New Zealand pricing. Seats are limited. You can arrange flights on the TropOut website.
express's Kunal Sharma says he will be going, (and reporting), and looks forward to meeting other guests from New Zealand also heading up for this fabulous gay event in May
TropOut New Caledonia Daily Activities
Saturday 6 May
Welcome Party at Château Royal
Champagne, stunning views over Anse Vata Bay and meeting your new friends: fun and friendly gay guys from all over the globe. As the sun goes down, the stresses of everyday life will fade into a memory, and a week of bliss will commence.
Sunday 7 May
SplashOut Pool Party at Château Royal Pool
Sun loungers? Check. DJs? Check. SplashOut at a pool party like no other. Afterwards, the party will continue at Le Deck, one of New Caledonia's premier clubs.
Monday 8 May
Overwater Club at Pop Light
Pop Light is a club that rises out of Noumea's pristine lagoon and it has been reserved just for TropOut. This party is certain to be a highlight.
Tuesday 9 May
Fluro Party at L'Endriot Nightclub
The birth of TropOut New Caledonia's Fluro Party – dress brightly!
Wednesday 10 May
Rest Day
After a few nights of partying, it's time to recharge the batteries and to sample some of New Caledonia's amazing gastronomy.
Thursday 11 May
Floating Beach Club at Le Ponton
Jetboats will transfer you across the lagoon to probably the most unique party you'll ever experience: a beach club floating above the second largest reef in the world. Chilled out tunes will fill the air as you interchange sunbathing with snorkelling amongst tropical fish.
Friday 12 May
Private Island Party at Duck Island
New Caledonia's gay community will join you to close TropOut New Caledonia in style on our own private island. Jetboats will transfer you to Duck Island and then the party will begin.