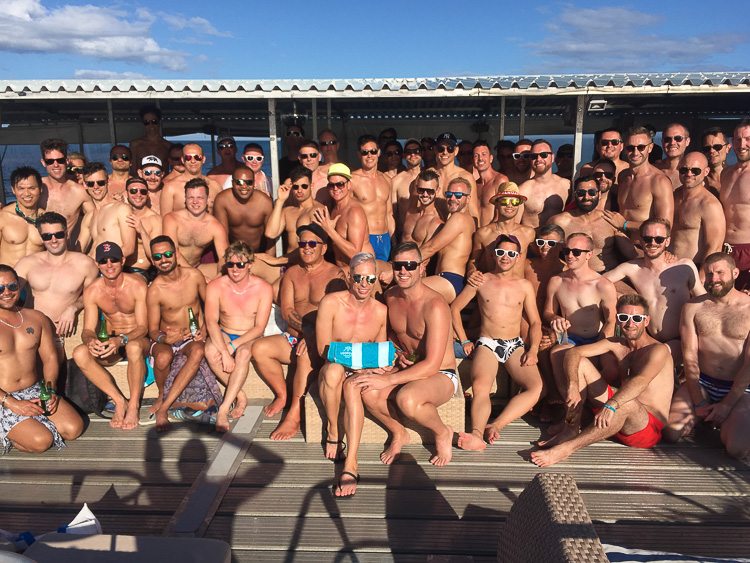 Bonjour from TropOut 2017 Nouvelle Calédonie!
---
Travel scribe Kunal Sharma, and our very own Business Manager at express, accounts his week-long experience at the gay holiday mecca known as TropOut. It is the perfect festival for the contemporary traveller, packed with unique destinations, boutique accommodation, and parties for the tame and the wild, all while revealing the hidden sights and impressions that exist within this fascinating culture.
New Caledonia itself is a unique place, being a part of the French territory in the tropical islands. "Bonjour" is the greeting used, pairing perfectly considering the French-influenced restaurants and luxury boutiques selling nothing but the best Parisian fashions. You can tell that the residents take great pride in what their country has to offer both the locals and the tourists, as well as being fairly progressive, welcoming all from the rainbow community.
TropOut was held at the Chateau Royal Beach Resort and Spa in Nouméa.
Featuring a magnificent infrastructure and impeccably chosen décor, it was no surprise that the majority of the staff working here were gay.
The event itself was extremely well-organised (big ups to Aaron and Jamie) with approximately 80 participants from around the world – Australia, New Zealand, Canada, and the United States. It was a massive week, and even Cyclone Donna decided to join us!
The entire week consisted of a number of outdoor and indoor parties; optional trips to the neighboring islands; French cooking experiences; wine, cheese and chocolate tastings; and a lot of interaction with the fellow party animals. (I never considered myself a party animal but boy did this place bring it out in me!)
Here are some of my favourite parties:
---
SplashOut Pool Party
This exclusive party was held at the poolside of the resort with a funky DJ (in his white sexy speedos!) playing up loud beats. There were boys on the dance floor making the most of the music, while others were in the swimming pool playing with a football. It was a million-dollar-view watching hunky boys all around me just hanging out and enjoying cocktails as we overlooked the stunning Anse Vata Bay. The afternoon followed, as did the after party at the local gay Gym Bar. The evening party was joined by most of our group as well as a large group of locals too.
---
The Admirals Party @ L'amirauté
Stepping in, this place blew my mind straight away! Riddled with French culture, it was both luxuriously chic but perfectly inviting – great for how I was planning on spending my time.
It is owned by a French gay couple who originally bought this villa from the French military, deciding to restore and renovate it. Finally finished in February this year, the doors opened for the general public. The colonial mansion has the most elegant interior, featuring high ceilings and big chandeliers, while the exterior boasted well-groomed gardens and a large swimming pool. It was clear that the owners have great taste, reflected through their multiple antique collections and various art deco-style furniture. Usually, it's a lounge bar, so TropOut was the first ever party held at this venue. What a way to christen a house! The bartenders weren't too hard on the eyes either! I came across one who was undoubtedly one of the most stunning guys I had seen all week. He had a long, thick beard with a shaven head and a thick French accent, immediately distinguishing him from everyone else. Mesmerised, he offered me one of his signature cocktails, managing to shake my head up even more!
---
Reef Party @ Le Ponton
One afternoon, we were transferred by speedboats on to a private site to experience the most unique party at Le Ponton: a beach club floating on the second largest reef in the world. Most of the boys were in their best speedos, showing up their crack lines and dancing to the chilled DJ's tunes in the sun – something I was happy to leave my life at home for! For those who didn't feel like dancing, you could jump into the impossibly warm sea and swim with the tropical fish. Another amazing experience.
---
Decadence @ Duck Island – Private Island Party

The grand party to close-out TropOut 2017 New Caledonia!
It was a live extravaganza like no other! Featuring a huge night on a private island with almost 500 locals. Before we got on the boat to reach this venue, we were each given two condoms, something which made the whole crowd roar with excitement! It was definitely going to be a good night! It's unique entrance consisted of a group of people twirling fire – something I would never attempt! As we passed the entrance, their were an abundance of fairy lights all over, a number of small bars with distinctive themes – including 50 Shades of Grey with a gigantic bar under a bamboo shed – this one definitely caught a lot of people's attention!
The dance floor set up was very bohemian with DJ Mason Andrews from Sydney. Most people were wearing JUST sarongs and costumes. Their eccentric dress sense made the night even more magical. With everyone in high spirits and consuming plenty of alcohol, the evening continued till 4am the next morning!
---
Apart from alcohol-fuelled and sleepless nights, the optional day-trips stood out well. Amédée Island day trip was one of the most eye catching among all!
This island is beautiful, located just 24km away from Nouméa with a 45-minute ride on a luxury vessel Mary D. You are welcomed into the South Pacific atmosphere of oscillating palm trees, white sand beaches, crystal clear water, tropical fishes, turtles, corals and smiling faces – all in the most protected marine reserve. It is located in the largest lagoon in the world, which has been classified by UNESCO a world heritage site in 2009.
We experienced a full-day trip including a reef cruise, a glass bottom boat trip, welcome punch – alcoholic of course, a tropical buffet lunch with wine and coffee, island dancing shows, and a free entrance to the lighthouse which has 247 steps – a fabulous view from 56 meters height! But not for the faint hearted!
Sunbathing, snorkeling and swimming around beautiful coral reefs definitely puts this island at the top of the list of places to visit in your lifetime.
TropOut festival was without a doubt a great gay get away and lived up to their motto — Chill, Party & Explore!
Next year TropOut is in Thailand – Koh Samui in January and Phuket in April. Make sure you go and check out their website, www.tropout.com — highly recommended!