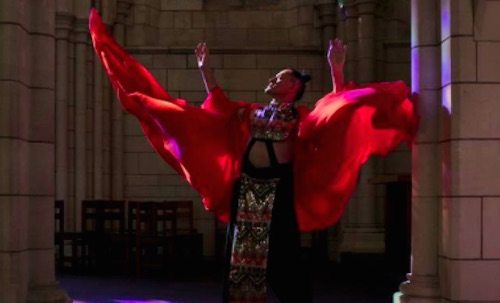 Tucked behind St-Matthew-in-the-City lies a proud, yet humble, põhutukawa tree. While it may not be the first thing you notice as the grand church stands before you, its presence is an important one.
The põhutukawa tree finds its place in Māori mythology, it is said that is from the põhutukawa at Te Reinga that the spirit of those passed leave the land.
Its connection to life and death is fitting for the installation it plays host to for Artweek.
This week the põhutukawa plays host to an installation that acknowledges the 606 people who took their own lives over the past year in this country and the importance of connection and community.
It has become a place to meet, or spend a moment in solitude, to write a note for those living or those now gone.
Yellow ribbons hang from sculptural forms and people can write notes on them, for those living and those now gone.
Mika Haka is known for fabulous events, community work and show-stopping visuals but this Artweek he has taken on a much more subtle project
"There's so much noise," says Mika, as we chat about the importance of connection and of the realities of modern life.
This is the first event Mika has done on his own and he tells me how important switching off is, just spending time in nature, switching off social media.
He has worked in the suicide prevention space for a few years now – you may have seen the Aroha Project.
It's an overwhelmingly supportive space he tells me but it's evident that a lot of people don't have a voice.
"That's the important thing about suicide prevention work – not to be a gate-keeper…when you're dealing with life, gate-keepers are just devastating.
"You embrace it in a way that has a bit of humanity."
Suicide is crippling and nation and Mika says "…everyone in someway has been affected somewhere along the way and it's not something that one person or a government can change – it's actually all of us working together."
The pace and excess information in life are starting to clutter our minds says Mika, and we are becoming exhausted.
" Sex apps, for example, they used to be somewhere where we spoke and we met, now it's strictly down the line. If you're looking for a date, and this is not just gay men, they don't have the intimacy they had when we first started."
"If we are jaded in our inter-relationships, my goodness, how are we in our life."
He tells me "We have to get back to talking to each other."
Tonight for Artweek's Late Night Art, Mika is putting on an event he's called Songs For Homeless.
"It's a night where you can come and be in a spiritual space and be free of judgement, whether you're LGBT+… anything, there's no judgement. We want people to be welcome, to be free."
There will be a piano and string trio inside the church from 8 pm performing songs for the homeless and the community. Bring along healthy food to donate if you are able to, it will be delivered to the City Mission a few doors down from the church. Cash will also be taken as donations and Mika has already kicked things off with his fundraising for Lifeline.
"It's a night of actually coming out for a purpose."
The making of his whole is very much a community effort, with businesses offering their help with materials for the piece.
"People do lots of beautiful things when we have a reason," says Mika.
And that's the thing, he says, that's important to remember, "Just do what you can do."
Where to get help:
If you are worried about your or someone else's mental wellbeing, there are many places that you can connect with for help.
OUTLINE NZ: 0800 688 5463
DEPRESSION HELPLINE: 0800 111 757
LIFELINE: 0800 543 354
NEED TO TALK? Call or text 1737
SAMARITANS: 0800 726 666
YOUTHLINE: 0800 376 633 or text 234
SUICIDE CRISIS HELPLINE: (open 24/7) – 0508 828 865 (0508 TAUTOKO)
There are lots of places to get support.