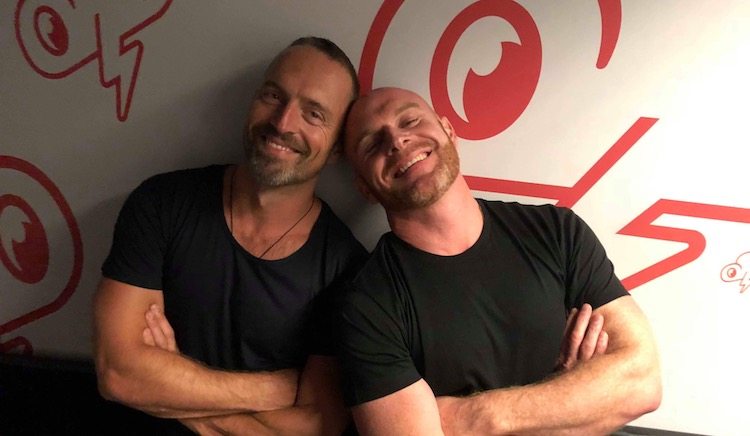 Mike Hughes, Martin King and their young son, have been Queenstown locals for two years, having moved down from Auckland where they first met way back when Martin was in his first week at University and it was Mike's first month of living in New Zealand.
They tell express that when Mike saw Martin and had a rush of blood to the head, knowing that he was the man for ever. They've been together for 24 years now and are still best friends. Now they've taken on another exciting challenge together and are the new owners Gay Ski Week QT – the largest LGBT+ winter pride event in the Southern Hemisphere.
Sarah, express' editor talks with Mike and Martin.
---
What do you love about spending time in the snow and how did you first get into skiing?
We both love being outside, and in the winter, being in the light and fresh air so that our bodies and brain still feel exhilarated in the middle of winter. And it is always different. Every day the experience is different. The best thing about being on the mountain is the each person picks their own level of challenge. The experience is unique to each person, every day. And my advice to any first time skiers or boarder is get lessons – respect how hard it is for you to learn. It is ok to find it challenging – and then you'll get the hang of it. There is nothing worse than thinking you are holding up your friends from their fun and falling into the snow constantly and feeling like a complete loser. Go for lessons, feel a real sense of hard earned success and in a couple of days you'll be up there with your friends. It is a stunning excuse for a few days out, and it keeps you fit.
You've been involved with Gay Ski Week QT for a number of years now, what do you love about the event?
Gay Ski Week QT has an amazing connection with the guests who come to the festival. About half of the guests return in following years – so it makes people feel like they belong and are valued. And genuinely, people make new friends and keep those friends for life. It is a bit of social magic. Not to mention all the activities which people can do during the day and the parties and other social events at night. The old owners, Sally and Mandy, were expert at making people feel a sense of inclusion and belonging, and we intend to build on that even more. and there is the strong sense of winter pride at the festival – LGBT+ people out and proud and visible, being connected and having fun.
What's your favourite memory from past events?
That would be telling! What happens in Queenstown stays in Queenstown.
You've both just spent time up in North America to check out gay ski events there, have you come back with any little gems that you're keen to try here?
Definitely. The thing that is most clear is that our GSWQT parties and night events programme is second to none – we really do set a benchmark for what can be done in town. However, there are two things which stand out as must do's for us this year: Our first lesson, from Whistler Pride in Canada: they have superb free guided ski / board groups – these are incredible social spaces for making new friends, letting shyer guests meet others in a really easy and comfortable way, and just as importantly, gives everyone companionship whilst doing day time activity at a level they feel comfortable. So this year we are going to give on-mountain guiding a real boost. The second lesson is apres ski. In Europe you literally get to the bottom of the slope and there is a pumping party going on for a couple of hours. We can't quite do that, but we are going to really build our apres ski base in town so that everyone can meet at a free venue, catch up and regroup and then choose their next event. So Apres Ski will be a cornerstone: Music, drinks, some food and a few fun sponsor activations and off we go to the next fun thing for the night with our mates.
What can we expect from Gay Ski Week QT this year, can you share a few teasers with our readers?
We are growing the festival into a broader winter pride festival, so people who don't ski or board can also enjoy being part of Gay Ski Week QT. There will be a strong push on the mountain festival side of things with free guides and we will be "Priding" the slopes up more. We are very excited about that, AND we are building an off mountain event schedule too, so that people can do adrenaline-junky, outdoorsy or wine and food type activities – your choice. We are also toying with some MEN ONLY and WOMEN ONLY events – so watch this space. And another little aspect we are going to try out for our "shy" guests, is a shared table concept – where people can meet up and have a little gay "mob" to enjoy their evening with. This will help couples and singles come and make new friends more easily, reducing any residual social anxiety.
How would you describe Gay Ski Week QT for someone who has never been before?
It's huge fun: safe, inclusive, action packed, and socially exhilarating – you will meet new friends, reacquaint with old ones and most people report leaving on a high – one of the best weeks you'll ever have. And you can do as much or as little as you want. You're on holiday.
And remember that what happens in Queenstown stays in Queenstown.